Neoliner Sail-Powered Ro/Ro Cargo Ship Starts Construction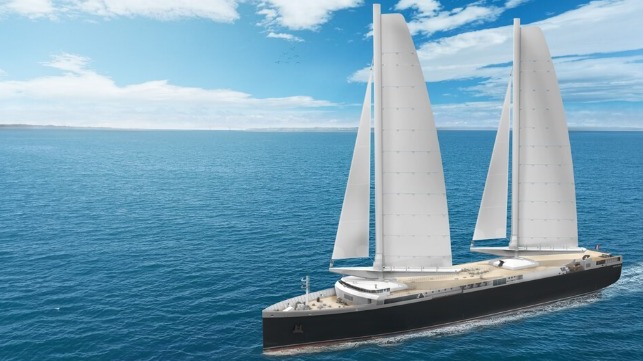 Construction began with the ceremonial first steel cut on what is expected to be one of the largest commercial sailing ships ever built. The Neoliner is a sail-powered Ro/Ro designed to demonstrate the potential of zero-emission cargo shipping.
The ceremony at RMK Marine's Tuzla shipyard in Turkey on November 8, marked a milestone in the 12-year effort to develop the concept and design for the innovative ship. Plans call for the Neoliner to be 446 feet in length with a capacity to load 1,200 linear meters or 265 20-foot containers. The maximum cargo will be 5,300 tonnes. The Neoliner will also accommodate 12 passengers in six double cabins, in addition to the 13 crew members.
"This is an important day for all the NEOLINE team members and all our partners, as we are witnessing the long-awaited concrete start of the construction of the first Neoliner," said Jean Zanuttini, President of NEOLINE Armateur which will operate the ship on a trans-Atlantic route starting in 2025. "After several months of detailed studies carried out in full cooperation between the teams from RMK Marine, Mauric, Chantiers de l'Atlantique, and Bureau Veritas, we are entering an exciting period that will see the ship being built day by day."
The Neoliner will be equipped with innovative technological features, including its two 250-foot folding carbon SOLIDSAIL masts, with a 3,000 sqm sail area. The concept for the sails was developed by Chantiers de l'Atlantique, as well as retractable anti-drift plans and an efficient weather routing system.
The design anticipates a speed of 11 knots (versus 15 knots on a conventionally-propelled vessel). The route will take the ship between the ports of Saint-Nazaire, Saint-Pierre-et-Miquelon, Baltimore, and Halifax, departing every month starting in June 2025. The main propulsion will be by sail, saving up to 80 to 90 percent of fuel and the associated emissions. They anticipate the Atlantic crossing will require eight days, one day between Saint-Pierre and Halifax and three days between Halifax and Baltimore.
Construction of the vessel has been awarded to the Turkish shipyard RMK Marine, accompanied by a consortium of French partners including Chantiers de l'Atlantique, MAURIC, D-ICE Engineering, Fouré Lagadec, Engie Axima, and Bio-sea UV.
Following this week's first steek cut, they expect to lay the first block in the first half of 2024. The launch of the ship is scheduled for the end of 2024, and the commissioning in June 2025.
CMA CGM, ADEME Investissement, Corsica Ferries, and Louis Hardy SAS are among the investors in the company. In addition, major French industrial companies such as Renault Group, Groupe Beneteau, Manitou Group, Michelin, Jas Hennessy & Co, Clarins, Longchamp, Rémy Cointreau, and La Fournée Dorée, have all committed to being among the first customers for the sail cargo ship.