MSC and SDARI to Design Ammonia-Fueled Containership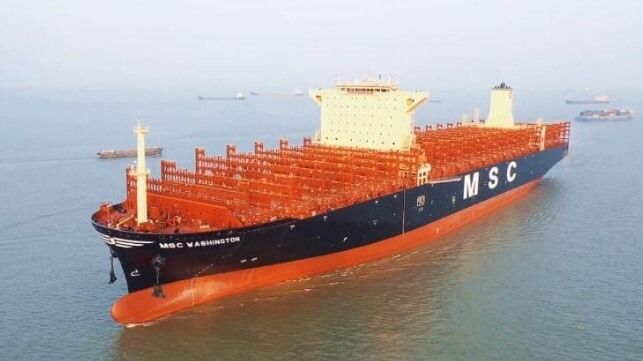 Mediterranean Shipping Company (MSC) is continuing to push forward to the goal of developing possibly the world's first ammonia-fueled containership. The shipping company, which has reportedly previously ordered ammonia-ready vessels, is participating in a new study to design an ammonia-dual fuel containership.
The project will be led by China State Shipbuilding Company's Shanghai Merchant Ship Design & Research Institute (SDARI) along with MAN Energy Solutions and Lloyd's Register providing the classification and safety audits. A Memorandum of Understanding signed by the companies provides for the technical specification and the associated design documents to be developed. They are reporting that the work will allow MSC to have the option of adopting ammonia as a zero-carbon main propulsion fuel for future newbuilding contracts.
"Proactive collaboration between ship operators, ship designers, class, and engine makers has never been so important," said Giuseppe Gargiulo, Head of Newbuilding for MSC. "MSC is pleased to enter in this project to evaluate if zero-carbon fuels like ammonia can be safely adopted and the impact they will have on vessel operation."
SDARI will prepare the specification and design documentation of the ammonia dual-fuel vessel based on its existing twin island 8,200 TEU containership design. MAN-ES will supply data for the engine design and ammonia fuel supply and emission abatement systems, while LR will verify that the design conforms with safety standards and rules relating to the usage of ammonia as a marine fuel.
Each of the organizations is independently working on the development of ammonia-fueled ship designs with MAN and other projects in Japan reported progress on the development of ammonia-fueled engines. SDARI has been working on several projects for vessels using alternative fuels including an ammonia dual-fuel car carrier design. SDARI's Chief Technical Officer Wang Gangyi commented that "Projects like this are vital for helping us evaluate the risks and opportunities of using ammonia for propulsion and for sharing these learnings across the maritime supply chain."
MSC has a massive orderbook which Alphaliner calculates at a total of 127 vessels with a carrying capacity of 1.66 million TEU. Included in this are 10 new LNG-fueled boxships to be operated by MSC and ordered earlier this year to be built by Zhoushan Changhong International Shipyard. Designed by CIMC Ocean Engineering Design and Research Institute (ORIC), these ships will have a capacity of 11,500 TEU and reportedly will run on LNG while being delivered ammonia-ready.
The shipping company took delivery on its first LNG-fueled containership, the MSC Washington, in March 2022. It has a capacity of 14,280 TEU and makes use of a new WinGD dual-fuel engine along with a large C-type tank (capacity 12,300 cbm) to provide the vessel with a long steaming capacity between fueling.
Since the delivery of the first LNG-fueled ship, MSC has been linked to several additional large orders for LNG vessels. The company also partners with Singapore's Global Centre for Maritime Decarbonization (GCMD) in March 2023 in a five-year agreement to provide ships and funding for pilots and trial projects.