Keel Laid for Crystal Endeavor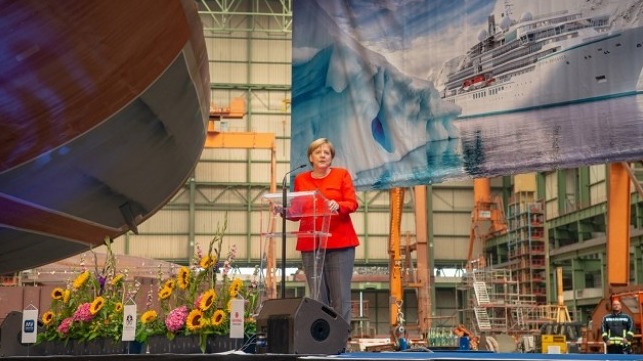 A keel-laying ceremony was held for the expedition yacht Crystal Endeavor on Tuesday.
Crystal Yacht Expedition Cruises celebrated the milestone for the company's first luxury expedition yacht at MV Werften's Stralsund shipyard in Germany in the presence of Federal Chancellor Angela Merkel.
A maximum of 200 passengers will be accommodated on the 164 meter (538-foot) long and 20,000 gross ton expedition mega yacht. Crystal Endeavor's Polar Class 6 designation will enable her to operate in summer and autumn through medium first-year ice. She will feature 100 suites and luxurious amenities, including the offer of a private butler service for every suite. The vessel will also include mini-submarines, helicopters and Zodiacs.
Crystal Endeavor will feature a complete ABB propulsion system including two Azipod D units and electric power plant. She will also feature ABB's automation with Intelligent Maneuvering Interface and OCTOPUS marine software for optimized energy management. The ship will also feature dynamic positioning capabilities for comfort and safety while exploring.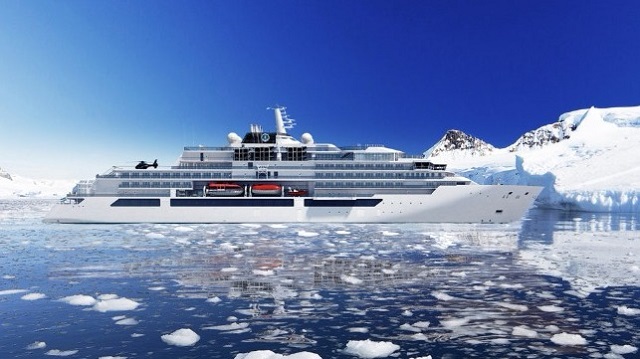 Crystal unveiled the itineraries for Crystal Endeavor's inaugural season on July 31, spanning from August of 2020 through January 2021. These include Japan and the Russian Far East; Indonesia, Borneo and the Philippines; New Zealand and Tasmania, Australia; Australia and the Great Barrier Reef; and Antarctica. While most Antarctic cruises start at the southern tip of Argentina, the Antarctic voyages of Crystal Endeavor will start and end in New Zealand or Tasmania. Crystal Endeavor is also anticipated to cruise the Northwest Passage, offering more itinerary flexibility that the larger, 1,000-passenger Crystal Serenity which pioneered the route in 2016.
The ship will sail a series of charters and special event voyages before it begins its inaugural season in August 2020.
Crystal Cruises President and CEO Tom Wolber and Mayor Dr. Alexander Badrow