Japanese Projects Achieve Stable Combustion on Ammonia-Fueled Engines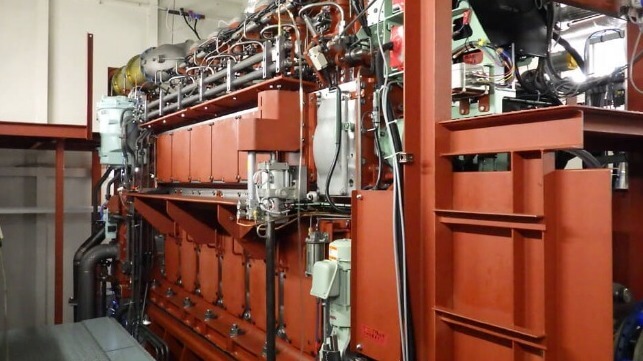 Two independent Japanese research projects supported by the government's research organization NEDO both reported significant progress in testing the world's first ammonia-fueled engines. After successful land-based tests, they are moving forward with the development of the systems with the first project expected to install its first demonstration engine in 2024 while other elements of the projects expect to complete working engines between 2025 and 2027.
The New Energy and Industrial Technology Development Organization (NEDO) is providing funding and sponsoring the projects to develop ammonia and hydrogen fuel technologies. As both can be produced from renewable resources and produce no CO2 emissions during combustion they are seen as leading contenders as future fuels for the maritime industry and other heavy industrial manufacturing operations.
One project was initiated by NYK Line in October 2021 to develop a four-stroke ammonia-fueled engine that will be used to power the A-Tug project, a demonstration using ammonia to fuel an NYK tug. Shin-Nippon Kaiyosha will be responsible for the operation of the tug, which is scheduled to be outfitted with the ammonia engine in mid-2024 at the Nihon Shipyard.
A 280 mm bore version of the four-stroke engine was successfully demonstrated on land for the first time last month. They are reporting that they were able to achieve stable combustion using an 80 percent co-firing ratio for ammonia. During the test, the mixing ratio was increased and they also tested the exhaust gas after-treatment devices and the fuel supply system.
The consortium for the project, which consists of NYK Line, IHI Power Systems, Nihon Shipyard, Japan Engine Corporation, and ClassNK, reports for the first time they were able to achieve stable, integrated operation of the systems. Further, tests showed that there were virtually no unburnt ammonia or N2O emissions and that there was no ammonia leakage during the operation or shutdown. While ammonia is seen as a promising alternative, leakage and handling are concerns due to its toxicity.
Based on the progress made with these tests, the consortium also reports that efforts are beginning to develop a 250 mm bore auxiliary engine to be used on ocean-going vessels. The research project calls for installing the auxiliary engine on an ammonia-fueled gas carrier scheduled for delivery in October 2026. The ship is currently under development by NYK, Nihon Shipyard, Japan Enginem IHI Power Systems, and ClassNK.
Japan Engine also reported successful tests on its project for a large, low-speed two-stroke ammonia-fueled engine (J-ENG)
Japan Engine is separately reporting in April that they were also able to demonstrate a large low-speed two-stroke engine and that they have started for the first-time ammonia co-firing operation. The engine is being tested at Mitsubishi Heavy Industries' Research and Innovation Center in Nagasaki. The test engine they reported is newly equipped with the "stratified injection system" using J-ENG's technology.
Over the next year, they will continue tests under various conditions on the two-stroke engine, and at the same time, they will study the fuel supply systems. They believe that it will contribute to the development of ammonia fuel supply facilities on board ships. J-Engine will also proceed to develop, design, and manufacture a full-scale ammonia-fueled engine. They expect demonstrations to proceed for about six months being completed in September 2025.
They are also reporting that operation tests have begun at J-ENG's plant in Akashi City on a hydrogen fuel injection device. Testing is expected to continue for more than one year. Currently, the plan calls for verification testing of a full-scale hydrogen-fueled engine to begin in 2026. They are scheduled to complete the test in March 2027.
The project organizers believe they have made critical progress in the development of ammonia-fueled engines. They look to build on these successes to strengthen the international competitiveness of the Japan maritime cluster, with the aim of building the world's first ammonia-fueled ships and achieving safe navigation, including by contributing to the development of international rules.
The Japanese are competing with other leading engine manufacturers, which are also working on testing for ammonia-fueled engines. Wärtsilä reported in July 2021 that it had achieved a 70 percent ammonia mix in its tests. They were aiming for developing a 100 percent ammonia-fueled engine targeting tests as early as this year. There is a growing expectation in the shipping industry that ammonia-fueled engines will appear by mid-decade, while New York-based startup Amogy announced in March 2023 that it expects to conduct the first demonstrations of an ammonia-fueled tug before the end of this year.