First Oil from Ghana's TEN Field
Ghana began pumping crude from a second offshore field operated by British company Tullow Oil on Thursday, hoping the additional revenue will boost its flagging economy.
The Tweneboa, Enyenra and Ntomme (TEN) field expects to average around 23,000 barrels per day (bpd) in 2016, eventually reaching 80,000 bpd along with associated gas to be harnessed to ease a domestic power deficit.
President John Dramani Mahama opened the valves on the $1 billion FPSO, the Prof John Evans Atta Mills, named after Ghana's former president who died in 2012.
"Current setbacks in the world (oil) market are temporary and we'll see a recovery soon that will give a fair price to producers," Mahama said as he opened the valve. "It's been a long journey but a fruitful one."
TEN, with estimated reserves of 240 million barrels of oil and associated gas of 60 million barrels equivalent, is Ghana's second oilfield after the country's flagship Jubilee project, also operated by Tullow, which began in late 2010.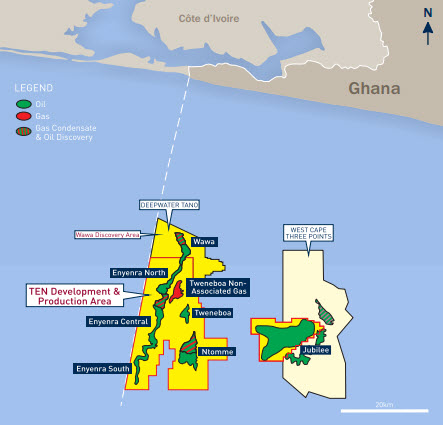 The TEN Fields lie in the Deepwater Tano block, around 60 kilometers (37 miles) offshore Western Ghana. The fields are spread across an area of more than 500 square kilometers (193 square miles), around 20 kilometers (12 miles) to the west of the Tullow operated Jubilee Field. The reservoirs lie in water depths ranging from 1,000 to 2,000 meters (6,500 feet).
The full field development will consist of 24 wells in total – a mixture of water injection, gas injection and production wells which will all be connected to the FPSO through subsea infrastructure. Ten wells were required for First Oil and have all been drilled.
The subsea installation campaign began in July 2015. In total, 35,000 tons of equipment was installed on the seabed in the TEN Fields. The bulk of the subsea production equipment was installed by the TS7 consortium (Technip and Subsea7).
TEN has been an international project, with major work having been undertaken in Singapore, Malaysia, Thailand, France, Norway, the U.S. and Ghana.
First oil was reached at TEN on time and on budget three years after the Plan of Development was approved by the Government of Ghana in May 2013.
Tullow is the operator of the TEN fields and holds a 47.175 percent stake. Tullow's joint venture partners are Anadarko Petroleum Corporation (17 percent), Kosmos Energy (17 percent), Ghana National Petroleum Corporation (15 percent) and PetroSA (3.875 percent).
The revenue from TEN is significantly less than was first anticipated when the country launched the project in 2013, owing to the slump in world oil prices.
"It (revenue from TEN) will ... provide a stronger financial security for our debt servicing arrangements going forward and enhance the stability of the budget," Finance Minister Seth Terkper said.
Oil revenue is vital as Ghana battles to meet conditions set by a three-year aid program with the International Monetary Fund that aims to bring down inflation and the budget deficit as well as stabilize the cedi currency.
The revenue and TEN's role as a symbol of high-tech national development could also boost government fortunes ahead of what is expected to be a tight presidential election in December in which Mahama faces opposition leader Nana Akufo-Addo.
However, a senior opposition figure on Thursday said the oil field's opening would not help the government's chances, given that it has overseen a slump since winning the 2012 election.
Ghana was considered one of Africa's hottest investment destinations due to its exports of gold, oil and cocoa. Since 2013, however, a fall in commodity prices and a resultant fiscal crisis has slowed growth dramatically.
Jubilee produces 100,000 barrels of oil daily and 140 million standard cubic feet of natural gas after a 45-50 day shutdown in May.
Mahama said development of TEN was hindered by a maritime boundary dispute with Ivory Coast, but the country was committed to a peaceful settlement and it should be resolved next year.
Ghana hopes next year to open a third field, the Offshore Cape Three Points field operated by Italy's ENI.