Fire on Bulker at Port Kembla Fully Extinguished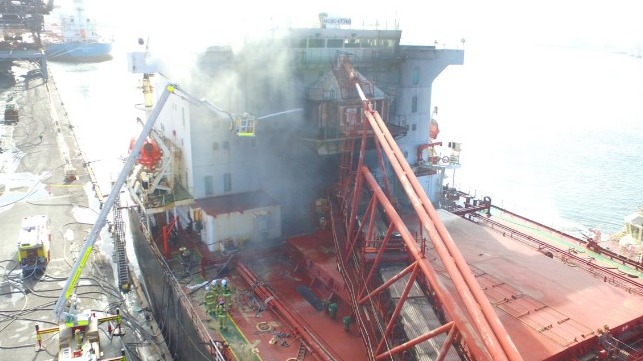 After a six-day response effort, the fire aboard the self-unloading bulker Iron Chieftain has been fully extinguished, according to officials in Port Kembla, Australia.
Paul McGuiggan, an assistant commissioner for Fire and Rescue New South Wales, said that 30 hours of monitoring of temperature and carbon monoxide levels suggests that the fire is now fully out. The response effort will now move into the investigation phase, with the police taking the lead.
McGuiggan said that it appears the fire broke out in the "vertical riser of where the conveyor belts are," and this will likely be the starting point for the investigation.
The ship's self-unloading conveyor belts and cargo handling system linings caught on fire last Monday as the vessel was offloading a cargo of dolomite in Port Kembla. Dolomite is a crushed rock product, and is not flammable itself, but the burning belt system was challenging to put out - especially the belowdecks portions. "This has proved to be a very difficult fire for firefighters to get on top of. We've had up to 100 firefighters here at a time," said Fire and Rescue New South Wales official Wayne Phillips at a press conference Thursday. The response team ultimately used firefighting foam to blanket the holds and extinguish the fire.
McGuiggan said that there was considerable damage to the belt system, but the accommodations block and other inhabited spaces were largely unharmed, and he suggested that the ship is likely salvageable.