Fagan: U.S. Coast Guard Must Learn From its Workplace Culture Problems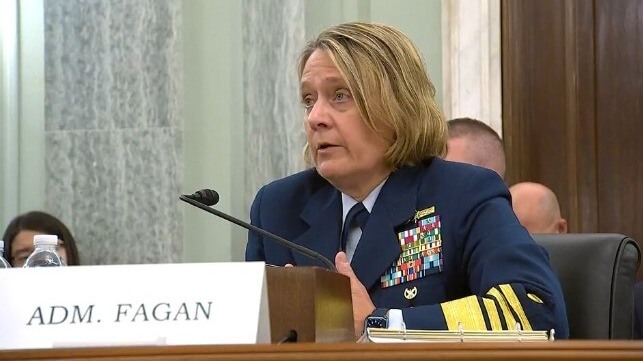 After revelations of an unreleased investigation into a pattern of sexual harassment and assault at the U.S. Coast Guard Academy, Commandant Adm. Linda Fagan has ordered a service-wide review of command climate and culture. In an open letter on Monday, Fagan addressed the early findings, and she compared the service's ability to learn from operational challenges with its ability to learn from internal, cultural problems.
"It is clear to me that we are not fully applying our core values, principles of operation, or ethos to our own workplaces. In some places in our Coast Guard, there is an unacceptable disconnect between the workplace experience we talk about, and the experience our people are actually having," Fagan said.
The commandant cited reports of "sexual assault, harassment, hazing, bullying, retaliation, discrimination, and other harmful workplace behaviors," at commands across the service. She warned that these incidents not only harm victims, they also tend to erode trust in unit leadership - reducing readiness and the ability to execute on the Coast Guard's core mission set.
In her appeal, Fagan sought to break down the distinction between externally-facing operational challenges and internal workplace problems. Both require an effective response to ensure readiness. "Our operational success depends on our people, and our people are sustained by a positive workplace environment," she said.
Though it went unsaid, the Coast Guard (like all of the armed services) is having a hard time recruiting and retaining enough personnel to meet end strength goals. Any public perception of a negative work environment could hinder efforts to close its workforce fit-and-fill gap.
To resolve workplace culture deficiencies, Fagan called for more transparency and more willingness to call out problems. The service has developed systems and practices that allow it to learn from operational mishaps like collisions or sinkings, but it has no equivalent for sexual harassment, bullying or toxic leadership, she said.
"We do not discuss incidents and do not encourage leaders throughout the Coast Guard to learn from them. Our people do not feel as confident speaking up about workplace behaviors as they do operational risks," Fagan said. "We must give our workplace climate the same transparency and attention as we do our operational missions."