EXMAR Selects Ammonia-Dual Fuel Engines for First Ocean-Going Ammonia Ships
EXMAR LPG, a joint venture between Belgium-based EXMAR and Seapeak, is moving forward with what could be the world's first ocean-going ammonia dual-fueled ships. The decision to incorporate ammonia propulsion systems to medium-sized tankers on order in South Korea is being hailed as a milestone in the development of next-generation shipping to address the drive for decarbonization.
The companies have given the go-ahead to incorporate WinGD's X DF-A dual fuel engines into the new builds which were initially ordered in 2022. Lloyd's Register which is part of the project notes that the engines were the first to achieve class approval in September 2022 for ammonia two-stroke engines. They will be combined with a fuel supply system developed by Wärtsilä Gas Solutions.
The vessels were ordered in 2022 to be built by Hyundai Mipo Dockyard in South Korea. Each vessel will be approximately 623 feet in length. They will have a capacity of 45,000 cbm and will be able to transport either ammonia or LPG. The shipyard reports that they are due for delivery by May 2026.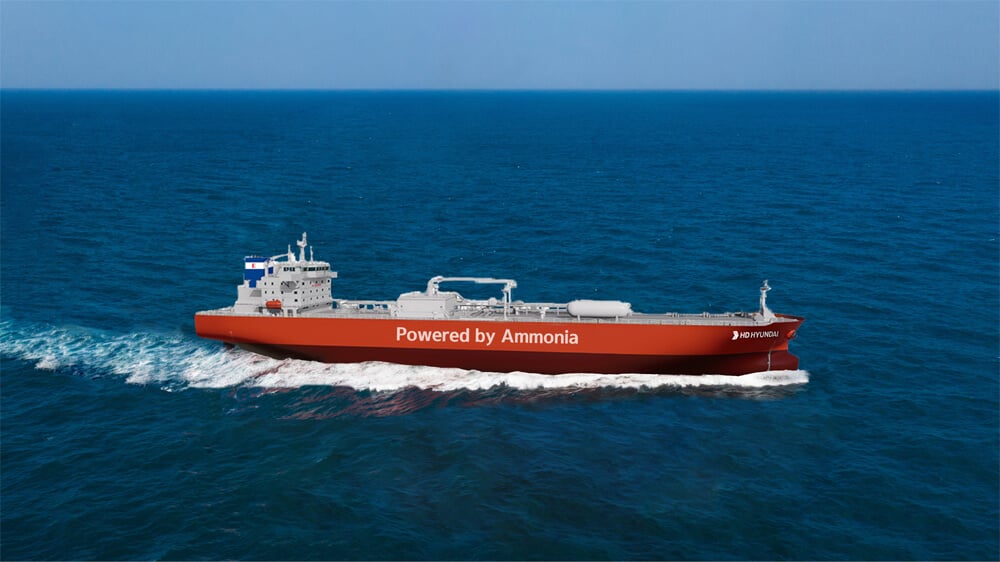 The vessels will be fitted with the first class approved ammonia-fueled engines (Hyundai Mipo Dockyard)
"These orders for ammonia dual fuel LPG/NH3 carriers represent further evidence of EXMAR acting as a first mover in the adoption of alternative fueled vessels for the global supply chain," said Lloyd's Register.
EXMAR highlights that it has over four decades of experience handling ammonia as a cargo. EXMAR currently owns/operates 17 midsize gas carriers, three very large gas carriers, and 10 pressurized vessels.
Working with HD Hyundai Mipo Dockyard in collaboration with Wärtsilä, Win GD, and LR, they are reporting that the project builds on EXMAR's experience in gas handling and has been able to overcome the challenges for the safe design of ammonia-fueled vessels. The design needed to consider all the safety and toxic aspects associated with the fuel and maintain a safe design in comparison with the use of methane or other fuels.
Throughout the design and development phase of the vessels, EXMAR says attention was given to operational safety when introducing a toxic substance into the engine room. LR conducted a risk-based design appraisal which was accepted by their flag state, Belgium. Hyundai Mipo notes that the vessels will also have the unique advantage that they will be able to use their cargo as their fuel supply for the voyage.
Hyundai Mipo is highlighting the successful design and decision to proceed with dual-fuel ammonia ships as the latest step in its efforts to develop new technologies and part of its strategy to be a leader in the segment. HD Korea Shipbuilding & Marine Engineering they noted became the first company in Korea in 2020 to obtain basic certification for an ammonia dual-fuel engine from Lloyd's Register, and succeeded in developing an ammonia fuel supply system for the first time in the industry in 2021.
LR sees this project at the forefront of a growing trend for ammonia-propelled vessels. Several orders have already been placed for designs that will be designated as ammonia-ready, while LR reports its growing involvement in a number of ammonia projects. In addition to these new gas carriers, they are working with China's SDARI and MAN Energy Solutions on the designs for ammonia a dual-fuel 3,200 TEU containership and awarded an AiP for Hyundai Mipo's 10,000 cbm ammonia bunkering vessel.