Estimate Rises for Lost Containers from MSC Zoe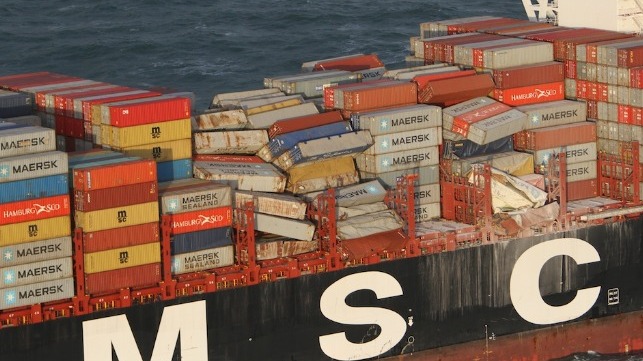 The container ship MSC Zoe lost hundreds of boxes off the German island of Borkum last month, and it appears that dozens more containers went missing than originally believed.
Initial estimates put the number of lost containers in the range of 250-290. On January 4, MSC Zoe put into port at Bremerhaven, discharged a small amount of damaged cargo and underwent an assessment to determine the extent of the loss. She departed Bremerhaven on January 16, and during her next port call in Gdansk, Poland, more containers were reported missing. The tally of lost boxes is now "at least 345," according to Dutch maritime agency Rijkswaterstaat. The agency is still awaiting a final count.
Salvage experts have suggested that the casualty was the result of heavy weather and lashing failures, but MSC has declined to comment on the cause, citing ongoing investigations. Dutch authorities have launched a criminal inquiry into whether the incident violated any national anti-pollution laws, as the containers' contents washed up on the shores of the islands of Terschelling and Vlieland.
Most of the lost containers sank, and MSC has undertaken a multi-million-dollar effort to find and recover hundreds of them from the seafloor. Two subsea construction vessels, the Geosund and the Atlantic Tonjer, have been chartered to raise the boxes and bring them to shore. Initially, the broken containers will be "taken out of the sea with a gripper," according to the Rijkswaterstaat, and the less-damaged ones will be marked for removal at a later point in the process. Several fishing boats are working alongside these ships to scoop up any cargo debris that washes loose during the operation, and six survey vessels are supporting the effort to locate the missing boxes.