Egypt Initiates Naval Attacks in Yemen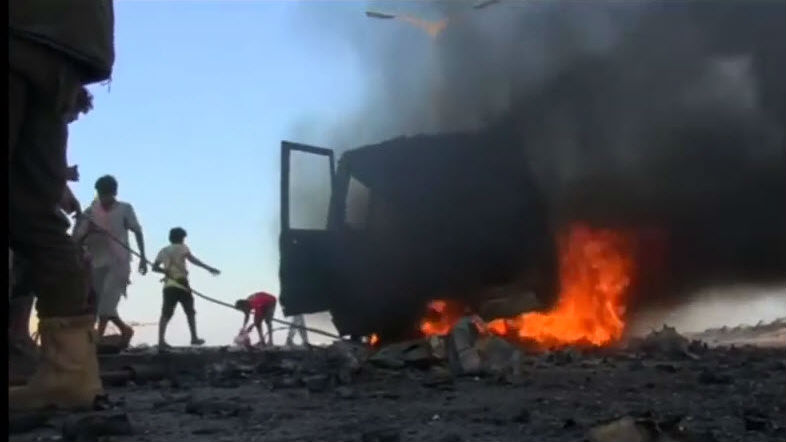 In the south of Yemen, Houthi fighters closed in on the port city of Aden overnight, the last major stronghold of Hadi supporters, and residents said warships believed to be Egyptian shelled a column of Houthis advancing along the coastal road.
It was the first known report of naval forces taking part in the conflict. A Reuters reporter heard heavy explosions and saw a thick column of black smoke rising from the area about 15 km northeast of Aden, apparently after air strikes.
Four Egyptian naval vessels were dispatched to Yemen last week, according to official news media.
Saudi Arabia has mobilized a major military force, suggesting that it was prepared for a sustained fight. Up to 10 countries are believed to be participating in the Saudi-led coalition, although many have refrained from acknowledging their role, reports The Washington Post. The U.S. has offered intelligence help and other logistical support, says the news agency.
Saudi-led war planes also shook buildings in Aden's Khor Maksar district when they fired at least one missile at the airport, where Houthi-allied fighters are based, residents said. A stray shell killed at least three people on a mini-bus in the same area, local fighters said.
A Hadi aide told the Dubai-based al-Arabiya TV that Houthi fighters also shelled the president's private residence in Khor Maksar killing a number of guards.
While Hadi's fighters ceded ground around Aden, Pakistan announced it would send troops to support the Saudi-led coalition.
"We have already pledged full support to Saudi Arabia in its operation against rebels and will join the coalition," a Pakistani official said.
In a cabinet statement, Saudi King Salman said Riyadh was open to a meeting of all Yemeni factions willing to preserve Yemen's security, under the auspices of the six-member Gulf Cooperation Council.
The Arab leaders agreed at their meeting in Egypt to form a unified military force to counter growing regional security threats such as the Yemen conflict.
But working out the logistics of the force will be a protracted process and Yemen's rugged geography, internal power struggles and recent history all present challenges to any military campaign.
Just four years after the 1990 unification of North and South Yemen, civil war erupted when southerners tried to break away, but were defeated by Saleh's northern forces.
In the 1960s, intervention by Saudi Arabia and Egypt on opposing sides of a civil war in North Yemen led to a long and damaging military stalemate.
Saudi Arabia says it is focusing for now on air strikes against the Houthis, rather than a ground campaign, promising to increase pressure on them over coming days.
On Sunday, sources said Yemeni exports of liquefied natural gas (LNG) were running as normal despite the shutdown of major seaports. But French oil firm Total said on Monday operations at its Block 10 had been reduced, with gas production maintained only for local power generation and to supply nearby areas.
Chinese Oil Exports Continue
China has managed to export a large shipment of crude oil from Yemen over the weekend, ship-tracking data showed on Monday, despite mounting chaos in the country after the launch of Saudi-led air strikes last week.
The two million barrel VLCC, Tai Hung San, left the Yemeni port of Ash Shihr on Sunday. Trading sources said the vessel was chartered by China's state-backed oil trader Unipec. Tanker data listed it as being run by Glasford, the shipping-arm of PetroChina.
The supertanker was sailing towards the Chinese port of Qingdao on Monday after exiting the Gulf of Aden.
The shipment shows some oil is still being exported from the country, which has become a growing supplier to China despite years of falling output and political instability.
Oil markets were roiled last week after Saudi Arabia and nine other Sunni Muslim states started air strikes against the Shi'ite Houthi militia, who control the capital and are backed by Iran, sparking fears of a wider sectarian confrontation.
Industry and local sources had said on Thursday that all major seaports were closed after the start of the strikes.
Warplanes hit the Yemeni capital of Sanaa overnight and after daybreak on Monday, residents said, marking the fifth day of the Saudi-led campaign.
Trading sources estimate Yemen's oil exports before the start of the air strikes at around 100,000 barrels per day, with production of approximately 140,000 bpd.
China's oil imports from Yemen in the first two months this year were 4.5 million barrels, up 315 percent from the same period a year ago, and the equivalent of three-quarters of the country's total crude exports.
Yemen's oil production has roughly halved since 2010, according to the U.S. Energy Information Administration.
A spokesperson for state-backed PetroChina was not immediately available to comment.
French oil major Total, which operates a liquefied natural gas (LNG) export facility in Yemen, said on Monday it had evacuated all expatriate staff.
Sources told Reuters on Sunday that LNG exports from the 6.7 million-tons-a-year Yemen LNG plant were running as normal.
Any disruption to Yemen's crude exports is not expected to have a huge impact on the global oil market, with prices down almost 50 percent on this time last year due to a supply glut.
Chinese traders have said they can increase imports of West African crude if necessary.
There are some concerns about the security of oil supplies through the Bab al-Mandab shipping lane, a vital energy gateway from the Gulf to Europe and North America, though Egypt and the United States have said they will keep it open.
India Evacuates Citizens
Several countries have evacuated citizens from Yemen in recent days. About 500 Pakistani nationals were flown out of the Red Sea port of Hodeida on Sunday, and India said on Monday it was preparing to fly out 500 people from Sanaa.
New Delhi has issued a series of warnings this year to Indian nationals to leave Yemen, the last of them shortly before Saudi Arabia launched air strikes last Thursday against Iranian-allied Houthi militiamen.
Ruben Jacob Chandy heeded the call, taking a flight out of Sanaa and arriving back in the Keralan capital Thiruvananthapuram on Monday with a handful of other Indians who escaped the fighting.
"The situation is critical," said Chandy. "The Saudis are carrying out a lot of air targeting - it starts from 6 p.m. until almost 6 a.m."
An Indian navy patrol vessel involved in anti-piracy operations was heading for Aden, and would be joined by two more navy ships. Two passenger ships with the capacity to carry 1,100 people had also set sail from India, Akbaruddin said.
Indians returning from Yemen said the situation, especially in Aden, was grave.
"They cannot go out of their residences. Many are running out of water and food," said Lijo George, an IT worker who returned to Kerala on Monday from Sanaa.
Speaking from the Military Hospital in Sanaa, paramedic Ranjith Cheerakathil said he and his wife, a nurse, had decided to stay. Most of the 240 Indian staff were waiting for a flight out.
"Most of the operations in the hospital will be shut down when they leave. There will not be anybody to care for those who suffer injuries in the attack," Cheerakathil said by telephone.
"This is cruel. My conscience does not allow me to leave them like that."
India asked Saudi Arabia on Monday to help evacuate its citizens from Yemen, where more than 4,000 Indians, over half of them nurses, are caught up in fighting.
Prime Minister Narendra Modi's office said he had spoken by telephone with King Salman of Saudi Arabia and requested Riyadh's "support and cooperation in the evacuation of Indian citizens from Yemen".
King Salman assured Modi of all possible assistance to help them leave, it said in a statement.
Two Air India planes on standby in neighboring Oman were unable to fly in to the Yemeni capital Sanaa on Monday despite what Indian officials said earlier were Saudi assurances that an air corridor would be opened.
The nurses, mostly from the southern state of Kerala, are often hired on harsh terms with middlemen taking up-front fees. Hospitals are reluctant to let them leave because they would have to close without foreign staff.
Sajeesh Mathew's wife, 29-year-old nurse Asha, has worked for three years at the Al-Naqib Hospital in the port city of Aden, scene of fighting following the flight of Saudi-backed President Abd-Rabbu Mansour Hadi last week.
"The areas around the hospital are now under the control of the Houthi rebels," said Mathew, whose wife is one of 35 Indian nurses at the hospital.
Although no Indian casualties have been reported, the nurses' predicament in Yemen recalls the ordeal suffered by 46 Indian nurses kidnapped in Iraq last year as Islamic State militants advanced on Tikrit.
The nurses were freed in June, in an early diplomatic triumph for Modi, but the fate of 39 Indian building workers captured in Mosul remains unclear.