Cruise Ship Rescues Man Attempting Solo Pacific Row from Overturned Boat
A 24-year-old man from Brisbane, Australia who was trying to become the youngest person ever to row across the Pacific is instead ending his trip aboard a 77,000 gross ton cruise ship lucky to be alive. His boat had overturned in the Pacific 125 miles off Vanuatu on what he had told ABC News Australia would be the "make or break" leg of his daring trip.
Tom Robinson is an experienced ocean rower and he built by hand his 24-foot boat during a five-month period, specifically designing it for optimal ocean rowing. He started his journey from Peru in July 2022 expecting that would take at least 12 months for his solo rowing adventure to cover 8,500 nautical miles. He planned various stops to resupply and explore the cultures of the South Pacific but never expected to trade in his 24-foot wooden boat for an 873-foot cruise ship.
Robinson departing Samoa (from his website)
Robinson had departed Luganville, Vanuatu on October 1 after spending three weeks on the South Pacific Island. It was the fifth and final leg of his journey as he expected to reach Cairns, Australia by December. However, the trip involved traveling southwest through the Bougainville Strait, an area that he describes on his website as being known for strong currents and gusty winds.
The Noumea MRCC received a signal from an emergency buoy on the afternoon of October 4 and they dispatched a French navy aircraft from New Caledonia to begin the search. At the same time, the P&O Cruises ship Pacific Explorer which was in the area was alerted to the emergency and asked to participate in the search and rescue. According to passengers aboard, Captain Alan Nixon informed them that the cruise ship would be diverting in a northwesterly direction.
The French aircraft was the first to locate Robinson, reporting that they had spotted him standing naked atop his overturned boat. He later said in a statement that his boat was swamped by an unexpectedly large wave that had come through the main hatch and flooded the cabin.
Pacific Explorer found Robinson sitting atop his overturned boat (Mike Mullins/Facebook)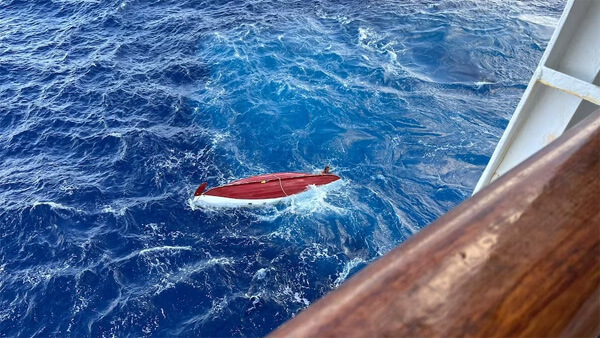 Robinson's 24-foot boat overturned alongside the cruise ship (P&O Cruises)
The cruise ship made a diversion of over 100 miles and reached the area around 7 a.m. local time on October 5. They found Robinson sitting atop his boat. They were able to maneuver alongside and reported that Robinson despite having been at least 10 hours atop the boat was able to climb the cruise ship's rope ladder to safety.
P&O and Robinson released a statement in which he thanked everyone for their support and assistance. The cruise ship reported that he received fresh clothing, food, and water, and was taken to the medical center. He was being treated for nothing more than a sunburn and dehydration, but otherwise reported to be in good health and spirits. P&O released photos of him on the cruise ship meeting with the crewmembers who saved him, giving him newfound celebrity status.
The Pacific Explorer has resumed its trip bound for Auckland, New Zealand where it is due to arrive on October 9. Robinson is expected to fly home from there.
Media reports from New Zealand are indicating that it was the second rescue for the Pacific Explorer in just a matter of days. On September 24, working with Fiji's Navy, they rescued two people from a 40-foot sailboat south of Fiji. The boat issued a distress call after a third person aboard was killed by the boom.