Coin Ceremony Held for Costa Venezia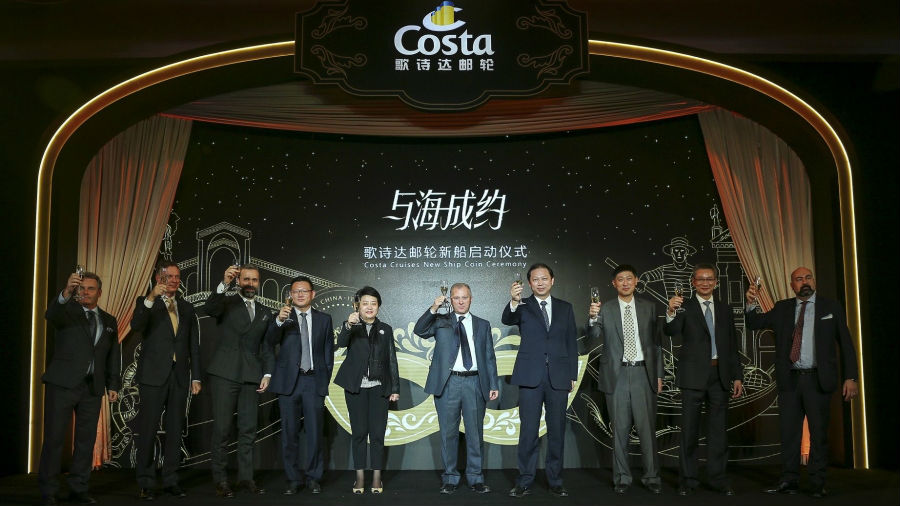 Costa Cruises held a traditional coin ceremony for its newest ship, the Costa Venezia, on Wednesday.
Named after the Italian city of Venice, the vessel is the first Vista-class ship specifically designed and built for China. The 135,500-ton vessel, being built by Fincantieri, will feature 2,116 passenger cabins and a capacity of 5,260 total passengers.
Michael Thamm, CEO of Costa Group and Carnival Asia, said: "The Costa Venezia demonstrates our strong commitment and confidence in the world's fastest growing cruise market. Her arrival in 2019 will further enhance our offerings for Chinese guests to reinforce our leading position in China."
Passengers can immerse themselves in a multi-sensory trip featuring Venetian food, art, music and entertainment. Come nightfall, guests can participate in an on board version of the Carnival of Venice, the city's famous festival known for its elaborate masks.
An inaugural world cruise has been planned following the completion of the Costa Venezia that will begin in Trieste, Italy, and end in Shanghai. Along the way, the ship will call in countries such as Greece, Israel, the United Arab Emirates, Malaysia, Vietnam and Japan, following Marco Polo's famous journeys between Italy and China. The ship will depart from Italy in early March 2019.
Costa Venezia's addition to Costa's Asia fleet in 2019 will be followed by an additional ship in 2020, which will also be specially designed for Chinese consumers. Costa Cruises claims to be the first international cruise company to enter China in 2006.