China and Vietnam to Settle South China Sea Claims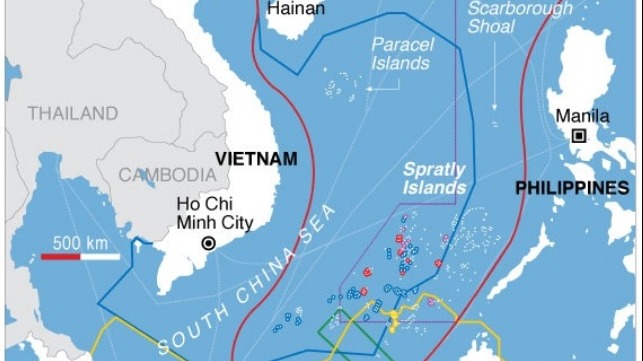 On Sunday, Chinese Foreign Minister Wang Yi announced that China and Vietnam are moving towards a settlement agreement on the status of their sovereignty claims in the South China Sea.
"We have agreed that settling the maritime issues is extremely important for the healthy and sustainable development of bilateral relations," Yi told media after a meeting with Vietnamese foreign minister Pham Binh Minh in Hanoi. "The two sides should better manage disputes through talks and refrain from taking unilateral actions that may further complicate and expand the disputes . . . At the same time, [we] should promote cooperation at sea, including holding talks on joint exploitation."
China and Vietnam have faced off on land and sea many times, including a deadly border conflict that began in 1979 and simmered well into the 1980s. In 2014, China challenged Vietnamese claims in the South China Sea by drilling for oil in disputed waters near the Paracel Islands. Vietnam reacted by dispatching 29 ships to chase off the rig, and the Vietnamese met stiff resistance from Chinese vessels. One Vietnamese fishing boat was rammed and sunk by a Chinese ship during the altercation.
The tensions between China and Vietnam have led to improvements in U.S.-Vietnamese military ties. In 2013, U.S. President Barack Obama signed an agreement to allow the export of weaponry to Vietnam, and just last month, in a sign of warming relations between former enemies, the USS Carl Vinson became the first American aircraft carrier to call at a Vietnamese port since the end of the Vietnam War.
In March, following pressure from China, Vietnam ended a partnership with Repsol to drill for oil at Vanguard Bank in the South China Sea. The project would have involved exploration within an area claimed by China. However, Vietnam is still planning to move ahead with ExxonMobil's lease for the Blue Whale Gas Field, a 150 billion-cubic-meter find 50 nm off Vietnam's central coast. Exxon announced the official start of the project last October.