Carrier USS Stennis Uses 3D Printing to Repair Satcom Terminal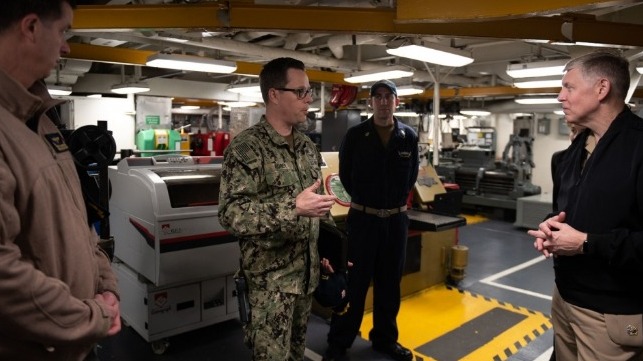 The crew of the carrier USS John C. Stennis recently deployed a 3D printer to make an underway repair to their commercial satcom antenna. The rotary joint on the ship's Commercial Broadband System Program (CBSP) failed, which could have brought down the carrier's internet connection - a key consideration for a warship on an overseas military deployment.
"We spent two to three weeks troubleshooting," said Lt. j.g. Tyler Grimm, the division officer for Stennis' exterior comms maintenance department. "Finally we honed in on the rotary joint. My initial thinking was to get a metal plate manufactured and bolt it into place. We got together with repair division, and [Stennis' chief engineer] came up with a more sophisticated way using 3D printing to manufacture a solution."
Grimm made a design for a replacement part, which the team used as a model for a 3D printed piece. The entire process was done in less than in a day, from idea to implementation, allowing the ship to keep operating at full capacity without waiting weeks or months for a spare part.
"Additive manufacturing adds a new, extremely capable tool that gives us the ability to return systems to operations, even if only temporarily," said Capt. Jason Bridges, the Navy's lead for 3D printing technologies. "This example of fixing the CBSP antenna aboard Stennis demonstrates this potential of additive manufacturing to enhance a ship's combat endurance, an ability that will rapidly expand as the Navy fields additive manufacturing capability in the fleet over the next couple of years."
High op-tempo
USS Stennis is in no position to stop for repairs: she is currently deployed in the Arabian Sea and Persian Gulf, operating primarily in support of the air campaign over Afghanistan. U.S. airstrike missions have intensified as Taliban militants exert ever-increasing pressure on Afghan security forces: the UN asserts that the count of civilian casualties from airstrikes over the first nine months of 2018 was higher than the amount in any full year since it began keeping records in 2009.
Over the course of 2018, the U.S.-supported government in Kabul has been losing territory to the Taliban insurgency. About 25,000 Afghan government security personnel have died in the conflict since 2014, when U.S. combat operations formally ended; about 2,400 U.S. servicemembers have lost their lives since the war began in 2001, and 20,300 more have been wounded. At 17 years, the war is the longest-running in American history, and independent analysts assess that the Taliban now contests or controls about 60 percent of the country. This week, the Trump administration announced plans to withdraw about half of the 14,000 American servicemembers from Afghanistan, along with all 2,000 military personnel from Syria.