Captain and Mate of Drug-Smuggling Tug Get 20 Years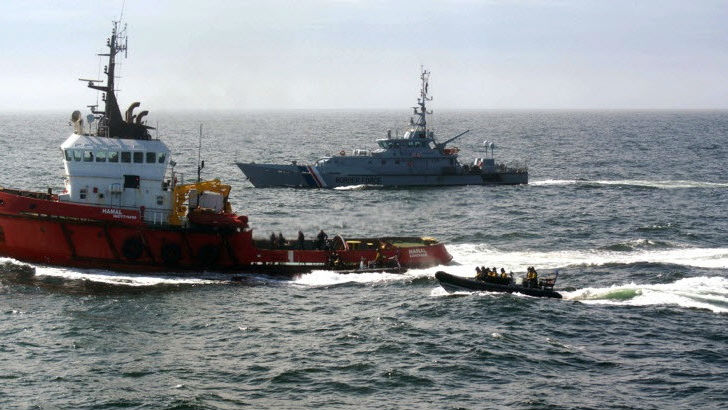 On Friday, a British court sentenced tug captain Mumin Sahin, 47, and first officer Emin Ozmen, 51, to two decades imprisonment for trafficking cocaine – $660 million worth, the biggest drug bust in UK history.
Last April, Britain's National Crime Agency received a tip from French authorities that the tug Hamal was under way in the North Sea with an illicit cargo. The vessel was flagged in Tanzania, and the Crown Prosecution Service said that it worked quickly with an advisor to obtain flag state permission to board her in international waters.
"Although there was strong intelligence that the boat was carrying a large volume of drugs, it could not be boarded in international waters by the UK authorities without the permission of the Tanzanian government – something they had never previously granted," the CPS said in a statement.
"Without the swift actions of our Criminal Justice Adviser there was a high risk that the vessel may have escaped and we would never have been able to bring these men to justice," said Sue Patten, head of the CPS International Justice and Organised Crime Division.
The Royal Navy frigate HMS Somerset intercepted the Hamal off of Aberdeen, Scotland and sent over a boarding team. After an extended search, investigators found 128 bales of cocaine concealed in a tank. John McGowan, senior investigating officer for the NCA, said in a statement that the search was "lengthy and painstaking, undertaken by hugely skilled specialists working in difficult conditions."
In addition to lead roles from UK, French and Tanzanian authorities, law enforcement officials in Guyana, Spain, Denmark, Norway and the U.S. contributed to the investigation leading up to the boarding.
The street value of the cocaine found on the Hamal was nearly four times the current price of all the oil on an ultra large crude carrier; if it were insurable, the cargo loss would rank among the largest recent marine casualty claims, well above the $525 million liability associated with the hull and cargo of the MOL Comfort in 2013.
The rest of the Hamal's crew – Kayacan Dalgakirin, 54, Mustafa Guven, 48, Mustafa Ceviz, 55, Abdulkadir Cirik, 32, Muhammet Seckin, 27, Umit Colakel, 29 and Ibrahim Dag, 48 – were either acquitted or had charges dismissed.