Video: Russia Holds Naval Drills off Latvia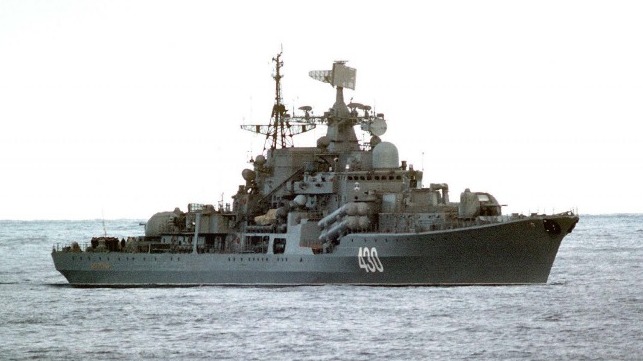 On Wednesday, the Russian military began a three-day live fire drill in the Baltic, sparking alarm in Latvia and Sweden. Latvian Prime Minister Maris Kucinskis told media that the site of the drills is within the Latvian EEZ and much closer to shore than previous exercises. The drills were also unusually close to a Swedish naval base at Karlskrona.
Three corvettes and one frigate were involved in the drill, and they launched dummy missiles, fired cannon and practiced anti-submarine warfare maneuvers. The Russian Ministry of Defense said that the drill plan included "missile launches from 06:00 to 18:00 April 4 to 6 in the airspace above Latvia's exclusive economic zone in the Baltic Sea." Russia's chief air traffic control center asked Latvia to close its airspace up to 60,000 feet for a distance of 25 miles off the Latvian coast to ensure safety, and officials in Riga complied as a precautionary measure.
Sweden issued a warning to mariners regarding the risks posed by the Russian exercises in the Baltic. The Swedish Maritime Administration said that certain areas in the southern Baltic would be dangerous to navigation for the second half of the week due to live-fire exercises.
?????? ? ????????? ???????? ?? ?? ????????? ?????????? ????????? ????????? ?????????? pic.twitter.com/q8WSmPcQZn

— ?????????? ?????? (@mod_russia) April 6, 2018
Video footage from the drills (Russian Ministry of Defense)
The drills come at a time of heightened tensions between NATO members and Russia. The U.S. and 20 other nations expelled dozens of Russian diplomats last month in retaliation for an attempted assassination that occurred on UK soil. The attack targeted a former Russian spy, and it featured the use of a Russian-made nerve agent, leading Western intelligence agencies to suspect the Kremlin's involvement.
Russia vehemently denies the allegation that its government attempted to poison a former intelligence agent with a chemical weapon. "Couldn't you come up with a better fake story?" said Russian ambassador Vasily Nebenzya in a speech at the UN on Thursday. "We have told our British colleagues that you're playing with fire and you'll be sorry."