Adding Value for Heavy Lift and Project Cargo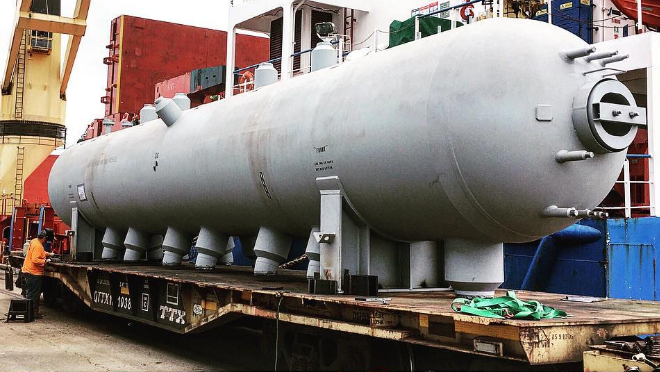 MarEx recently spoke with Joe Harris, senior director of media relations for the Port of Virginia, about Newport News Marine Terminal's heavy lift and ro/ro operations. It's an evolving business – and it's a big one, as project / heavy lift shipments are some of the most valuable cargoes the port handles.
MarEx: What are NNMT's big advantages for heavy-lift operators?
Newport News Marine Terminal (NNMT) is the port's dedicated break-bulk and roll-on/roll-off facility. It is within one day's drive of two thirds of the nation's population, and it has great connections to major highways, plus 34,000 feet of on-dock rail operated by CSX.
For cargo operations, the terminal has 60 acres of outside storage and nearly one million square feet of covered storage space. Depths alongside the two piers are as deep as 40 feet and there is room for ships up to 850 feet long. The facility is a U.S. Customs-designated port of entry, and the full range of customs functions is available to customers, including bonded storage areas.
MarEx: What effects will the new East Coast Gateway partnership with Georgia Ports Authority have on your heavy lift business?
We believe this agreement holds potential for attracting new business overall – container, reefer, breakbulk, ro-ro and heavy lift.
MarEx: Trade statistics show that electrical equipment is one of the most valuable commodities the Port of Virginia handles. This is heavy lift / project cargo, not containerized goods. Can you tell us more about these shipments?
On imports, the Port of Virginia serves several regional infrastructure projects, like the Cove Point LNG facility in Maryland, power generation projects in Virginia, North Carolina and West Virginia, and new capabilities like windfarms and methanol plants. On the export side, we serve power generation exports like gas turbines and transformers.
MarEx: Many ports report an increasing trend of high/heavy cargo being shipped aboard ro/ro vessels rather than heavy lift ships. Is NNMT seeing this trend as well?
Yes – and not just at Newport News Marine Terminal. Port-wide we are seeing this increasing, asymmetric competition between ocean carriers.
Our vision is to find ways to add value to every piece that we touch. To do that properly, you must understand that it's someone's project that you are moving – not just their cargo. That project spectrum is all of the above: containerized, rolling stock and break bulk. The value we deliver can include the speed and peace of mind of having the entire project handled by one entity, including stuffing and stripping operations – much the same value-added offering that ocean carriers are seeking to provide. -MarEx