The Maritime Executive's Annual Maritime Training Issue is Out Now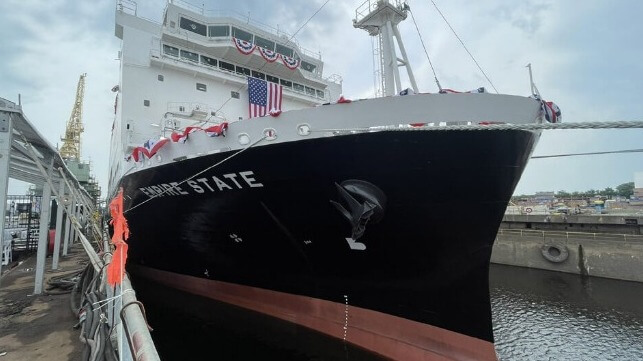 (Article originally published in July/Aug 2023 edition.)
The annual maritime training edition of The Maritime Executive magazine is out now and available online! Read on for a summary of what you'll find inside.
Good Vibrations
The U.S. Maritime Administration is finally constructing the new National Security Multi-Mission Vessels for five state maritime academies. Cadets will no longer be trained on obsolete ships over five decades old. Philly Shipyard has launched the first ship, and the rest will be delivered through 2026. It's a long-term (and long-overdue) commitment by the federal government to the commercial maritime sector, and we welcome it with open arms.
Our annual Maritime Training edition features "Glory Days," a case study about the new U.S. training ships being built at Philly Shipyard, along with an insightful Executive Interview with its President & CEO, Steinar Nerbovik. It's Philly's first government contract, and Nerbovik is understandably excited. Check it out!
News Editor Paul Benecki follows up with his comprehensive report on Academies & Institutes titled "Gateways to Opportunity," reviewing the many pathways to success in maritime today – all of which involve training of one sort or another. Enjoy.
In our annual review of Ship Management, Chad Fuhrmann describes the steady guiding hand of these companies in good times and bad in "Through Calm & Chaos." On a similar note, News Editor Allan Jordan says that ship registries (flag states) have upped their game as well and are "Leading the Way" as the industry evolves at an ever-rapid pace.
Jack O'Connell, Senior Editor, caught up with Eleni Polychronopoulou, President of the ERMA FIRST Group, for the Executive Achievement feature. Eleni's passion for a healthy marine environment is demonstrated by providing ballast water treatment equipment and alternative power systems – to mention just two of ERMA FIRST's many green offerings – in addition to her extensive industry involvements. She's smart and focused and wears many hats.
In Upgrades & Downgrades, Jack reviews the state of the markets at midyear in his aptly titled article, "Halftime Report." It's his usual fun read and "Go cruise line stocks!"
When it comes to fun reads, View from the E.U. columnist Erik Kravets is hard to beat. This time he takes aim at some of the fantastical proposals to get to net zero, and the result is "Ride the White Horses," in which he asks whether we're headed for a second Age of Sail. Don't miss it! Meanwhile, Eye on Energy columnist Allen Brooks takes a more sober look on a related topic, comparing the challenges faced by both the airline and shipping industries as they transition to greener fuels in "Cleaning Up Ship and Plane Emissions."
Regular contributor Sean Hogue updates us on autonomous ships (drones, really) in his masterful "Digital Age of Exploration," showing how the spirit of exploration pioneered by Captain James Cook and others lives on in today's "digital" explorers. Well done, Sean! Not to be outdone, our "other Sean" – Singapore-based Sean Holt – takes on the latest in maritime software in his revealing article, "Transformative Solutions." He mentions three companies with groundbreaking offerings as software plays an increasingly important role in all sectors of the industry.
Rounding out this jampacked edition are two fine articles – Tom Peters' column on breakbulk ports (they're getting a boost from green energy) and Pat Zeitler's look at the state of medical care for the seafarer, a subject of increasing concern as mental health takes center stage.
It's a lot to handle, we know, but it's summertime – when the living is supposed to be easy and you just might have some extra time on your hands. It's also very hot, not just here in Florida but everywhere, so take it slow and stay cool. Let those good vibrations roll!

To read more, visit the digital edition of The Maritime Executive's annual maritime training edition by clicking here. To subscribe to the magazine, please go to https://www.maritime-executive.com/subscribe.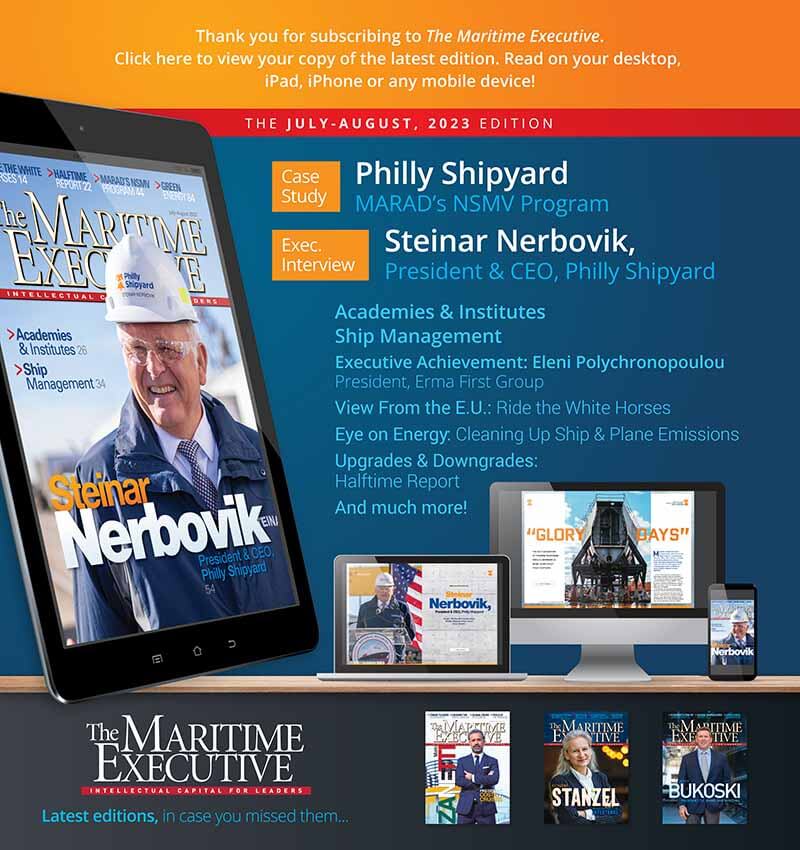 The opinions expressed herein are the author's and not necessarily those of The Maritime Executive.