The Digital Age of Exploration
Autonomous surface vessels are discovering what the explorers of old couldn't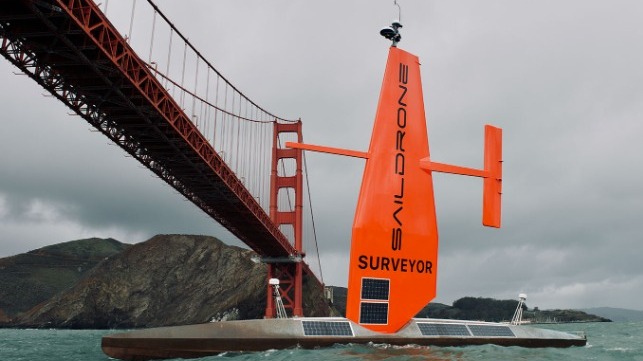 (Article originally published in July/Aug 2023 edition.)
The Age of Exploration began in the 15th century and saw European explorers travel the world by sea in search of new trade routes, new knowledge and new lands. The impact of that era would forever change the world and usher geography toward the modern science it is today.
James Cook and the crews of the vessels Resolution and Adventure set sail from England in 1772 bound for the Pacific in search of the "southern continent," what we now call Australia. The vessels wintered in New Zealand but became separated when departing, never to be reunited. While the Adventure returned to England, the Resolution pressed on, exploring more distant islands in the South Pacific.
During this voyage, Cook became the first to cross the Antarctic Circle – on the 17th of January, 1773 – in the Ross Sea region, reaching 71°10'S. While he didn't sight land, the ship came within 50 miles and the crew saw deposits of rock held in icebergs, indicating that a more southerly land existed.
The first actual sighting of Antarctica did not occur until half a century later, in 1820, by the Russian vessels Vostok and Mirnyi, but it was Cook who effectively closed out the Age of Exploration while hinting at the Heroic Age of Antarctic Exploration to come. This period set the stage for the likes of Robert Falcon Scott, Jean-Baptiste Charcot and the indomitable Ernest Shackleton's now famous explorations.
Exploration in the Modern Age
While there is little land left undiscovered today, the spirit of exploration remains. And the heroes are no longer individuals, but machines.
In 2019, California-based autonomous surface vessel (ASV) company Saildrone returned to Antarctica with the Explorer Class SD 1020. With an ambitious mission to circumnavigate the continent, the vessel was fitted with a payload of sensors – including a NOAA-designed CO2 sensor and an Acoustic Doppler Current Profiler – to better understand the changes occurring in the ecosystem and provide new insights into how the Southern Ocean affects the global climate.
11,879 nautical miles and 196 days later the mission was accomplished, and the first fully autonomous circumnavigation was completed.
Today, the feat is just one in a long list of harsh weather voyages completed by the company. The ASVs have navigated the Chukchi Sea (setting a northern latitude record while doing so), sailed directly into the eye of Hurricane Sam in 2021 and mapped over 17,000 nautical miles of previously unexplored ocean floor around Alaska's Aleutian Islands.
And each time the drones return to port they're made better, stronger and more resilient with these thousands of iterations transforming the vessels into the most robust autonomous solution in the world. With a hardened platform in place, the focus turns toward the sensors and vehicle power requirements. Because at the end of the day, Saildrone isn't a drone company. It's a data company.
Carrying payloads of sophisticated science-grade instruments, sensors and cameras, the fleet delivers large-scale data sets describing parts of the world's oceans that have never been covered in such detail before. Onboard AI is used to parse that data to help determine what to send ashore, in order to make efficient use of bandwidth.
The data is then rolled up into new models, which are pushed back out to the fleet weekly in a cycle of constant iteration and improvement. The result is a fully evolved, mature and resilient platform capable of delivering high-quality data in the fields of maritime security, ocean mapping and ocean data collection.
Saildrone is truly navigating an ocean of data and delivering a world of possibility.
Updating the Fleet
Modernization of existing vessels is another growing market, especially as emission regulations tighten and the technology to meet those goals becomes more accessible.
Florida-based Sea3 Systems is a technology firm for the marine industry. It designs new systems and applications and provides technical innovation to create custom solutions for the most automated vessels and greenest fleets on the water.
A ship can be described as a "System of Systems" with each of them broken into subsystems. The problem is that these systems often don't play well together. Sea3 decided to approach the problem from the opposite direction and took a "bottom-up" approach.
By treating each of the vessel subsystems like bits of software within a larger computer and providing a common framework for everything, total system compatibility is ensured. This approach enables full vessel refits – from control to propulsion – that work seamlessly and allow for smart support, autonomous control and reduced crew for operation.
The motor yacht Sobe Sunset, a 100-foot Heisley, is one of Sea3 Systems' most interesting recent projects. The extensive retrofit by Atlantic Marine Electric included designing a hybrid electric propulsion system with a next-generation, whole-vessel digital control system.
The vessel team created an electric boat incorporating a hybrid-electric propulsion system composed of highly efficient diesel engines and substantial lithium-ion batteries. The batteries can be charged by solar panels, dockside power, tidal currents or engines.
As a result, the Sobe Sunset can operate for days on a mooring without running the engines. The fly-by-wire helm is joystick-operated, allowing total remote operation and monitoring. The new helm also integrates bow and stern thrusters and engine controls with computer-controlled differential thrust for steering.
Revolutionary, distributed computers and software control and continuously optimize all on-board systems. A tightly integrated autopilot, stabilizers and pitch control system allow optimal vessel motion control.
With Sobe Sunset's performance data continuously sent ashore via satellite, this vessel's future technological advancements will include complete remote control, monitoring and predictive maintenance by shore-based crew. The result is a large vessel that can be effectively single-handed onboard with the support crew remaining ashore.
There's a noteworthy opportunity on the horizon for electric-hybrid refits, and Sea3 has the solutions to get it done.
Hub of Innovation
With Marine Autonomous Surface Ships (MASS) being a relatively new industry segment, there's a need for education, crewing and support to meet the challenges of the growing blue economy. Paris-based Exail Technologies, a global innovator in the field of maritime autonomy, has opened a new innovation hub that will help provide that support.
The new center, located within the University of New Hampshire's Olson Advanced Manufacturing Center in Durham, will deliver increased operational advantage to U.S. civilian and government customers. This includes the U.S. production of its Uncrewed Surface Vessel (USV), DriX; the housing of a remote operation center to conduct worldwide remote autonomous operations; establishing local operations, maintenance and training facilities, and providing expertise on maritime autonomy while also training future generations on the use of autonomous vessels.
The DriX, by iXblue (an Exail company), is a versatile and efficient USV with over 15,000 hours of operation globally that can host a wide range of payloads. It provides optimum conditions for high-quality data acquisition in both shallow and deep waters, and its unique design offers outstanding seakeeping and speed capabilities.
All About Control
In the end, it all comes down to control. Vessel control.
Sea Machines was founded in 2016 by Michael Johnson, a marine engineer with a background in drilling, harsh environment operations and marine salvage (including the Costa Concordia during his time at Crowley). The goal? To move beyond the ever-present and too-often catastrophic problems associated with reliance on manual control and human perception.
From its Boston-based headquarters, Sea Machines focuses on autonomous command-and-control technology and computer vision perception while aggressively deploying systems on vessels operating around the world. The company currently operates the world's most active test fleet for validation of these advanced technologies.
The focus is a platform-agnostic command and control system – autonomy in a box. Because the system can be fitted to any vessel type, there are no power or range limitations and it can be adapted for any use case. With options for fully autonomous through fully remote operations, it can be specifically designed to support dual use, allowing for reduced crew as a digital "watch stander" onboard or as a lookout in restricted visibility conditions.
The AI-powered vessel vision helps provide advanced situational awareness to the watchkeeper. By fusing traditional bridge technologies with proprietary long-range vision technologies, machine learning and pattern recognition, it aids the crew in making informed decisions to reduce incidents.
The result is the fulfilment of the founder's goal with advanced technical support ensuring safe and efficient operations.
The Digital Age of Exploration
The Age of Exploration discovered much of what can be seen on the world's surface. But there is plenty left to explore.
The Digital Age of Exploration, already well underway, is discovering much of what can't be seen. Ocean currents, migratory patterns of marine life, impacts of climate change, seafloor mapping and even straight into the eye of the storm.
Projects too dangerous for man can be completed by machine – around the clock. And the wealth of scientific data collected and parsed using AI will provide insights into how we live, move across the oceans and interact with our world.
Who knows what they'll discover next?
Sean Hogue is Senior Vice President of Operations at Baker Marine Solutions and a regular contributor to The Maritime Executive.
The opinions expressed herein are the author's and not necessarily those of The Maritime Executive.