Standard-Setters
Class societies lead the way in the evolution of safer, more fuel-efficient and eco-friendly ships.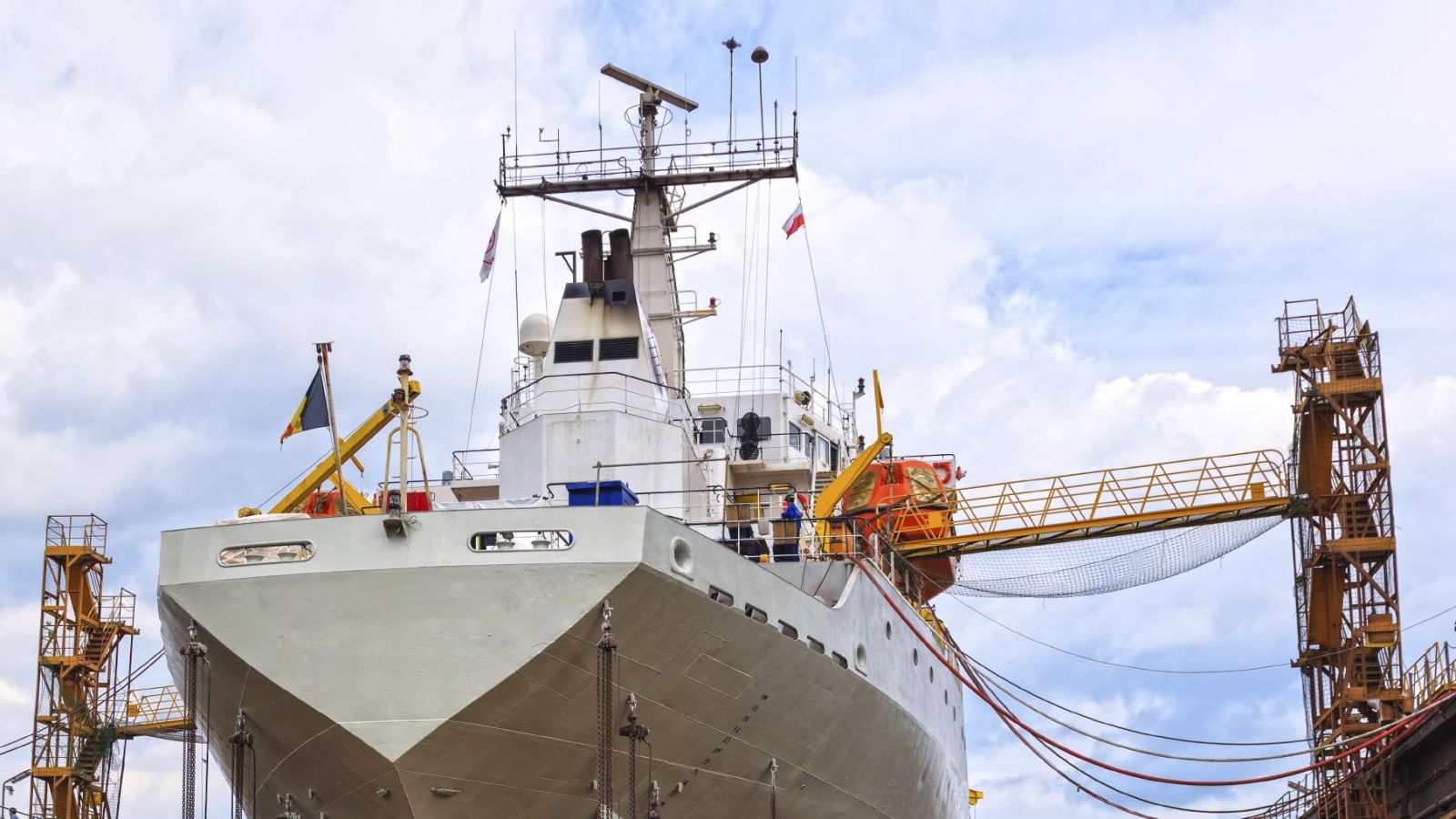 (Article originally published in May/June 2016 edition.)
In a challenging maritime market, class societies are fast becoming more innovative and competitive. They are offering shipowners added value through sophisticated design assistance and consulting services. They are providing operators with advanced data tools for ship management, and they are expanding their reach by entering new markets and new industries.
They even collaborate together. In an effort to unify standards, the twelve leading societies – members of the London-based International Association of Classification Societies (IACS) – have at last achieved IMO approval of their common structural rules for bulkers and tankers after more than a decade of effort. Together and individually, they contribute to the industry with research on everything from drone-enabled surveys to alternative fuel systems.
A class society can be a "verifier, standard-setter and advisor for businesses worldwide," says Remi Eriksen, Group President & CEO of DNV GL, the world's largest, and he foresees a bright future ahead.
Managing Big Data
For more than 200 years classification societies have led the way in the research and development of safer, more efficient vessels. More recently, they have embraced Big Data and digital technology as a means of helping clients reduce costs.
Bureau Veritas, for example, has begun using advanced computational methods to reduce design approval times by as much as 75 percent, saving money even before steel is cut, in an innovative collaboration with Dassault and the Shanghai Merchant Ship Design & Research Institute. The approach results in the creation of a "digital twin" for each ship, a detailed computer representation that can be used over the lifetime of the vessel to analyze performance and plan modifications. It's an innovative new tool for the maritime community.
Last December ClassNK announced the creation of its new Ship Data Center (ShipDC), a cloud storage system for ship operations data. That data is often fragmented between multiple vendors, and its collection is not always consistent across an entire fleet, says Koichi Fujiwara, ClassNK's Chairman, President & Representative Director. The new venture is intended to centralize data collection and analysis at a competitive cost.
"The set-up of individual secured and integrated data storage facilities is no easy task," Fujiwara explains, "especially for small to midsize players. ShipDC offers these players a practical and affordable option for realizing Big Data's full potential." Benefits include savings on bunkers, condition-based monitoring for engines, and compliance with upcoming E.U. fuel consumption reporting requirements.
Initiatives like ShipDC have implications beyond ship management, says Tapio Hulkkonen, Product Manager for NAPA Steel. Hulkkonen believes that, over time, the centralized acquisition and collection of data will lead not just to more efficient operations but to better ships: "Continuous measurement is allowing actual ship operations to drive changes in ship design. By giving naval architects access to active operational data rather than just sea trial data, we are seeing designs developed to optimize real-world performance."
NAPA has been a subsidiary of ClassNK since 2014, and the two have a long history of collaborative ventures, including the first software for a streamlined check of vessel design against the IACS's common structural rules. Though owned by ClassNK, NAPA has updated its Statutory Compliance software to interface with other societies' rule check programs, a cooperative measure affirming its place as a standard across the industry. In a vision of the digital future to come, NAPA is also working with Rolls Royce on the Advanced Autonomous Waterborne Applications project, which aims to facilitate increasingly automated (and one day, fully autonomous) ships.
With increased automation comes the risk of hacking, and societies are moving swiftly to address it. In February, the American Bureau of Shipping (ABS) launched a series of guides on cybersecurity, automated systems safety and data management. "As automation has permeated vessel and onshore systems, it is more critical than ever that we provide guidance on cybersecurity and cyber-related safety concerns," says ABS Chairman, President & CEO Chris Wiernicki.
In addition to his role at ABS, Wiernicki is Chairman of IACS, and under his leadership the organization has elevated its cybersecurity efforts to the same priority level as its longstanding Safety, Environment, Hull, Machinery and Survey panels.
New Directions
ABS celebrated a technological first this year with the launch of the ABS-classed Jayanti Baruna, a carrier of compressed – not liquid – natural gas (CNG as opposed to LNG). "The ship was designed to transport natural gas from Indonesian fields in East Java to communities on the island of Lombok, benefiting relatively remote communities that are not economically feasible to supply by pipeline," explains Dr. Kirsi Tikka, ABS's Executive Vice President of Global Marine.
The dual-fuel vessel is more cost-effective than an LNG carrier for short distances. It carries less gas but does not require multibillion-dollar LNG terminals for liquefaction and regasification. ABS began investigating the potential of CNG shipping over a decade ago. "Until now, no shipowners have proceeded from conceptual design to fully-realized vessel," Tikka says.
As a leader in gas shipping and bunkering, ABS also recently classed four 35,000-cubic meter carriers for gas liquids like LPG, and they will be the world's largest semi-refrigerated ships of their type. While they will not transport LNG, they are fitted with dual-fuel engines and LNG fuel tanks. Through an innovative design, the tanks can be used to carry additional cargo if the ship is operating on conventional bunkers, adding further value for the operator.
ABS is now the second largest class society worldwide by vessel count behind DNV GL. Last year its fleet grew by more than 800 vessels. Despite such success in the maritime arena, ABS wants to expand its reach onshore. Todd Grove, President & CEO of subsidiary ABS Group, says his division is positioned for "long-term growth and diversification" with new shoreside consulting ventures in oil and gas, power generation and other industries.
Grove's initiatives mirror the strategy Bureau Veritas has pursued since the early twentieth century. Unlike many of its peers, BV is a diversified corporation, offering varied services from building inspections to consumer product-testing. It remains true to its roots as a class society but, thanks to multiple income streams, has reduced its exposure to the cyclical nature of shipping. Yet despite the downturn in much of the maritime industry last year, BV's revenues grew by double digits with an enviable operating margin.
By 2020 it wants to add $2 billion a year in new earnings with a strategic focus on the American and Chinese markets. The increase will come through both acquisitions and organic growth. Philippe Donche-Gay, Head of the growing Marine and Offshore Division, notes that BV saw a 10 percent increase in tonnage in 2015 and a 20 percent increase in containerships as measured by TEUs, making it the "only class society to have a strong classed fleet with all three of the world's top container ship operators – Maersk, MSC and CMA CGM."
Crossing Borders
In addition to shoreside expansion, class societies are crossing borders, adding new Flag State authorizations for their statutory services. ClassNK can now inspect U.S.-flagged vessels under the Alternative Compliance Program, joining DNV GL, Lloyd's Register and market leader ABS. ClassNK plans a presence in both blue-water and brown-water shipping, anticipating new shipowner needs under Subchapter M. However, even as his organization enters new markets, Chairman Fujiwara says "Business expansion is not our goal, but rather organic growth," emphasizing that current clients' needs will be the primary driver for expansion.
Korean Register (KRClass) is also expanding into new locales and has been approved by the U.S. Coast Guard to provide laboratory services for evaluation of ballast water management systems, an evolving area of concern. In April, it was approved for the delivery of statutory services in India. In addition, KRClass has prepared a strategic return to a re-emerging market – Iran.
KRClass opened an office in Tehran in 2010, but like all IACS members it had to withdraw shortly thereafter due to Western sanctions. Last year, the society signed agreements on ship surveying with the Iranian Classification Society, and when sanctions eased in early 2016 it began classing Iranian ships once more. Registration is in process for vessels belonging to the National Iranian Tanker Company and Islamic Republic of Iran Shipping Lines, and KRClass expects to grow its presence even more by classing new tanker orders and certifying offshore facilities.
A Common Goal
Like all market participants, ashore or afloat, class societies compete on a global scale, but the core nature of their business is fundamentally collaborative. They must work with shipowners, yards and operators, and each other to ensure across-the-board standards of safety at sea. Whether through bilateral agreements for dual-class vessels or sweeping initiatives at IACS, the leading societies collaborate to move the industry forward. More than ever before, they are well positioned to guide shipping into its next era. – MarEx
Paul Benecki is a MarEx reporter based in Portland, Oregon.
The opinions expressed herein are the author's and not necessarily those of The Maritime Executive.