(Article originally published in the May/June 2017 edition)
The Relatively Low Startup Costs of a Ro/Ro Terminal Can Pay Big Dividends.
For a port authority, there's a lot to like about a roll-on/roll-off operation. The latest ro/ros can handle almost anything that can roll up a ramp, from one-ton compact cars to 500-ton heavy lift cargoes. They don't need "big ship-ready" terminals with giant cranes. An ordinary breakbulk pier may be enough. And ro/ ro carriers on liner service routes are a steady business with steady revenue. To bring them in, a port just needs a few key ingredients: proximity to markets, good road and rail connections, a skilled labor force and a lot of parking.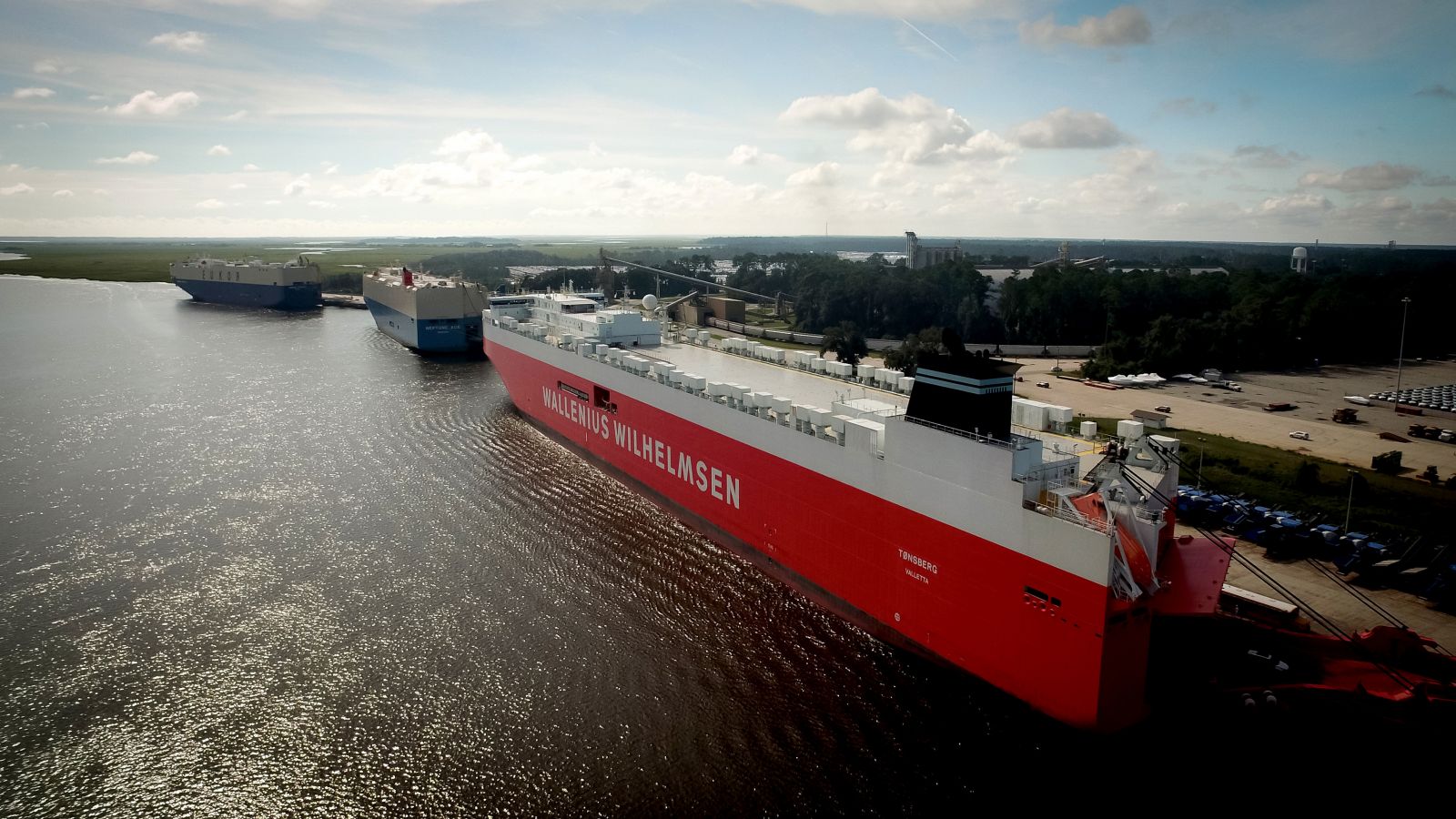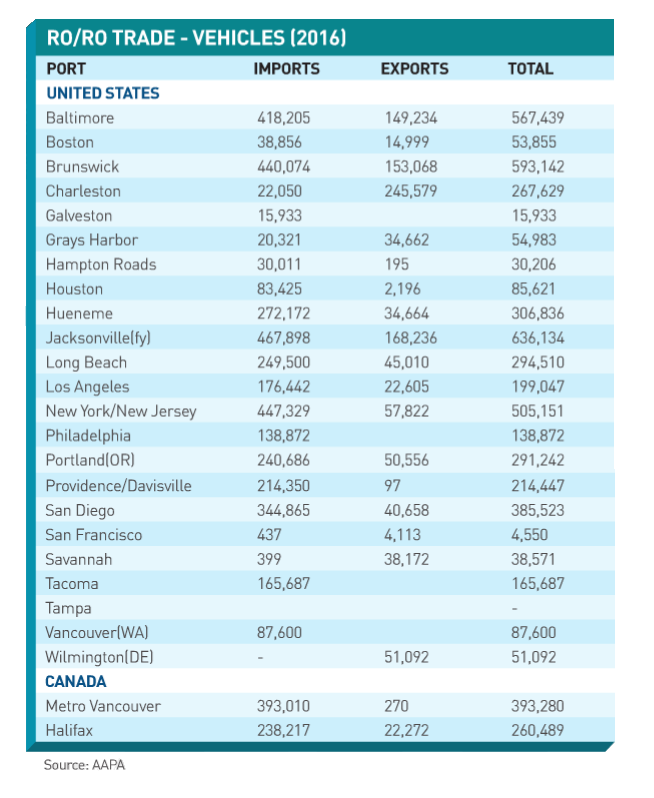 Low Marginal Costs
The ro/ro terminal's simple infrastructure requirements make it an attractive way for a port to expand its cargo business. At the Port of Galveston, adding another ro/ro pier might be a way to overcome practical challenges and grow, says John Peterlin, Senior Director of Marketing.
As the port looks to expand its footprint, the best site for a new marine terminal is on Pelican Island, on the other side of Galveston Channel from the existing port complex. It's a good location, but the bridge across the channel is weight-limited, and the waterway would have to be dredged for cargo vessels to come alongside. These restrictions could be removed with an unlimited budget, but Galveston is an enterprise-funded port, which limits its ability to raise funds for infrastructure projects.
Enter ro/ro cargo. The biggest ro/ro vessel in the world only draws about 36 feet, which is less than the draft of a Panamax container ship (and much less than a Neopanamax). "The initial development cost for a ro-ro terminal would be relatively low," Peterlin says. "There's still quite a bit of dredging that would have to be done, but we wouldn't have to create bulkheaded dock space dredged to 45 feet."
In addition, shipments of autos would be light enough to truck over the existing bridge. With so much less infrastructure work to do, a new marine terminal at Galveston would be that much closer to completion. And since the port already has two ro/ro terminals, adding a third would be a natural outgrowth of its existing business.
Finding Parking
While ro/ro operations offer ports a steady revenue stream at a low start-up cost, they demand lots of one commodity: land. Not just wharfage, but acres of parking and covered space for storing and processing vehicles.
The Georgia Ports Authority's ro/ro operation at the Port of Brunswick ranks third for cargo volume in the U.S., but it takes first place for the sheer scale of its real estate. The Colonel's Island Terminal is the largest ro/ro facility in the nation, boasting 550 acres of auto-processing and storage serving 20 automakers. Satellite photos are helpful to get a sense of its size: The port and its vehicle storage areas stretch nearly two miles from the docks to the farthest lot. In addition, Brunswick has another 200 acres under development and 660 more that are permitted and ready for future expansion. Three berths keep the cargo flowing, and the port is applying for permits to add a fourth.
Few ports have the luxury of limitless acreage, and for urban port authorities like the Port of Long Beach, ro/ro's space requirements can be a hard problem to solve. Land is scarce in South- ern California, and the asking rate for industrial lots near Long Beach typically exceeds $100,000 per acre per year. But Business Development Manager Brett Mascaro says Long Beach has found a creative solution.
Long Beach Pier F handles Mercedes-Benz imports for the western U.S., plus a limited volume of Tesla exports on backhaul routes. The pier is small, but it still moved 65,000 vehicles last year. Its productivity comes from its very low dwell time: Most ro/ro terminals have an auto processor located on site, but at Pier F the cars are swiftly trucked off to Mercedes' regional facility at Douglas Park, a giant receiving center in a former aircraft hangar about 12 miles from the port.
"Historically, Long Beach was a big aerospace town, but when that business went away the city went looking for new uses for the hangars," says Mascaro. "They sold Douglas Park to a developer, who secured Mercedes as an anchor tenant on a 25-year lease." This agreement solved a space problem for the port and for Mer- cedes-Benz USA, which says the center can process and store up to 6,000 cars at a time. It's big enough to accommodate the company's West Coast training and sales operations too.
But even with off-site auto processing, land availability is a challenge at Long Beach. The port is building a six-lane freeway bridge and a high-tech container terminal at the same time, and the construction staging for these mega-projects will tie up all of the extra space for the next few years. To prepare for the day when the work is done, the port is engaged in a land-use study and a master plan update. "We definitely see ro/ro as part of our future portfolio," Mascaro adds. "We generate about one quarter of our revenue from non-containerized cargo business, about $70 million per year, and ro/ro is a big part of that."
Long Beach may not have much spare room right now, but car manufacturers can find plenty of capacity for their West Coast shipments in an unexpected place – the bustling San Francisco waterfront. Last July, California-based shipping firm Pasha Group opened a new auto-processing facility at Pier 80, a 70-acre break- bulk terminal on San Francisco's south waterfront that had fallen into disuse.
It's a win-win for the port and for car manufacturers, which can put new autos on shore within easy trucking distance of dozens of dealerships. This year the pier will handle 15,000 vehicles. It's a strong start, but Maritime Marketing Manager Brendan O'Meara says Pier 80 can handle over six times that volume, and there's even more room to grow at another pier nearby.
The Pasha terminal is just blocks away from San Francisco's trendy Dogpatch neighborhood, and one might think the city's chart-topping real estate values would put pressure on industrial land uses. O'Meara acknowledges that the port authority has rede- veloped much of its downtown acreage for commercial use, reflect- ing the changing economy, but says city leaders are committed to keeping maritime businesses – and well-paid maritime jobs – along the south waterfront.
"Location, Location, Location"
Having enough space is important, but proximity to markets is also key. Port Canaveral is about an hour's drive east of Orlando, Florida, which has the largest car rental market on earth. Sixty million people travel to Central Florida every year, including 20 million visitors to Walt Disney World, and many of them use rental vehicles to get around. The port is well-placed to serve this regional market, and carriers are taking note. Thanks to a new cargo terminal and a new Mexico-U.S. service operated by MOL, Canaveral stands to double its ro/ro volumes in 2017.
The top ro/ro ports in the U.S. say service quality is also a key factor. Autos are high-value cargo, and manufacturers prefer logistics partners who can minimize damage in transit. The Port of Baltimore, the nation's busiest ro/ro port, attributes its success to its skilled stevedores and its dedication to quality control. "Each month, all the key players in our ro/ro supply chain meet to discuss what we did right and what we did wrong the previous month. Labor, terminal operator, manufacturer and the port all have a seat at that table," says Richard Scher, the port's Director of Communications. Baltimore has also started what it calls the "Ro/Ro Rodeo," a two-day training event where newly-hired longshoremen learn to handle heavy equipment, which makes up a big part of the port's cargo mix.
The Port of Jacksonville (JAXPORT) has become the second-busiest ro/ro port in the U.S. by similar means. As a measure of JAXPORT's service quality, it recently won the Terminals and Ports Operator Award at the 2017 Automotive Global Awards North America. "We have highly skilled stevedores and auto processors, and the level of care they deliver has helped us win new business," says Frank Camp, Director of Non-Containerized Sales.
JAXPORT's ro/ro business spans the globe, with services from all the major carriers on all the major trade lanes. One of its biggest markets may come as a surprise. "The Middle East is traditionally a very strong trade lane for us for newly manufactured vehicles outbound, especially for cars made in the southeastern U.S.," says Camp. For shippers on this route, Bahri General Cargo offers a combined heavy-lift and ro/ro service from JAXPORT to Jebel Ali, and Camp says that many conventional ro/ro operators also offer regular sailings.
In the Mix
Ro/ro operations rarely make headlines, but they're a valuable part of a port's cargo mix. They're a good way to serve a diverse array of businesses – fleet operators, dealerships, automakers, consumers, even shippers with heavy-lift cargo – and they create steady revenue and good jobs. Every port competes for this line of business on its own individual strengths, but they're all happy to see a ro/ro tie up at the pier.
-MarEx