Mega-Bucks!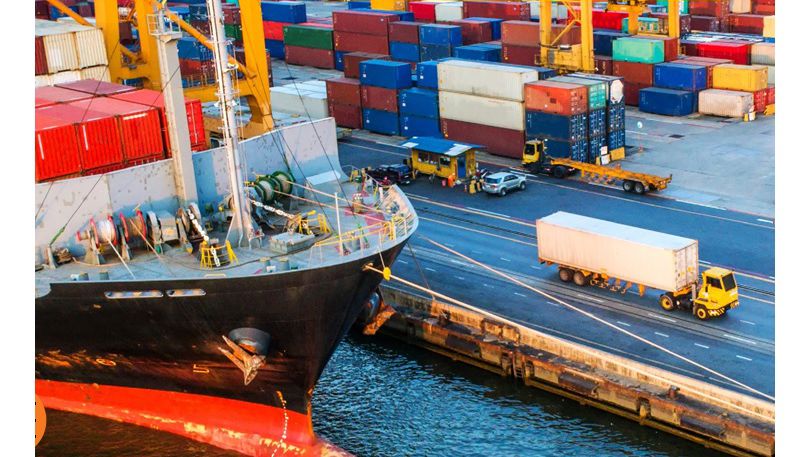 (Article originally published in July/Aug 2017 edition.)
The spending of mega-bucks on container terminal infrastructure continues at a feverish pace at North American ports with no holding back as port administrations and private businesses position themselves for bigger ships. With the new "big ship" era upon us, if you don't bring your checkbook you may not be in the game.
The industry forecast several years ago that container vessels would get bigger. As that forecast evolves, ports are experiencing rapid change. The increased traffic has sparked massive infrastructure upgrades on docks and with intermodal partners, not to mention major and ongoing dredging projects funded by private and public money.
BIG SHIP SPINOFF
The opening of the expanded Panama Canal a year ago allowed ships using the canal to increase in size from 5,000 TEUs (20-foot equivalent units) to 13,000 TEUs. The Neopanamax era has been strong with well over 1,200 ships in that classification (8,600 TEUs to 14,000 TEUs) moving through the canal since expansion.
The expanded Suez Canal has also been a contributing factor with more ships a day moving through that waterway. In New York/New Jersey, with the raising of a portion of the Bayonne Bridge to 215 feet, ships of up to 18,000 TEUs can now pass under. This dramatic change gives cargo owners more options in accessing huge, ready-made markets, leading to changes in ship routings and port rotations.
A third factor has been the formation of major carrier alliances with bigger cargo ships and a need for port infrastructure enhancements to handle the greater volumes.
CASHING IN
The Georgia Ports Authority (GPA) and in particular the Port of Savannah, which handled 3.64 million TEUs in 2016 and regularly handles ships of 13,000-TEU capacity and soon 14,000, have been among the big beneficiaries.
"With the opening of the expanded canal and the shift to larger vessels," says Patricia Richardson, GPA's Manager of Commercial Communications, "we are seeing cargo expansion as shipping lines take advantage of the more cost-effective route via Panama. Savannah's containerized trade moving through the Panama Canal grew by 12.3 percent during the first 10 months of the fiscal year." Richardson anticipates further market opportunities as the expanded canal lowers transportation costs and "adds new westward territory to the area best served by East Coast ports," meaning everything from Houston and Memphis to Chicago.
She sees two major trends in play: "The first is a shift toward larger vessels that are concentrating their calls on fewer gateway ports like Savannah. On these stops they are completing much larger container exchanges, often thousands of containers per vessel. The size of these exchanges has been impacted by a second major industry trend – carrier consolidation of cargo onto shared vessels. On April 1, major global container companies realigned into three alliances. In the 60-day period following that realignment, post-Panamax vessel exchanges at the Port of Savannah have averaged 2,900 twenty-foot-equivalent container units, a 30 percent increase over last year."
The Port of Jacksonville (JAXPORT), which handled nearly a million TEUs in 2016 and in June welcomed the 10,100 TEU-vessel MOL Bravo, has seen greater utilization of both the Suez and Panama canals in its Asian cargo numbers. "The Asian container trade continues to be the fastest growing segment of JAXPORT's container cargo business," says Nancy Rubin, Senior Director of Communications. "Larger ships calling JAXPORT through both the Panama and Suez canals have contributed to this steady growth."
The port has recorded 21 percent average annual growth in Asian container volumes during the past five years with the three largest carrier alliances – THE Alliance, 2M and Ocean Alliance– creating additional growth opportunities. During the first six months of FY 2017, JAXPORT recorded 13 percent growth in Asian container shipments.
It's a similar scenario at the Port of Virginia, which last year saw seven percent growth in container volumes. "Our success is the result of a number of equally weighted factors," says Jay Stecher, the port's Vice President of Marketing & Communications.
Those factors include higher traffic via the Suez and Panama canals, realignment of the ocean-carrier alliances, growing market share, expanding double-stack rail connections into the Midwest, increasing cargo velocity across port terminals, deep water with no overhead obstructions, and the expansion of two primary container terminals.
BIGGER CARGO LOADS
Bigger cargo loads are a common theme among ports, which naturally means more infrastructure. Port Houston, one of the largest ports in the world handling more than 230 million tons of cargo annually, will invest north of $1 billion over several years in expansion and improvement projects. Three new ship-to-shore cranes for the Barbours Cut Container Terminal are slated for delivery this year, and three others are under construction for Bayport, says Bill Hensel, Manager of External Communications.
The Port of New Orleans, on the Mississippi River, topped more than a half million TEUs at its container terminal in 2016, achieving the milestone for the second year in a row. An investment boom in the chemical and petrochemical industry on the Lower Mississippi River has the port positioned for more container growth, says Media Relations Manager Donnell Jackson. Chemical and petrochemical companies have announced more than $81 billion in investments in new and expansion projects in Louisiana with estimated growth of 200,000 TEUs in plastic resin exports from the Gulf region between 2017 and 2020.
Among major developments at Port Tampa are a new on-dock cold storage facility nearing completion, new container services and new post-Panamax cranes, says Wade Elliott, Vice President of Marketing & Business Development. Port Logistics Refrigerated Services is nearing completion of a state-of-the-art, 135,000-square-foot, on-dock refrigerated warehouse scheduled for late August.
Adjacent to the port's container terminal, the new facility has a dedicated berth providing flexibility to handle both palletized breakbulk refrigerated products and reefer containers for transloading.
In the first six months of the port's fiscal year, total tonnage is up 10 percent and container tonnage is up 25 percent. "Last July, Port Tampa Bay commissioned two new post-Panamax cranes that give us the ability to handle ships of up to 10,000-TEU capacity," Elliott explains. "We now have a total of five container gantry cranes on a 40-acre terminal with 43-foot depth and 2,800 feet of berth with plans to quadruple the terminal space to 160 acres and add a new 1,000-foot deep water berth."
The Northwest Seaport Alliance, a partnership of the ports of Tacoma and Seattle, is really thinking big when it comes to development. According to the Alliance's Communications Director, Tara Mattina, it's reconfiguring Pier 4 in South Harbor to align with an adjacent pier to create one contiguous berth capable of serving two 18,000-TEU container ships. The $250 million project is expected to be completed next spring and will include the purchase of eight super post-Panamax cranes to support the larger vessels.
"Future Terminal 5 improvements in the North Harbor are also under design," she adds. "The U.S. Army Corps and North Harbor agreed on a tentatively selected deepening plan of 57 feet for the east and west waterways."
The Alliance already handles the really big vessels. "We regularly handle ships in both harbors that can hold 10,000 to 13,000 TEUs," Mattina notes, "and we had the 18,000-TEU Benjamin Franklin visit Terminal 18 in Seattle last year." Through the first five months of the year, the NWSA container terminals have handled 1,503,040 TEUs, up 12 percent from the same period in 2016. Container volumes grew in 2016 to 3.6 million TEUs.
The Port of Freeport, Texas wouldn't be considered a large container port handling barely 100,000 TEUs in 2016, but it plans to add new container lines when opportunities present themselves, says Mike Wilson, Director of Economic Development. Meanwhile, the port is working on a channel-deepening and widening project. "We are finishing the last steps in our GRR (General Reevaluation Review)," says Wilson, "and will start the navigation enhancements that will allow us to handle Panamax container vessels. Next year we will move into the engineering and construction phase and hope to have our 55-foot entry channel along with our 52-foot main channel dredged and completed by 2021/2022."
Port Everglades, which handles over one million TEUs a year, is also in a progressive mode. In the past year it completed, advanced and initiated a number of construction projects that are part of the overall 20-year Master/Vision Plan, says Ellen Kennedy, Assistant Director of Business Development/Communications. The U.S. Army Corps of Engineers is moving forward with the port's navigation improvements project to deepen and widen navigational channels.
The outer entrance channel will be deepened and widened from an existing 45-foot project depth over a 500-foot channel width to a 55-foot depth with an 800-foot channel width. There will also be deepening of the inner entrance channel and main turning basin from 42 to 48 feet and a widening of the channels within the port to increase the margin of safety for ships transiting to berth. The total estimated cost is $389 million.
The port is also moving forward with its Southport turning notch extension project, which will lengthen the turnaround from approximately 900 feet to 2,400 feet and provide for up to five additional berths and six new super post-Panamax gantry cranes with supporting rail. The expansion project has a price tag of $437.5 million and is expected to be operational by 2020.
"O CANADA!"
North of the border, the Port of Montreal had throughput of nearly 1.5 million TEUs in 2016 and expects to top that number in 2017 with cargo growth from emerging markets in Asia, the Middle East and Latin America. Further growth is expected when Canada enters into the pending Comprehensive Economic and Trade Agreement (CETA) with the European Union, says Alexandre Montpetit, Manager of Growth and Development for the Montreal Port Authority.
To handle the additional load, Montreal has undertaken a number of infrastructure projects. The construction of the $197 million Viau Container Terminal will increase the port's capacity by 600,000 TEUs to 2.1 million. The first phase of the project is now complete. Over the next few years, terminal operator Termont Montreal Inc. and the port authority will create a second berth and develop another container reception area.
Ever conscious of its environmental responsibilities, the port authority last October announced a project to reduce greenhouse gases and optimize truck routes to and from port terminals. The resulting Trucking PORTal Web-based application will be a key tool in reducing wait times at container terminals. A new corridor connecting to major Highway 25 will also benefit truck flow, not only speeding up the delivery of goods, which is mission-critical to the quality of services provided by a port, but also lowering greenhouse gas emissions. MarEx
The opinions expressed herein are the author's and not necessarily those of The Maritime Executive.