George A. Tsavliris - Principal, Tsavliris Salvage Group
Tsavliris takes a uniquely philosophical approach to the salvage business and the world around him.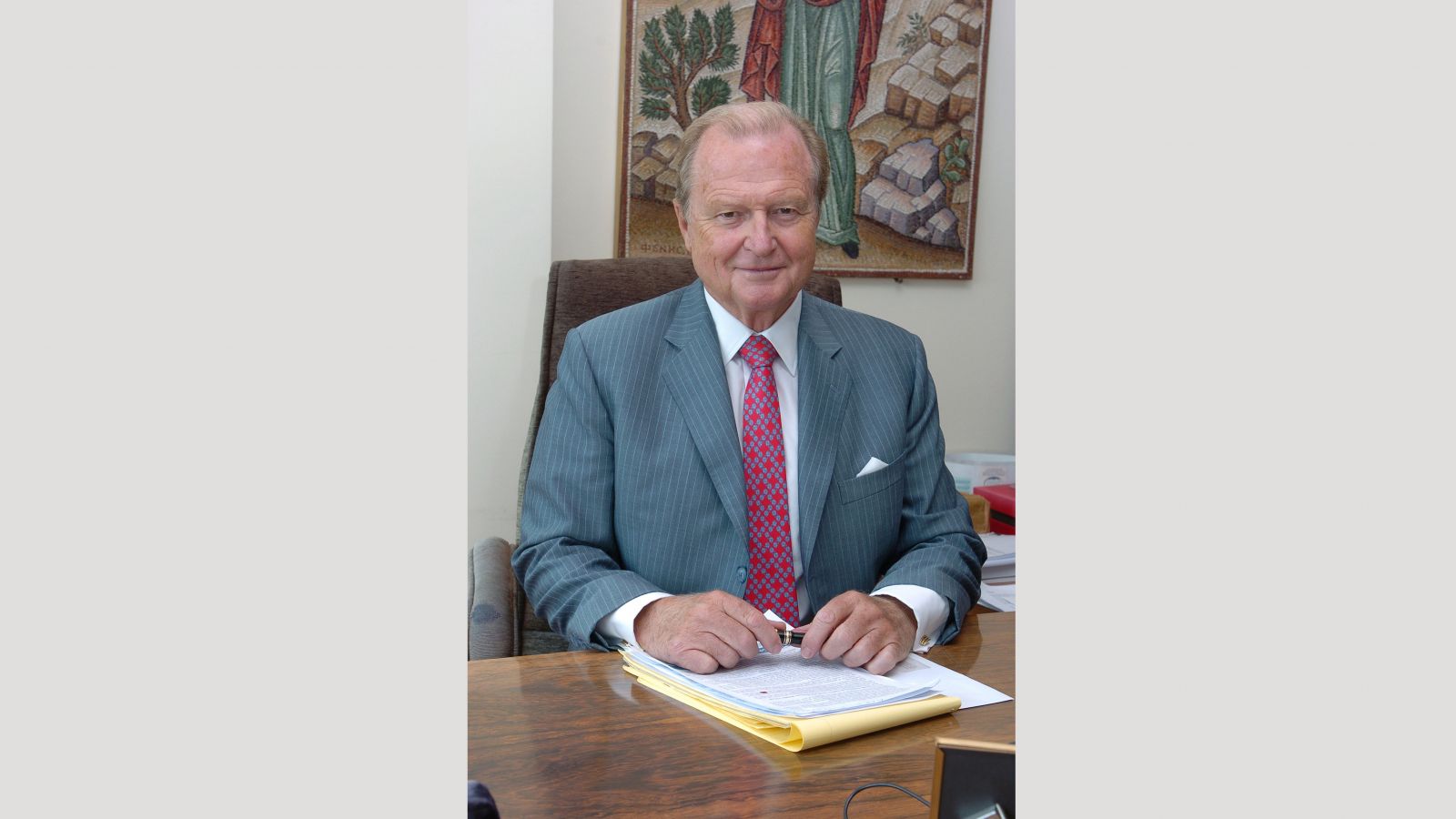 (Article originally published in Sept/Oct 2017 edition.)
The home page of the Tsavliris Salvage website features, in addition to the usual items found on any corporate home page, the following quote from Socrates: "The secret of change is to focus all your energy not on fighting the old but on building the new." It's a maxim that George A. Tsavliris lives by.
WHY IS CHANGE IMPORTANT TO YOU?
The pace of change today is so rapid. We won't survive if we don't keep up the rhythm of having new ideas. I feel that in the world we live in today this is far more important than in the past. The pace, the intensity, the rapid changes – everything calls upon our ability to adapt in order to survive and move forward.
Sometimes people are referred to as being "successful." I do not like this term as it can be fairly subjective. I prefer to focus on being "creative," inspiring those close to us and supporting those around us. This invariably means thinking "out of the box." I have always tried to influence my family and friends to adopt Darwin's theory: "It is not the strongest of the species that survives, nor the most intelligent, but the one who is most adaptable to change."
HOW HAVE YOU ACHIEVED THIS ADAPTABILITY?
I am fortunate in having five children, so in a way I hope their influence on me has perhaps supported my own ability to adapt. All I can say is I have tried. My youngest son recently inspired me by asking me to read The Intelligent Investor by Benjamin Graham. Ben Graham happened to be one of Warren Buffett's best friends, his professor in university and his first employer. One of the wealthiest men in the world, Buffet took example from Graham's teachings, who at a later stage in his life admitted that every day he always hoped to do three things:
? something foolish
? something creative, and
? something generous.
The underlying factor is to maintain our childish enthusiasm in everything we do, whether it be in our personal or profession- al lives. For example, on various occasions I have been called upon by educational institutions to give presentations to students on shipping-related matters, and I sometimes create skepticism among the university staff when I openly advise students not to focus on textbook solutions and not to adhere to pure logic. Basically, I advise them to be impulsive and go by their own intuition and gut feeling. And I often use a quote from the film, The Best Exotic Marigold Hotel: "The person who risks nothing, does nothing, has nothing!"
DO YOU CULTIVATE THIS SENTIMENT IN THE COMPANY?
Actually, we try to. We don't tell people what to do. We give them directives and propose solutions. I have tried to adopt the same policy with my children but have not always succeeded. I merely say, "If I were in your position, this is what I would do." This way you inspire them to make decisions. Needless to say, I've obviously made mistakes in the past in not always succeeding in this directive. Effectively in the company, we aim at decision-making as a team.
YOU WERE 25 WHEN YOUR FATHER, ALEXANDER, THE FOUNDER OF THE COMPANY, DIED. WHAT DID YOU LEARN UNDER HIS GUIDANCE?
My father was always a very busy person, traveling frequently. Despite his limited time with us at home, my two brothers and I were very close to him and had great respect for him. He always inspired us by his humility and the difficulties he experienced at the very early stages of his life. He arrived in Greece with his family as a refugee from Asia Minor in 1922 – penniless. He had to work hard from the very young age of eight before eventually establishing a shipping company in 1939. It was this respect for him and his drive to create that influenced us significantly in taking an interest in the shipping business.
AND YOUR MOTHER?
My mother was the pillar of strength in our family and, like many shipping families, she was essentially the administrator of all domestic matters, all the while giving us inspiration and guidance for our studies. In doing so, she was immensely influential and supportive to our father, enabling him to focus on and create the business.
WHERE DO YOU FIT IN THE FAMILY?
Being the middle brother, I am often referred to as "the sandwich." As in all families, there can be personality clashes, and sometimes I have to adopt the role of mediator or moderator!
HOW DO YOU SHARE THE LEADERSHIP WITH YOUR BROTHERS AS JOINT PRINCIPALS OF THE COMPANY?
Our leadership is shared in a rather unique way. All major decision-making goes three ways, but effectively each one is given "the upper hand" in areas where he has more personal expertise or knowledge. Basically, I end up being the troubleshooter – or troublemaker – depending on how you look at it!
We cover the role of leadership, first and foremost, by having respect for one another. For example, even though there is only a two-year age difference between us, I will always refer to my older brother with respect for his seniority. Likewise, he will often agree to a proposal and give credit to me because of "my gut feeling." We are all different characters. We each have a different approach. My older brother is very analytical. I tend to be the more impulsive one. My younger brother is very good at networking and dealing with people.
All these issues apply to most traditional Greek shipping families. However, in our case, we have been successful in building up the concept of absolute trust, loyalty, sincerity and love. We each have large families and, although outside of work we may have our differences, we are capable of overriding them while maintaining a strong family unity.
There is an ancient Greek phrase – "In unity there is strength." I do not think we would be where we are today without this belief. One can say that there are obvious difficulties, but at the end of the day there are more significant long-term benefits that come with our synergy and which we feel will also influence our children and the generations to come. Let us not forget that a nation's biggest asset is its next generation.
WHY DID YOU CHOOSE TO STUDY LAW ALONGSIDE SHIPPING?
I chose to study law as I found it could be a good foundation for any career I chose to follow. Somehow, one attains the ability to focus on finding solutions through the study of law. I've always found that law equips us with many skills – research, critical analysis, synthesis of complex ideas, debate and solutions.
TELL US ABOUT SOME OF YOUR CAREER HIGHLIGHTS.
One experience that will forever remain in my mind is the decision to build Handysize bulk carriers in Brazil just a few months after my father had passed away. We were young and probably overwhelmed by excitement and enthusiasm. The investment at the time was very risky, considering our financial status and given that Brazil was only just then entering the shipbuilding sector.
Another great highlight was the induction of my late father into the Greek Shipping Hall of Fame in March 2014, which made us feel so proud of our background.
Last but not least, in February 2016 my brothers and I were awarded the Capital Link Greek Shipping Leadership Award in recognition of our contribution to shipping and to Greece and for our overall service to the shipping industry as individuals, as a family and as a company.
WILL THERE BE A NEXT GENERATION INVOLVED IN THE COMPANY?
I would hope so. We are Greek. We are romantic, and we believe in continuity, especially in shipping, which is by far the most fascinating business. That being said, we give our children upbringing, education – we give them wings. We also inspire them to have faith in God, and it is up to them to do whatever makes them happy. We hope they find their way through creativity, hard work, a zest for life and childish enthusiasm.
In addition, we believe it is very important to inspire the next generation, give them the ability, the faith, the determination to get things done. They've got to realize that one cannot accomplish anything without hard work, staying focused and taking risks. Synergy, patience, understanding, loyalty are values we have lived by. We place significant emphasis on giving hope and passing on these values. At the end of the day, success and happiness are all about the ability to give to others.
I would like to leave you with another thought that has served me well in life and is best exemplified by the Edwin Land quote, "Never undertake a project in life unless it is manifestly important or nearly impossible." MarEx
The opinions expressed herein are the author's and not necessarily those of The Maritime Executive.