Beyond Borders
Training schools partner with industry and each other for better results.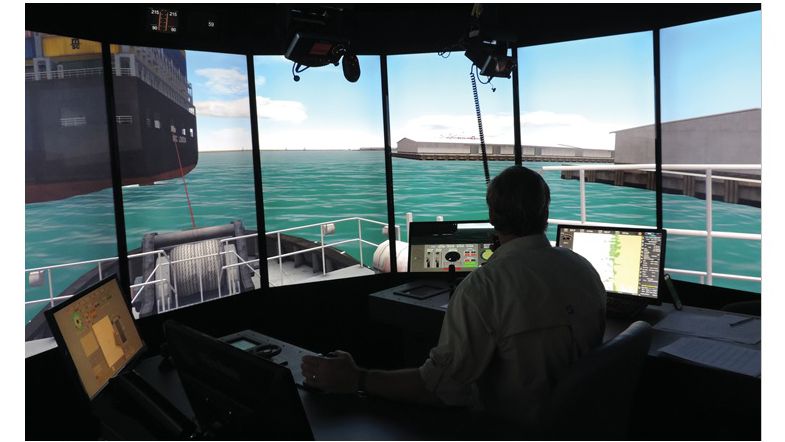 (Article originally published in July/Aug 2017 edition.)
Around 1,200 men and women graduated from maritime academies in the U.S. in the first half of this year. The academies that trained this new wave of seafarers are increasingly looking beyond local borders to support their students and bring greater global unity to the industry.
CREATING SYNERGIES
Captain Ted Morley, COO of MPT (Maritime Professional Training) in Florida, is currently in talks with academies in a number of countries that have the same simulator infrastructure to harmonize course offerings. MPT has just finished the installation of its Class A engine room simulator and cargo-handling simulator.
The academy can also now simulate ship-to-shore operations with an oil terminal simulator and is developing a strong, team-based approach where bridge, engine room and terminal staff all interact in the same training scenarios: "The goal is to train not only the mariner but the industry as a whole, whether the industry is in Australia, Europe or America."
Norway's Seagull Maritime, a leading provider of e-learning material, is also extending its international synergies with the creation of a new assessment center in Gdynia, Poland. Its partnership with Gdynia Maritime School offers seafarers an easy way to complete distance courses onsite, and further overseas assessment centers are planned in the future.
Seagull has also signed a long-term agreement with Sinochem Shipping to deliver training on board its fleet of chemical tankers. Sinochem will start with a selected library of e-learning modules and reflective learning films, several of which will be delivered with Chinese subtitles. The top 50 of Seagull's e-learning modules include subtitles in Chinese and Russian. In addition, the company offers French, Italian, Portuguese and Turkish language support.
Roger Ringstad, Seagull's Managing Director, says the industry globally is lacking qualified and experienced seafarers: "The most cost- and time-effective way to address this for the individual company is to implement a structured career development system – or competence management system, as I prefer to call it – where all required competencies for each rank on each vessel type are described in detail. Seagull has, together with leading shipowners, developed industry standards for competencies covering tankers, container ships, bulkers, offshore vessels and more."
Brian Long, Director of the STAR Center in the U.S., sees a shortage of unlimited-horsepower engineering officers at the management level. STAR Center recently completed a major upgrade of its full-mission engineering simulation capabilities and added new workshops and laboratories. The Center and the American Maritime Officers union have also developed a marine engineering apprenticeship program.
TECHNOLOGY' S IMPACT
Long says technology such as the Internet of Things, Big Data and real-time communications have a significant impact on training: "Already we see an impact on engineering training as systems are monitored and diagnostics performed outside the shipboard environment. Awareness of capabilities and limitations is already being included in our training."
Rear Admiral Michael Alfultis, President of SUNY Maritime in the U.S., agrees: "As ships and the supply chain become increasingly automated, students must have a proficient understanding of data analytics, networks and systems integration, and the associated threats. Just five years ago there was little discussion about cyber security. The recent shutdown of major terminals in the Port of New York and New Jersey highlights the need to work with industry and incorporate cyber security across all our curricula. We need to be constantly looking ahead: How will e-commerce and blockchain technology – the underpinning of crypto-currencies like Bitcoin – change shipping? What will be the impact on shipping of 3D printing technology?"
Partnerships are an essential part of the future, he adds. SUNY recently hosted a symposium with DNV GL looking at technological change over the next decade. SUNY also has a relationship with the American Bureau of Shipping (ABS), which has established two endowed faculty chairs and provides scholarships for 40 students each year. SUNY also has a strong partnership with Bouchard Transportation, which donated over $1 million for the college's tug and barge simulation center. SUNY currently has agreements with seven international maritime universities to facilitate faculty and student exchanges.
Pilots, too, are feeling the effects of technological change. Captain Simon Pelletier, President of the International Maritime Pilots' Association, says: "Every year we sail on a growing array of increasingly sophisticated ships. These new classes of tankers, cargo and cruise ships are faster, larger and rely on more advanced propulsion-control systems with integrated, sophisticated electronic navigation technology. This means our pilots must constantly apply their extensive knowledge of local conditions to the varying performance characteristics of a large number of ship classes."
To that end, Canada's Maritime Simulation Resource Centre (MSRC) produces pilot-grade ship models that react precisely to the environmental conditions and geographical features of an area. This has become crucial with the Panama Canal expansion as ports around the world have been deepening harbors and adding new berth infrastructure and new equipment such as post-Panamax gantry cranes.
MSRC has conducted a number of feasibility studies for North American ports looking to accommodate larger vessels. "Bringing a 325-to-400-meter (1,310-foot) vessel into a channel that was developed for a 285-meter (935-foot) vessel cannot be done without validating it and providing specialized training for pilots," says Director Paul Racicot.
Canada's Georgian Centre for Marine Training and Research possesses modeling workstations and is capable of creating models for any ship. Today's simulation fidelity is such that a class of vessel or an individual vessel's maneuvering characteristics can be modeled into a precise 3D mathematical model. The Centre's new virtual physics engine allows unprecedented interaction and modeling of ice, wind, waves, various bottom characteristics, and objects such as bridges, cranes and barges. The Centre can also create any harbor, port facility or waterway in the world.
In the U.S., MITAGS-PMI East Coast Campus has expanded their operational research and tractor-tug simulation capabilities with the addition of two new assist tug bridges. Up to six tug/ship bridges can be integrated in one simulation exercise. "The ASD tug integrated with the full-mission simulators allow pilots, ship masters and tug operators to train in the same scenario. This greatly enhances the realism and training related to tug placement / control, communications, and operational techniques. The use of two tug bridges, integrated with the full-mission bridge, has become a regular feature of operational research projects," explains Glen Paine, Executive Director.
The MITAGS-PMI West Coast campus has also expanded their capabilities with the recent acquisition of Fremont's India Tango Marine Fire Fighting School. The campus will now be offering the complete STCW revalidation, license renewal, and Subchapter M training requirements. Additionally, a new engineering apprenticeship program is scheduled to be rolled out later this year.
LIFELONG LEARNING
Professional development needs to be integrated into the industry's management systems and not just be something undertaken to meet regulatory requirements or pass an exam, says Captain Jeffrey Monroe, Director of Education & Training Programs at the International Association of Maritime and Port Executives.
"Our industry is one of exciting innovation that requires skilled professionals who can introduce new innovations," he says. "Beyond college, vocational and on-the-job training, the best way to ensure this is a system that encourages ongoing education and the value the individual brings to the organization. A well-educated and innovative workforce is the foundation of meeting the increasing and changing demands of ports, terminals and fleets."
Massachusetts Maritime Academy (MMA) is doing its part through the establishment earlier this year of the first "Future Leaders" chapter of the Ship Operations Cooperative Program. The goal of the "Future Leaders" initiative is to motivate cadets to network with industry professionals and increase awareness among industry leaders of the value of working with the next generation early on. Other institutions are expected to follow MMA's lead.
Singapore Maritime Academy (SMA) recently embarked on a similar initiative that includes an earn-and-learn component. The academy also partners with American Digital University for its e-learning programs. Its Director, Captain Mohd Salleh Bin Ahmad Sarwan, says: "The maritime industry experiences numerous regulatory and technical changes constantly, to which SMA responds by looking ahead and introducing new courses and initiatives to ensure that its graduates are prepared for the future needs of the industry."
Coventry University's Centre for Trust, Peace and Social Relations is helping the industry prepare for future challenges at home and abroad by offering five new scholarships this year to celebrate the fifth anniversary of its maritime security program. The Centre works with organizations responding to some of today's most pressing challenges including piracy, human trafficking, illegal fishing and port security. Cooperation with organizations such as Indonesia's International Organization of Migration, the Royal Navy and The Nautical Institute demonstrates the trans-national scope the Centre opens to students from around the world.
AN OCEAN OF OPPORTUNITY
While most of the 1,200 new U.S. seafarers will enter the merchant fleet, they may also have the opportunity of supporting their nation on military vessels or ferrying supplies to U.S. troops overseas, just as their colleagues did during Operation Enduring Freedom (2001-2014) and Operation Iraqi Freedom (2003-2010) when U.S.-flagged commercial vessels transported over half of all military cargoes to Afghanistan and Iraq. But no matter what career path these newly minted officers select, an ocean of opportunity awaits. MarEx
The opinions expressed herein are the author's and not necessarily those of The Maritime Executive.