A Bigger Piece of the Pie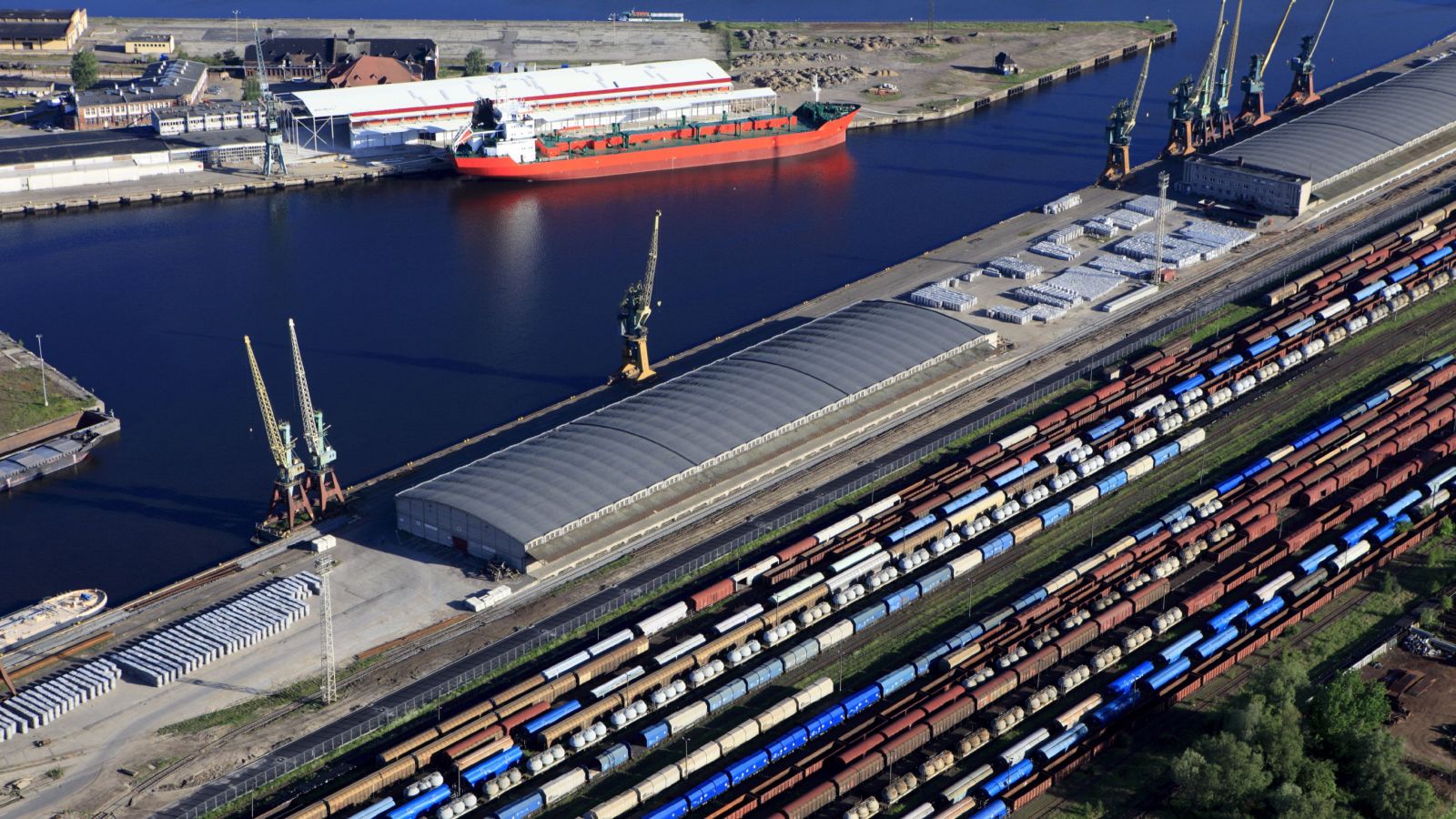 (Article originally published in Nov/Dec 2015 edition.)
That's what U.S. ports want as the competition for federal infrastructure grants heats up.
In announcing a $500 million round of government funding that saw just nine percent directed specifically to port logistics, U.S. Department of Transportation Secretary Anthony Foxx commented: "Transportation is always about the future. If we're just fixing today's problems, we'll fall further and further behind.
That's exactly the point Susan Monteverde, Vice President of Government Relations at the American Association of Port Authorities (AAPA), made to a group of government officials during the AAPA's annual visit to Capitol Hill in October: "We must build 21st Century infrastructure to stay competitive rather than just maintain what we have today." Monteverde was part of a delegation of more than 20 officials representing seaports from all four U.S. coasts.
Foxx's funding announcement was applauded by the AAPA. However, the applause came with a plea for 25 percent, rather than just nine percent, of Transportation Investment Generating Economic Recovery (TIGER) grants for port-related and connector infrastructure. Ports are one of four eligible funding areas along with roads, rails and mass transit.
Five of the awards announced by Foxx as part of the TIGER grants, totaling $44.3 million, will directly benefit ports:
The Port of Hueneme in California received $12.3 million to help improve its intermodal infrastructure.
The City of Baltimore's Southeast Baltimore Port Industry Freight Corridor Plan received $10 million.
The Ports of Indiana received $10 million to help construct a double rail loop and rail-to-barge transfer facility at Jeffersonville on the Ohio River.
The San Diego Unified Port District received $10 million to help modernize the port's Tenth Avenue Marine Terminal, and
The Port of Newport, Oregon, received $2 million to help construct an international deep water marine terminal with intermodal access.
AAPA has been a strong supporter of the TIGER grant program from the beginning. In TIGER's first round in fiscal year 2009, port-related infrastructure projects received just 8.6 percent of the money allocated. In subsequent rounds, port-related infrastructure did better, garnering 14.6 percent in the second, 12.8 percent in the third, 13.6 percent in the fourth, 13.3 percent in the fifth and 12.4 percent in the sixth. The falloff to nine percent in the latest round is disappointing, to say the least.
WRRDA
Monteverde's visit to Capitol Hill also included discussion of the U.S. Army Corps of Engineers' navigation budget, used for both harbor maintenance dredging and new projects. Last year, on a bipartisan basis, Congress overwhelmingly passed the Water Resources Reform and Development Act (WRRDA). It included a 10-year investment schedule that would fully utilize Harbor Maintenance Tax (HMT) revenues, as there was previously no direct link between the amount of taxes collected from shippers and the amount spent on port projects.
In line with WRRDA's 10-year schedule, AAPA is urging that Congress provide an increase in the Corps' maintenance and operations budget to $1.34 billion for FY 2016 (71 percent, up from 69 percent, of estimated HMT revenues). Unused money sits in a trust fund and currently totals over $9 billion. "We want Congress to hit the HMT target level included in the law," Monteverde says. "We are also seeking an increase in the construction budget that funds deepening of channels. The $81 million in the proposed FY 2016 budget was the lowest in over 10 years."
U.S. ports also require at least $28.9 billion in investments for surface transportation improvements that could be funded through the surface transportation bill or through separate federal TIGER grants, she adds. One quarter of the U.S. economy is tied to America's seaports, and over $320 billion is generated in local, state and federal tax revenues generated each year by seaport activity.
As there's no clear definition of what constitutes "freight projects" in the federal government's lexicon, there's been a lack of coordination among federal and state government entities and private sector stakeholders. This has resulted in a shortage of public funds to plan and invest in the nation's freight network and address the key freight chokepoints that impact both passenger and freight constituencies. Monteverde hopes that "The next surface transportation bill being debated by Congress will change this."
Growing Congestion
One-third of ports say congestion at landside connectors over the past 10 years has caused productivity to decline by 25 percent or more. The convergence of growing freight volumes and residential needs puts increased stress on the transportation infrastructure, resulting in road and rail congestion, poor air quality, major safety issues and negative quality-of-life impacts on adjacent communities.
According to AAPA, nearly 80 percent of its member ports require at least $10 million of investment in their landside connectors through 2025; 31 percent require over $100 million. While ports plan to invest more than $9 billion each year to maintain and improve infrastructure, additional investment is needed to improve road, rail, bridge and tunnel connectors, says Monteverde.
"We support federal freight funding," adds Tara Mattina, spokeswoman for AAPA member Northwest Seaport Alliance. "We need to look at the entire supply chain as a system. We ports are investing in our terminals to make sure they can efficiently handle the ever-larger ships that are cascading into the trans-Pacific trade. We need our road and rail partners to do the same to make sure the cargo continues to move quickly once it leaves our gates."
Earlier this year the ports of Seattle and Tacoma formed the Northwest Seaport Alliance, which combines the cargo terminals of the former rival Washington State ports. Both ports will benefit from funding announced in July when the Washington State Legislature passed a 16-year, $16.2 billion transportation investment package that includes $9.7 billion for road projects including $1.4 billion for state highways.
"As with many states, our infrastructure investments have not kept up with our transportation needs," Mattina notes. "One of the projects that will most directly benefit the Northwest Seaport Alliance's South Harbor is the completion of State Route 167. The original highway was built 30 years ago, but it ended six miles short of the port's industrial area when it ran out of money. It has taken us 30 years to raise the funds to complete a critical highway."
The catalyst for the Alliance was the increased need for deeper waterways and expanded facilities to accommodate mega-container ships. Many of the Alliance's rivals are already prepared for such ships, but it will have to spend at least $800 million on the infrastructure required to modernize Terminal 5 to "big ship" readiness. Terminal 5 could only take ships with a capacity of 6,000 TEUs when container operations were suspended in July of last year to allow for the development needed to handle two 18,000-TEU ships simultaneously.
International Competition
Uniquely, the Port of Oakland, the third busiest on the West Coast behind Los Angeles and Long Beach, has a large piece of land available for development. A new global trade and logistics center is under construction on approximately 185 acres of land and 56 acres of submerged land.
Phase 1, due for completion in the next few months, includes a dedicated rail manifest and supporting rail yard, a bulk marine terminal and one million square feet of warehouse space. Phase 2 will include an intermodal terminal, 15 acres of truck parking, and additional warehouse and logistics space. The cost for both phases is approximately $1.2 billion. The new center will mean that freight will have its own dedicated rail system.
Spokesman Robert Bernardo points out that Oakland is competing not only against other U.S. ports but against international ports in Canada and Mexico: "This business is about trying to have as much intermodal cargo as you can, and right now 80 percent of our trade is from Asia because of our geographic proximity. We take that cargo, and we ship it out to other parts of the U.S., and because of our geographic advantage we can do it faster. With this global trade and logistics center, we'll do it even faster."
Oakland's larger West Coast competitors are far from complacent. Long Beach Container Terminal's new Middle Harbor terminal will be the fourth largest terminal in the U.S. upon completion. Phase 1 has now been completed and is expected to be operational in 2016. The port signed a 40-year, $4.6 billion lease with Orient Overseas Container Line and its subsidiary, Long Beach Container Terminal, for the Middle Harbor property, in what was the largest deal of its kind for any U.S. seaport.
The new terminal more than doubles the capacity of the two terminals it replaces. The nine-year, $1.31 billion project will upgrade wharfs, container yards and the on-dock rail yard. The entire project is expected to be completed in 2019.
Going It Alone
The East Coast is racing to take advantage of the Panama Canal expansion to win a bigger share of the container freight market. "We did not wait on the federal government to fund this important project," said Florida Governor Rick Scott at the September celebration of the completion of PortMiami's deep dredge and on-dock rail project. "We stepped up because we want Florida to be a global leader in trade." PortMiami claims to be the only major logistics hub south of Virginia capable of handling fully laden post-Panamax vessels.
The battle for winning funding from Capitol Hill is likely to continue with the Department of Transport study Beyond Traffic anticipating a 45 percent growth in freight in the U.S. by 2040. – MarEx
The opinions expressed herein are the author's and not necessarily those of The Maritime Executive.