Interview: The Thinking Behind Carnival's LNG Strategy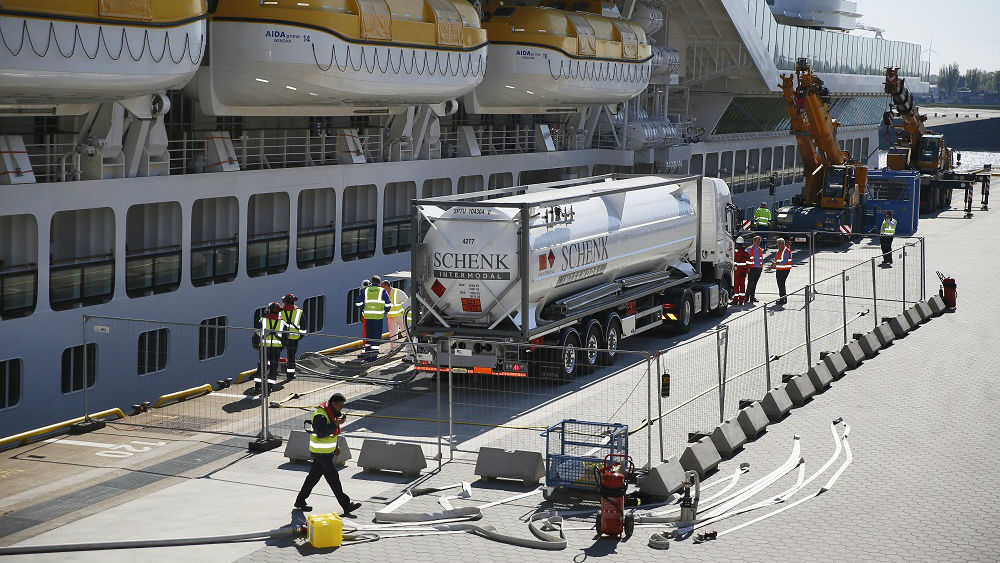 In the fall of 2017, construction began at the Meyer Werft shipyard in Papenburg, Germany on the world's first fully LNG-powered cruise ship, the AIDAnova. Due to enter service in December 2018, she heralds a new era in cruise ship design. Carnival Corporation currently has a total of seven LNG-powered ships on order for its AIDA Cruises, Costa Cruises, Carnival Cruise Line and P&O Cruises UK brands.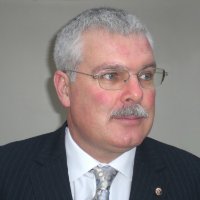 The Maritime Executive spoke with Tom Strang, Senior Vice President Maritime Affairs for Carnival Corporation to get an in-depth view of the challenges. Strang, who has a degree in ship science from Southampton University and is a Fellow of the Royal Institution of Naval Architects, is responsible for developing a group-wide LNG strategy for the next generation of cruise ships.
What was the thinking behind the LNG project?
LNG is an economic, clean and safe marine fuel with increasing global availability that also complies with existing and scheduled emission requirements. By building new ships that will be powered by LNG both while in port and at sea, we believe we are setting ourselves up to take advantage of these benefits and future-proofing our fleet.
As part of our effort to meet the regulations and achieve our own goals, there was a strong interest to select and implement fuel sourcing that would dramatically reduce our rate of emissions and footprint. There was very little economic impact for the initial capital investment compared to a conventional ship with all the required exhaust gas cleaning systems now mandated. LNG as fuel is currently more expensive than heavy fuel oil (HFO) but does offer a considerable discount to marine gas oil (MGO).
We know that the transition to LNG is no simple task, and the demands associated with its implementation make it something of a milestone both for Carnival Corporation and the wider cruise industry. The ship systems are groundbreaking, and while ferries have used LNG for some time, these will be prototype designs for us. Our hope is that by moving forward with LNG and helping to establish it as a trusted power source, and develop the infrastructure needed to use it, we will make it more readily available and more of a viable option - not only for our fleet but the industry as a whole.
What are the technical challenges of using LNG on a cruise ship?
Natural gas requires a larger tank volume than conventional fuel – typically about 1.8 times more space. As a result, we are working with shipyards to optimize the design of the ships to best utilize space in engine rooms to accommodate this storage.
LNG tankers have used boil off gas for over 50 years, so the technical challenges are well known for the main machinery plant. LNG is a cryogenic fuel, so obviously we have to be careful about that, but the ship's systems are designed to specifically take account of this. Perhaps the main difference will be in the bunkering process where the cryogenic nature of the fuel and the precautions to prevent leakage and over pressurization of systems requires more direct oversight – both by the crew and the technical systems employed. We are using the best industry practices to ensure that bunkering will always be a safe operation.
Do ports have strict regulations on LNG operations?
While there are now clear rules regarding the design and operation of the ships and the LNG on board, the ship-to-ship transfer of LNG – bunkering – is not regulated in a consistent manner. LNG delivery to ships, its storage, and its supply are all subject to regulations that vary not only from country-to-country but from port-to-port.
We are working closely with the ports, local and national administrations and other stakeholders to ensure that a safe and reliable bunkering infrastructure is in place. We applaud the efforts underway to pursue some uniformity. This will be an important element in the successful evolution of our industry to one that incorporates LNG into everyday operations.
What are the onboard safety considerations?
On our LNG-fueled ships, the LNG will be used to power dual fuel, medium speed, four-stroke engines to run the ship in port and at sea. We have chosen dual-fuel engines to ensure compliance with the "safe return to port" requirements and so that in all cases we have a backup supply of traditional fuel. That means though that we also needed to have additional storage capacity on board for MGO in case LNG is not available.
Safety being paramount and on board space being at a premium, significant focus has gone into the specifications of how LNG will be transported effectively and efficiently. The fuel will be stored in three type C tanks at a working pressure of 0.7 bars. Two of the tanks each have a length of almost 35 meters, a diameter of approximately eight meters and a capacity of 1,500 cubic meters. Another tank has a length of 28 meters, a diameter of approximately five meters and a capacity of 550 cubic meters. These tanks will be located in their own hold spaces, with double-wall pipes used for gas lines and gas control valves located in their own safe spaces.
How often does an LNG-powered cruise ship need to be refueled?
For a week's itinerary that might use 1,000 MT of HFO you would only use 800 MT of LNG. One key element in our process was deciding upon the total volume of LNG needed to be stored on board. LNG, when liquefied, has a density that is about half that of conventional fuels. Therefore, it does require a larger tank volume than conventional fuel. Consequently, when designing the vessel we needed to analyze the likely itineraries to ensure the optimum arrangements on board.
For our first vessels, we will be designing the vessel to be able to operate for 14 days between refueling with a combined volume of approximately 3,600 cubic meters of LNG stored on board.
How will the LNG be supplied to the ships?
Unlike our AIDAprima and AIDAperla vessels that can be supplied by truck, these next-generation vessels will require considerably more LNG and will be supplied by bunker vessel. We have signed a deal with Shell to supply LNG for four of our new LNG vessels – AIDAnova, Costa Smeralda and the two Carnival Cruise Line ships – and we are working with Shell to ensure that there is a reliable supply chain to the Atlantic Islands to support our operation in the region.
What are the logistical challenges you are faced with in using LNG?
Integrating LNG into our operations requires infrastructure changes both in port for fuel supply and on board our ships for fuel storage and use. While port infrastructure is improving all the time, and we are actively working with ports around the world to ensure that the fuel we need, in the form and quantities we need it, will be available when our ships arrive.
LNG bunkering facilities and terminals are currently being developed in Europe. In Rotterdam, for example, our partner Shell Oil recently dedicated their new LNG bunker vessel, and we recently reach an agreement for the supply of LNG in the Southeast United States.
How are you preparing your crews to work with LNG?
A considerable effort is being made to ensure that the crew that will operate these fantastic new vessels are very well prepared and have all the necessary training and experience. To this end, we are installing an LNG simulator in our state of the art CSMART training facility where we can run our officers through all types of scenarios in a very safe and controlled environment preparing them for any eventuality.
Last year, the AIDAprima became the first cruise ship to use LNG as a fuel source in port. What have you learned from these operations?
The AIDAprima has been a learning experience for all of us. We had to develop new technology for the hose transfer system. We are using the first MaK DF engine of this type, and, of course, we have had some challenges along the way. After a few initial technical challenges related to setting up the dual fuel engines, we are now seeing very reliable operations.
AIDAprima was operating in the North Sea, calling at five different ports between Hamburg, Germany, and Southampton, England, and when possible used LNG instead of conventional oil as its fuel source. The ship has one dual-fuel engine, but currently, because there is no onboard storage for LNG, our team helped secure LNG at each of its ports of call. AIDA and its local partners are now preparing for LNG supply in Funchal and for AIDAperla will gradually start regular operations to supply LNG while she is in Barcelona, Marseille and Civitavecchia.
The shipping industry has experience with LNG outside cruise ships. How are you benefiting from this existing knowledge-base?
One important factor was choosing a shipyard that has experience and that we are confident can deliver these sophisticated ships. This is one of the reasons we chose Meyer Weft – which has the experience to design and build these groundbreaking new ships. We are also taking a partnership approach on all sides – from learning key takeaways from those who are experienced in the sector to working with other groups to educate them on the safety and benefits of LNG. It is important for us to look around the sector and find groups that can help us develop and understand the challenges and opportunities of LNG, not just as a cruise company, but in broader terms.
We learned that it is vital for us to work together to develop industry-wide standards so we can move forward with a unified approach as we work to make the use of LNG as a marine fuel a global reality.
Thank you, Tom.
The opinions expressed herein are the author's and not necessarily those of The Maritime Executive.