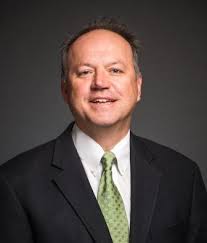 MarEx caught up with Martin Kits van Heyningen, President, CEO and Chairman of the Board at KVH Industries at CMA Maritime 2017.
KVH is a leading provider of solutions for high speed Internet, television and voice services via satellite to mobile users at sea, on land and in air. The company also manufactures high performance sensors and integrated inertial systems for defense and commercial guidance and stabilization applications.
What started out as a small family business has now grown into a company that posted $176.1 million in revenues with an EBITDA of $15.5 million. Tell us about the beginning?
The company began in 1982 in my parents' basement. I was still in college, but I wrote the business plan. At the time, my father was still working fulltime at Raytheon and after he retired in 1986 at 70 years old, he began working permanently with us to build the company. The first product we developed and manufactured was a digital compass for sailboats. Over time, we built them for powerboats and, eventually, the U.S. Navy.
What was the impetus for the digital compass?
The original idea was for racing sailboats and to deal with tactical issues related to heading, wind direction, and wind shifts. I was on the Yale sailing team at the time, so these calculations were of great interest. After installing digital sensors on sailboats, many new opportunities began including autopilot navigation and satellite antennas for the marine industry.
Was there a natural progression into the commercial marine industry?
No, before commercial, we installed digital compasses on U.S. Navy vessels. Today, every U.S. naval vessel has a KVH digital compass onboard. But, during this time, we were developing the stabilized antenna pedestal, which counteracts the motion of a vessel and allows the antenna to remain locked onto a satellite.
Tell us about KVH antennas?
Some of the first KVH stabilized antennas were manufactured for Scientific Atlanta, and there was an L-band Inmarsat-type system. But, we also manufactured stabilized antennas for satellite television for the boating industry as well, so people could get DirecTV programs on their boats. And, KVH built flat panel antennas for SUVs. In fact, many government SUVs have KVH flat panel antennas on them for satellite TV service.
When did KVH go public?
During the 1990s, KVH was building the maritime terminals for American Mobile Satellite Corp (AMSC), which had launched a satellite to cover North America. The AMSC contract was for $10 million and, shortly thereafter, we went public in 1996. Along the way, we realized that to be really successful, we needed to control the entire end-to-end solution.
So about ten years ago, KVH got involved with VSAT and developed small customized antennas for the maritime industry. We worked with a partner to develop a spread spectrum modem that allowed us to use a smaller dish, and we built the equipment from the ground up and created the software as well.
We made it small and efficient for maritime, and that was the key – to have something robust but compact. The first product was a 60 centimeter, 24 inch, Ku-band antenna and, today, we also have a 37 centimeter, 14 inch Ku-dish, and a 1.1 meter, 42 inch C/Ku-band dual mode antenna that can handle 4 megabits per second.
KVH is a manufacturer and a service provider as well?
Yes, KVH builds satellite antenna terminals for the maritime industry and also provides the broadband service. But, think about this, we first had to develop the global network before we had customers. The reality is that nobody wants to buy equipment or internet services from a network not capable of covering the entire world.
Is the KVH network like a blanket instead of a beam?
KVH's mini-VSAT Broadband network provides seamless coverage from a global network of satellites. We also added a broadcast overlay, which is called IP-MobileCast. It allows movies, sports, and television shows to be delivered as well as large data files for entire chart databases.
Normally satellite bandwidth is very expensive so you would never think about doing something like delivering a movie, but our broadcast overlay is delivered to the background and that allows for movies to be multicast to the vessel without needing to pay for the bandwidth delivering the movie.
Is KVH the largest VSAT provider?
We recently shipped our 7,000th VSAT, which makes KVH larger than the next two combined.
Commercial mariners in the middle of the Pacific Ocean, they just cannot believe the speed of the connectivity. In fact, KVH delivers local news from 14 different countries to ships around the world. Imagine being from the Philippines and being able to watch the nightly news from Manila.
Our suite of products and services makes a complete package that differentiates us as well. Not only can we deliver entertainment and operational data, but we also own Videotel, which is the largest maritime training company and is serving more than 12,000 ships around the world.
How do you see the future for KVH?
We want to provide the maritime industry with connectivity as a service, essentially a subscription program. We are launching a program for commercial fleet clients so they will not have to buy any of the hardware equipment or commit to service contracts. KVH will install the equipment, and if the client does not like the service, they can simply cancel the subscription and send us back the hardware without paying penalties.
This will be a great program for ship managers that need to control operating expenses. So, on day one, ships have the cost benefit of having broadband on the vessel. There will no capital expense and they will not be locked into a long-term contract.
Is the program available now?
We are launching AgilePlans by KVH in April. And, when a client needs to update their equipment, they will not need to worry about buying new expensive hardware because KVH will cover the cost of the equipment.
KVH wants to assist the maritime sector in solving the entire IT problem it faces today. We believe it's a real benefit to have an integrated solution from one provider. Besides connectivity for operations, we want to help with crew welfare as well. Our IP-MobileCast service creates a television-like experience.
The KVH Media Server receives television programs and movies no matter where the vessel is, around the world. We think it is important to bring back a sense of community onboard for the common areas by offering entertainment content on all of their voyages. -MarEx
The opinions expressed herein are the author's and not necessarily those of The Maritime Executive.