Biofouling: Times Have Changed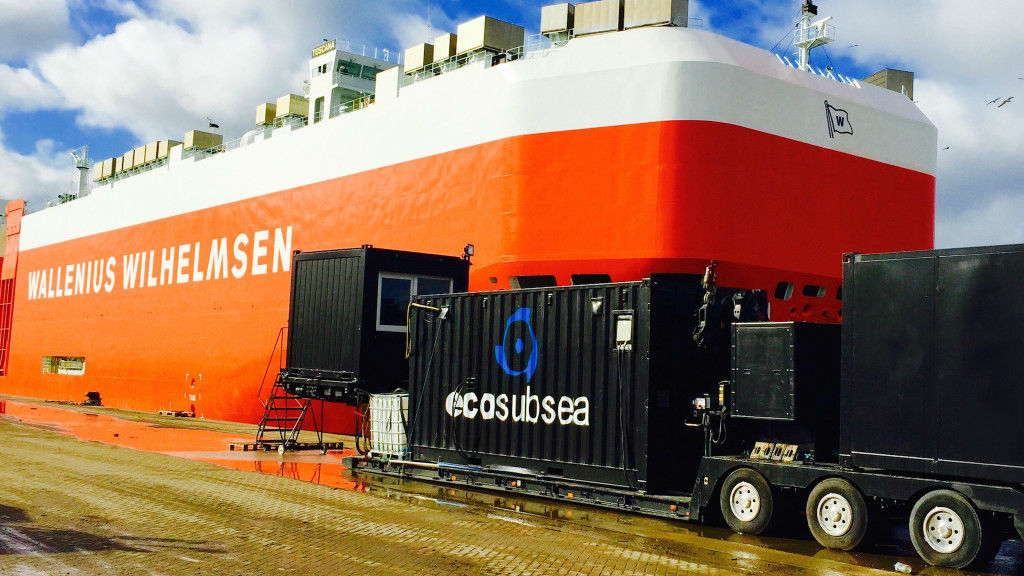 The role of biofouling as a means of spreading marine invasive species had generally been considered to be about the same as that of ballast water. However, that view is being increasingly challenged as new data comes to light.
In December 2016, Dr Theofanis Karayannis from IMO's marine environment division gave a presentation at the World Ocean Council saying that in New Zealand three percent of the alien marine invasive species came from ballast water, whereas 69 percent came from biofouling on ships' hulls.
Biological invasion are one of the most serious ecological problems of the 21st century, and, as some commentators have noted: today you have to be a chemist to find any trace of the 750,000 barrels of crude oil that spilled into Alaskan waters from the Exxon Valdez. The effects of marine invasive species, however, get worse with time and are almost impossible to reverse.
Klaus Østervold, COO of hull cleaning equipment manufacturer ECOsubsea, said that people laughed back in 2008 when the company began developing a high-tech hull cleaning system to do a job that could easily be accomplished by divers. Times have changed, and the majority of shipowners he talks to now acknowledge the damaging effect brushes have on coatings. They also acknowledge the risk to human life posed when using divers for time-consuming cleaning jobs, especially in rough conditions and bad visibility.
ECOsubsea has developed a cleaning solution that gently cleans all kinds of fouling from any coating with very low pressure and collects the debris so it does not pose a further invasive species risk. With the IMO increasing its focus on biofouling, MarEx spoke to Østervold about the practical challenges faced.
What is unique about your cleaning system?
There is no quick fix or skid solution for collecting cleaned off material underwater. It is a very difficult and technological process, and we aimed from the start in 2008 to develop a sustainable cleaning solution.
After more than nine years of development, we are now able to clean any coating with our soft jets and process all the collected debris on shore to be used in biogas production.
Who is using your system?
ECOsubsea has leading shipowners as customers: Wallenius Wilhelmsen Logistic (WWL) and Carnival Cooperation, both worlds biggest in their fields, and both are seeing performance optimization as the most important driver for hull cleaning today in shipping. However, these companies demand the strictest environmental standards and have a strong focus on sustainability.
WWL has been a contributor from early on, and still is - not only looking at their own fleet but also looking at how the development can add value to other shipping segments.
Through the WWL Orcelle award, our equipment was evaluated by world leading scientists back in 2013. ECOsubsea won, and that has been a real opener for the company towards the research communities. The prize money was also important for further development of the company and equipment.
Anna Larsson, Head of Communication & CSR at Wallenius Wilhelmsen Logistics of Norway, says that the appeal of the solution is how it combines an environmental benefit with an operational incentive – a real win-win solution.
From early on cooperating with Carnival Corporation, they highlighted that there is a need to close the loop in our operation. Saving fuel, CO2, the marine environment by preventing invasive species, and then delivering the cleaned off fouling to waste was good, but improvements were possible. Together with WWL, they pushed for further use of the fouling collected. This has lead to a cooperation with Veolia where we now deliver the waste for biogas production.
Today, the two companies are not only helping the planet get a bit better with saving CO2 and stopping spread of invasive species, they are also creating green energy for the people and city of Southampton.
Where is the system operating?
The Collector is operating in one of the strictest regulated ports in the world, Associated British Ports (ABP) of Southampton in the U.K. This port has decided to take control of its bio-risk and be a frontrunner when it comes to sustainability. We have gone through a thorough vetting period over two years and have been monitored closely to ensure a positive impact on the port.
Do ports need any special infrastructure to employ the system?
No. There is no need for extra measures or port infrastructure. We deliver the whole, mobile package that can be operated from seaside or quayside.
How long does it take to clean a hull?
We now average eight hours for a 200-265-meter (650-870-foot) vessel, depending on her fouling status.
Do you think such hull cleaning will become a routine procedure?
It seems like IMO is ready and moving fast to get action on the biofouling challenge. The guidelines were introduced swiftly, and they are now following up with the GloFouling project. Thus there is little doubt in our mind that hull maintenance is needed now and in the future.
Also ports and states have not been waiting for IMO to introduce regulations. A large majority of ports worldwide that delivered hull cleaning before have now started to implement stricter regulations, and most of them ban in-water cleaning. This is not only being driven by invasive species risks; we also see that ports are closing due to copper contamination and safety concerns.
Do you think that IMO will develop mandatory requirements with respect to biofouling as an invasive species risk?
We believe it is important that the shipping industry is taken in to consideration and that no impossible rules are enacted. They have to figure it out. If the regulators, shipping companies and cleaning companies are able to have an open dialogue, there is a much greater chance that there will be a good and achievable outcome.
It is also important to create a level playing field in the emerging hull cleaning market. Today it is easy to state that a system has full collection of the biofouling material removed from a hull, but there is no common standard methodology for evaluating this. The market needs industry standards and goals for smooth cleaning of coatings and for the collection and processing of the material.
On this note, there is some very interesting movement in the U.S. In August 2016, experts on biofouling from Australia, Canada, New Zealand and the U.S. met at a workshop hosted and organized by the Maritime Environmental Resource Center (MERC) and U.S. Naval Research Laboratory (NRL) at the Smithsonian Environmental Research Center (SERC). A series of several meetings was held to establish a quadrilateral partnership in marine biosecurity research among the four countries. The purpose of the partnership is not only to seek greater alignment in research but also collaboration in areas of common interest.
One of the aims of the group is to establish a good methodology for how to assess a cleaning company, everything from how the cleaning technology is performing to how much it collects and at what rate. This kind of collaboration will help create a level playing field in the market for cleaning companies, and regulators get to find common ground so that shipping does not have too many different ways of handling the same issue.
Voluntary and independent evaluations of in-water cleaning technologies by MERC, NRL and SERC are planned for 2018.
New Zealand already has its standard, so it will be interesting to see if the development goes towards a common one or if there will be more than one standards to fulfill. Never the less we see this development as very interesting and want to play a role in bridging the research and service providers.
ECOsubsea is looking to be a part of the U.S. project, and we also invite all other cleaning companies to join these efforts. Creating benchmarks and ensuring environmental safe and efficient solutions for shipowners will be crucial to our success for good sustainable performance optimization in shipping.
What do you foresee for the future?
With today's development on ship monitoring and the extensive drive from shipowners to save fuel and cut CO2 and also CO2 regulations in the pipeline, we see that operators are now looking to hull cleaning on a broader scale. However, smaller companies do not have the same capacity as the large corporations to evaluate the whole market. This is true also for many ports. With the New Zealand and SERC cooperation, we hope that the choice can be made simpler from all perspectives.
Until standards are set, it looks like ports and countries will develop independently, but in a similar direction. So, there will be stricter demands to have a clean hull, but the methods used and the regulations for emission of such will be different. No matter, we will do our best to be a front-runner and seek cooperation across the interested parties to find the best possible solutions for the environment and shipping companies.
The opinions expressed herein are the author's and not necessarily those of The Maritime Executive.