USCG Marks Another First for Women in the Service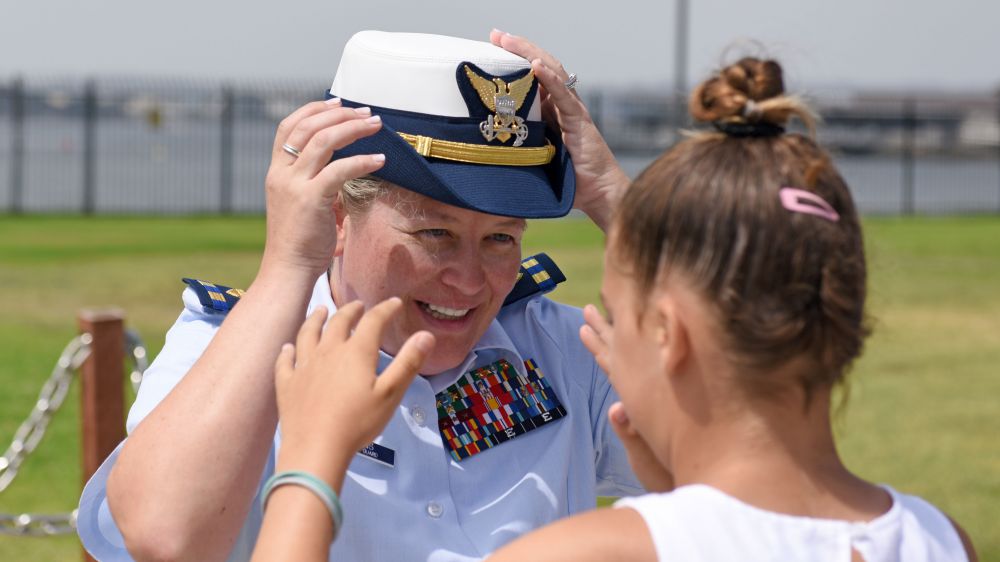 In a ceremony on June 30, Coast Guard Chief Petty Officer Crystal Martens became the first female gunner's mate to be promoted to chief warrant officer (WEPS) in the weapons specialty.
While she is not the first female to hold that position – that distinction goes to Jo Wildman, who became the first female WEPS in 1999 after serving as a fire control technician – she is the first female to be promoted to that rank from within the gunner's mate rating.
The gunner's mate rating is one of the oldest in the Coast Guard, but it didn't see its first female chief petty officer until 2011, and the first female senior chief wasn't advanced until 2014. Martens' recent accomplishment highlights the strides women continue to make while serving in the armed forces.
"There are rates obviously still out there that not a lot of women fill," said Lt. Cmdr. Dawn Prebula, a friend and mentor to Martens at Coast Guard Sector San Diego. "You don't get a lot of women to begin with and then to see them to make it up through the ranks is pretty neat."
Martens was only the 51st woman to complete gunner's mate A-school when she graduated in 2000. The reality that there aren't many women within the rating creates a tightknit community that pushes each female gunner's mate to try to excel. It also contributes to an informal professional network of female gunner's mates who constantly stay in touch.
"Women in the rating tend to work three times harder because perception is everything and it only takes one person to ruin it," Martens explained. "I feel like they work a little bit harder just to make sure that they're: (1) doing the job the way they should be, and (2) giving a good name to all the women in the rating."
Martens explained that this extra pressure female gunner's mates put on themselves is what often leads them to leave the rate, herself included. She left the Coast Guard after her first enlistment partly because of the fatigue but also to attend college. After a few years of study however, she'd had enough of being a broke college student and jumped at the opportunity to rejoin the Coast Guard at her prior paygrade.
Despite the challenges associated with being a female in a male-dominated rating, she does not feel there is a rift. She feels blessed to have always had amazing people to work with no matter what armory she was at.
"As a woman in the Coast Guard, it's a brotherhood," Martens noted. "They were my kid brothers or I was their kid sister so it was like the extended family that you didn't have."
This family dynamic she embraces is what earned her the affectionate nickname "Mama Chief" while stationed shore side at Patrol Forces Southwest Asia (PATFORSWA) in Bahrain from May 2013 to June 2014.
After her tour at PATFORSWA, Martens felt as though she had been giving so much of herself to the Coast Guard that her personal and family life had taken a back seat. She vowed to change that.
It was a promise she made good on, and in August 2016, Martens and her husband, Petty Officer 1st Class Nathan Peters, welcomed twin baby girls, Riley and Finley Peters, to their family.
Senior Chief Petty Officer Renee Hellinger removes Chief Petty Officer Crystal Martens' anchors from her collar prior to Martens' promotion (USCG)
"She had twins!" Prebula noted excitedly. "Doing the mom thing in addition to exceeding and advancing in her career is really great. I think it's a good inspiration for junior members."
It's a sentiment that is echoed by Petty Officer 2nd Class Class Chelsea Armstrong, who bonded with Martens during coinciding pregnancies and subsequent motherhood.
"I never really considered going warrant, but seeing people do it, especially her with twins, makes it more realistic," Armstrong explained. "She's always there for me with great advice."
With so many advances in equality there may not be many more firsts for females in the Coast Guard to pursue. Martens urges other women to pay no mind to that and continue to forge their own paths.
"There's still room for you," she urges. "Set your standards high. Don't let someone else set them for you."
The opinions expressed herein are the author's and not necessarily those of The Maritime Executive.