USCG Cutter James Leads the Way
The crew of the new Coast Guard Cutter James have earned the Capt. Hopley Yeaton Outstanding Cutter Award. In only two patrols, James and her crew interdicted 22 drug smuggling vessels, seized 16.8 tonnes of cocaine with an estimated value of $560 million, and apprehended 70 suspected narcotics traffickers.
In addition to drug interdictions, the James crew also showcased their command and control capabilities this year. They took over the coordination of all counter-narcotics activities in the Eastern Pacific after Joint Interagency Task Force South was forced to evacuate Key West, Florida, due to Hurricane Irma. By coordinating with interagency and international partners, the crew of James directed the seizure of 7.3 tonnes of cocaine by both U.S. and foreign assets.
The crew then continued as Commander Task Unit Maria after Hurricane Maria devastated Puerto Rico. In that role, the crew acted as a floating command center to conduct urgent search and rescue, open the ports to commercial traffic, and deliver life-saving supplies to hard hit areas.
"In 2017, James exemplified 'the heart of the service' through a series of high profile and compelling actions in support of national and service strategies," said Fedor. "Through its unparalleled operational success, media outreach, and community engagement, James had a remarkable impact presenting the Coast Guard in a positive light."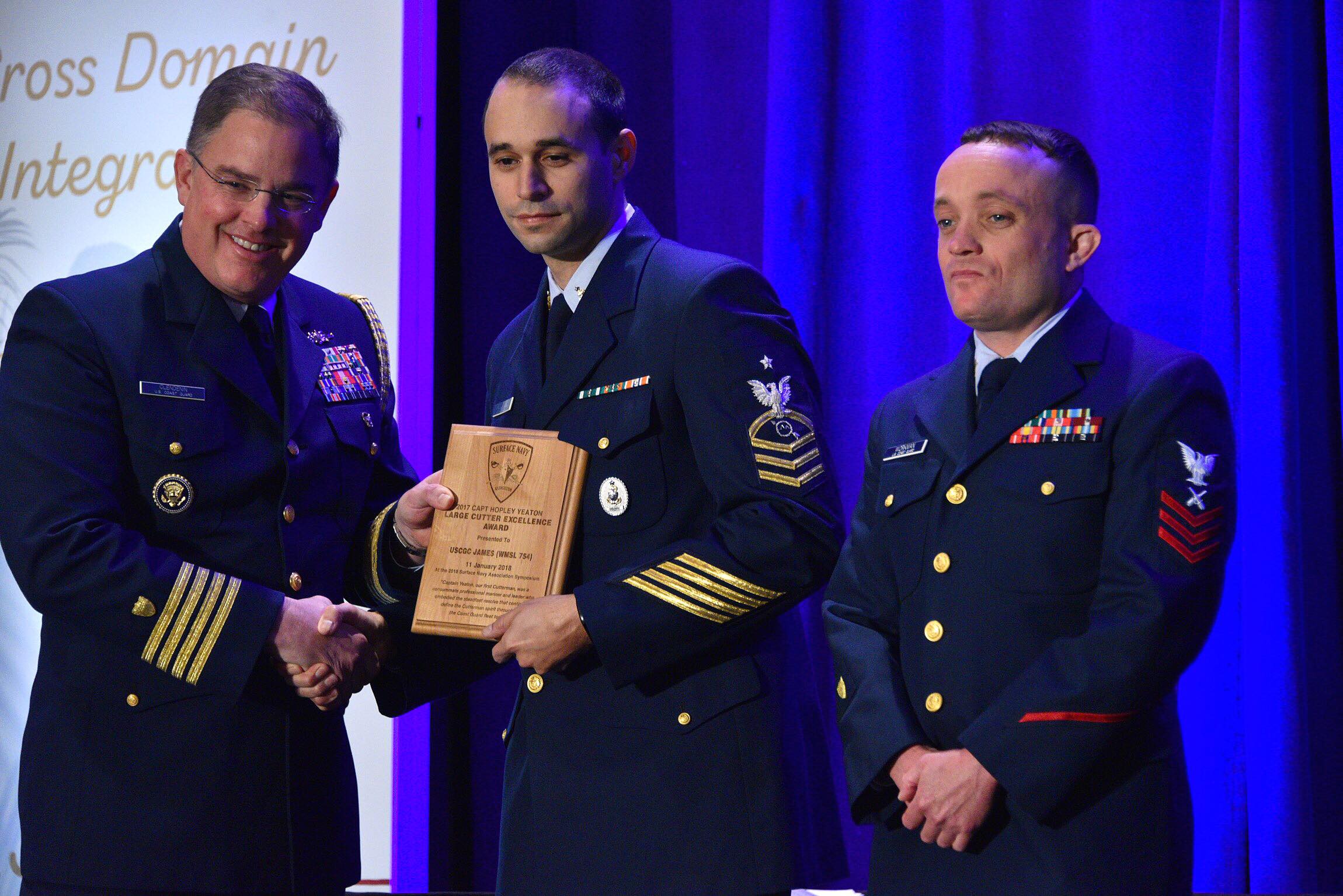 Capt. Scott Clendenin presents a plaque to Senior Chief Petty Officer Lucas Vazquez-Cruz and Petty Officer 1st Class Casey Workman on behalf of Coast Guard Cutter James, Jan. 11
This article appears courtesy of Coast Guard Compass and may be found in its original form here.
The opinions expressed herein are the author's and not necessarily those of The Maritime Executive.