Two Royal Navy Sailors Honored for Daring Winter Rescue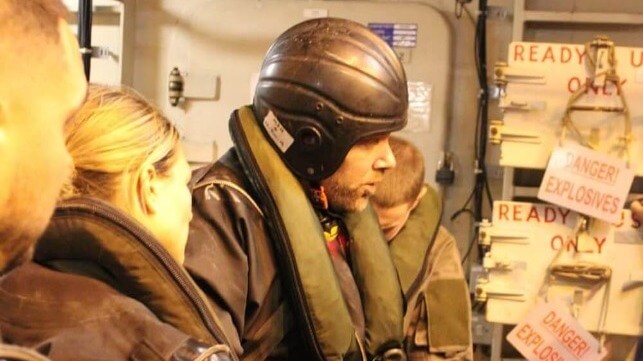 Two sailors who saved the crew of a stricken yacht in a Channel storm last November have been recognized for their service on the front line.
Chief Petty Officer Stephen Froom and Able Seaman Alfie Hulme from destroyer HMS Diamond battled terrible conditions – which saw one of the yachtsmen tossed into the Channel – to not just save all aboard, but to get the engines running again.
Each man earns the King's Commendation for Bravery, announced in the latest Operational Honors issued by the Ministry of Defence and approved by His Majesty.
Diamond's rescue – already the subject of a lifesaving award for the ship collectively – saw 54-year-old Chief Petty Officer Froom from Bristol lead efforts to restore power and prevent the yacht Zapopan sinking off the Isle of Wight.
Stephen was the first on and last off the yacht, helped rescue three of the five crew, before toiling with shipmates Lieutenant Commander Tom Leonard and Chief Petty Officer Giles Newbon to remove water and restart the boat's engines, as the Zapopan pitched and rolled violently.
"I was initially embarrassed as I don't like the limelight," he said. "I feel proud and humbled to be recognized for something I perceive as just doing my job."
Seaman Specialist Alfie Hulme, who's now serving in the Gulf with a minehunter, was coxswain of Diamond's seaboat in the same rescue, using his experience operating the craft in very challenging conditions – darkness, heavy seas and strong winds.
Despite very little ambient light, he successfully maneuvered the Pacific 24 boat alongside the yacht to get the rescue team safely aboard.
He then brought the boat safely alongside the yacht when it became necessary to evacuate three of the petrified crew and, when one fell in the sea, was in position for the yachtsman to be quickly recovered.
In all, Alfie made three trips between HMS Diamond and the yacht either to ferry the latter's crew to safety or deliver specialists and equipment, remaining on hand until the last safe moment to return to his ship, all the while providing reassurance to his shipmates.
Also decorated in the honors list – as Officers of the Most Excellent Order of the British Empire (OBE) – are Royal Marines Colonel Ed Hall and Captain John Punch. Leading Photographer Belinda Alker and Commander Oliver Ayers have been awarded the Kings Commendations for Valuable Service.
This article appears courtesy of Royal Navy News and is shown here in abbreviated form. The original may be found here.
The opinions expressed herein are the author's and not necessarily those of The Maritime Executive.