The Meteoric Rise of Morocco's Tangier Med Port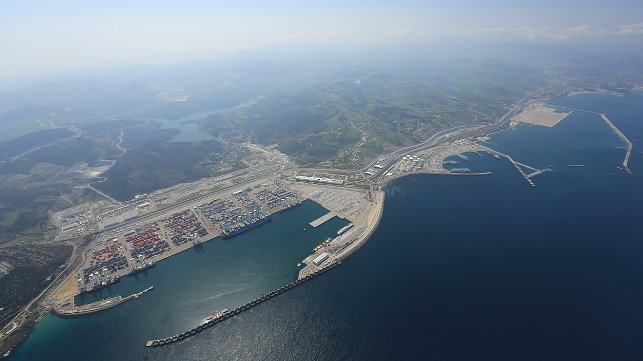 There is a distinction between a country being endowed with rich natural resources or a strategic location and the art of knowing how to utilize those privileges to attain an economic turnaround. Morocco has built its name on an extensive ocean economy agenda, owing to its favorable location along the Strait of Gibraltar. It's one of the few African countries that has figured out how to exploit its immense potential in the maritime sector.
Tangier Med (or Tanger Med), the Moroccan gateway port and transshipment hub built in 2007, has won international recognition for its operational services. The fact that it's the largest port in the Mediterranean region by container capacity - surpassing Spain's Algeciras and Valencia ports - is an indication of a sustained effort by Morocco to position Tangier Med as a global logistics hub. In 2019, it attained a capacity to handle nine million TEU and was ranked the 35th busiest container terminal in the world by Lloyd's List. Tangier Med outranked some of the developed-world ports in this ranking, among them Port of Panama Canal (Colon), Felixstowe (UK), and the ports of Seattle and Savannah in the United States.
What could Morocco be getting right that its African counterparts in ports administration and development seem to be missing? Recently, Tangier Med has undertaken remarkable efforts to retain its lead as Africa's top port and boost international competitiveness.
A closer look at some of the recent developments in Tangier Med shows the interest of major maritime players to work with the port, as well as a strong synergy between different partners that form the port's community, including ocean carriers, port administrators and concessionaires. This working relationship has rationalized service provision at the port in terms of optimizing vessel calls and adhering to international standards.
Earlier this month, Tangier Med entered into a partnership with Germany's Hamburg Port, two major ports that occupy outstanding positions in their respective regions. Through this partnership, these ports aim to improve efficiency in port and vessel operations, traffic management, port cyber security and IT data exchange and information.
Tangier Port has also partnered with other leading maritime hubs to maintain the global supply chain in the wake of the Covid-19 pandemic. Although the port recorded a 60 percent net profit decline in the first half of the year, it saw a two percent increase in its turnover. In addition, there was a 200 percent increase in container traffic at Tangier Med 2 compared to the first half of 2019.
Tangier Med's free zones were ranked second globally by the Financial Times FDI (Foreign Direct Investment) intelligence report released in October. This was an improvement from its fifth position last year, only coming in second to Dubai's Multi Commodities Center. According to the report, this was the first time an African free zone got such a high ranking, recognizing the high value proposition of the network of zones around Tangier Port. These free zones are home to 1,000 companies operating in the automotive, aeronautics, logistics and textile industries.
Tangier Med also had its "Ecoports" label renewed last month by the European Sea Ports Organization (Espo) which attests ports' compliance with environmental standards. This covers areas of energy efficiency and preservation of biodiversity. It is currently the only port in Africa with this certification.
Brian Gicheru Kinyua is a freelance writer based in Mombasa City, Kenya where he researches and writes on logistics and the African Blue Economy. His primary focus is on shipping and ports development in Sub-Saharan Africa and how it fits into the global maritime order. He also provides consulting services in communications and public relations.
The opinions expressed herein are the author's and not necessarily those of The Maritime Executive.