Tariffs Could Create New Opportunity for Feeder Services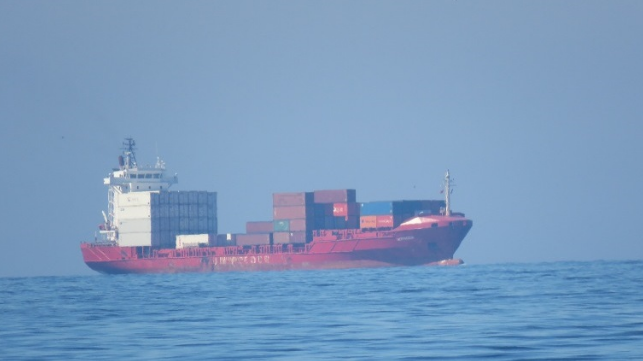 Officials at the Panama Canal have lamented that America's trade dispute with China has the potential to reduce container ship transportation through the canal. Indeed, trade tariffs would likely impact the Panama Canal more seriously than the Suez Canal.
Neo-Panamax ships that transit the canal from Pacific to Atlantic sail on to container ports at New Orleans, St Petersburg, Jacksonville, Savannah, Charleston, Norfolk – Newport News, Baltimore, Philadelphia and Newark – New York City. These ships serve a segment of the market that is willing to postpone delivery of their containers for a few days to save on railway transportation cost.
Ships that sail from Asia via the Panama Canal to southeast coast and Gulf coast American ports originate from Asian ports located east of and including Hong Kong, while ships that sail to the northeast American coast ports would originate from ports located east of Taiwan. The sailing distance via the Suez Canal between Hong Kong and Newark is shorter than sailing via the Panama Canal. Trans-Pacific mega-ships carry high priority containers to American west coast ports followed by an expensive railway journey to eastern destinations.
Higher Product Prices
American consumers will see prices on Chinese made products rise in American retail outlets and could respond by reducing their number of purchases. East coast retailers seeking to offer competitive prices have the option, in cooperation with freight forwarders, to reduce the volume of products that railway container trains carry across America and transfer some of those products to the more cost competitive maritime mode. Trade tariffs could reduce the number of containers that ships carry to east coast ports, forcing ship companies to increase per container transportation costs in order to assure viable operations.
Retailers could ask freight forwarders to seek methods for reducing per container transportation costs, with transshipment being a possible option. Mega-size container ships sail between Asian and European ports, including the recently opened container ports located in the Western Mediterranean region at Tangier, Algeciras and Valencia. They carry containers at very low per-container transportation costs over the equivalent of a very large segment of the voyage between Far East Asian ports and northeastern American ports. A short segment of the voyage across the North Atlantic would connect these ports to northeastern American ports.
Western Mediterranean Transshipment
American customers have several options for responding to a reduction in container shipping caused by trade tariffs. Reduction of ship sailing frequency could ensure that ships carry sufficient containers to remain viable, while sailing smaller ships that carry fewer containers and consume less fuel is another option. The Western Mediterranean transshipment option promises the possibility of frequent delivery schedules at competitive per container transportation costs, even involving the operation of comparatively small container ships sailing between Western Mediterranean container transshipment ports and east coast ports such as Newark – New York City, Baltimore, Norfolk –Newport news, Jacksonville, Charleston and Savannah.
Plans have been formulated to develop twin parallel navigation channels at the Suez Canal with future potential to transit larger ships, while such ports as Tangier and Colombo offer 18 meter depth at quayside. There is potential to deepen some East Asian ports to 18 meters to allow for development and operation of container ships of 25,000 to 28,000-TEU capacity. Installation of bow-wave deflecting technology could assure that larger ships sail through the Suez Canal with minimal canal bank erosion. Western Mediterranean transshipment that includes American destinations could prompt the development of the next generation of container super-ships.
Halifax Transshipment
Container ships sailing from Hong Kong area to Newark sail via the Suez Canal and pass near the Port of Halifax. While trade tariffs threaten to reduce the number of containers aboard Hong Kong – Newark ships, the transshipment option can assure over 80 percent load factor with the ship sailing a Hong Kong – Halifax – Newark voyage. A brief stop at Halifax could see 50 percent of the containers (4,000 to 6,000-TEU) offloaded, to be loaded on to smaller ships sailing to ports along the American east coast and along St Lawrence River and Seaway.
The expected opening of a larger container port in southeastern India to serve larger ships could see a duplication of the possible Hong Kong – Halifax – Newark transshipment scenario, involving offloading of 4,000 to 6,000-TEU at Halifax for transshipment. If numbers of transshipment containers per sailing increase to the capacity of the largest container ships presently in service, then transshipment would have to be transferred to a different location in Eastern Canada. Trade tariffs have the potential to set off a transshipment roulette situation between Western Mediterranean region and Eastern Canada.
Eastern Canadian Transshipment
Plans are being developed to build a container transshipment terminal in Eastern Nova Scotia, Canada. The development of container transshipment to vessels sailing to east coast American ports could prepare the market for an east coast North American transshipment port, especially if the number of container arriving at each American east coast port declines to below the volume of containers carried aboard older generation Panamax size container ships, perhaps the ultimate objective of American trade tariffs on China made products. Some political commentators are suggesting that the trade dispute could extend for 20 years.
During an extended trade dispute, a future container super-ship could sail from an Asian transshipment terminal carrying enough containers to meet the market demand of five to seven east coast American ports. Such a ship would be able to carry containers at very competitive per-container transportation costs to an Eastern Canadian transshipment terminal where containers would be transferred to smaller vessels sailing to multiple east coast ports. America's trade dispute with China may actually be presenting Eastern Canada with a development opportunity, except that regional politics could hinder development of the terminal.
Trans-Arctic Future Sailing
The Arctic region has previously undergone several warm ice-free periods, and the present warming trend has allowed some trans-Arctic navigation between the Bering Strait and Norwegian Sea involving comparatively small ships that have sailed the relatively shallow Russian Arctic. Increased navigation depth is available through several Canadian Arctic channels and passages, with a possible future six-month navigation season. When navigable, the Canadian Arctic passage offers the shortest sailing distance between Asia ports located east of Hong Kong and an Eastern Canadian transshipment terminal. Arctic sailing of a mega-ship offers the prospect of further lowering per container transportation costs.
New Orleans Transshipment
Increased tariffs along with the search to reduce transportations costs could result in a decline in the percentage of containers being transferred at American Pacific ports from container ships to the railways. A 2010 study compared maritime vs railway per container transportation costs between Long Beach and Memphis. Despite the shorter railway distance, maritime transport involving a Panamax ship that included a $200 per container fee at Panama Canal produced a savings of over $2,000 per container. Neo-Panamax ships sailing via Panama Canal from Asia to New Orleans would carry containers for transshipment to inland and coastal waterway.
A flotilla of 40 coupled barges with 96 TEU capacity each could transport over 3,800 TEU to Memphis, with trains of 15 coupled barged sailing beyond Memphis carrying over 1400 TEU to such destinations as Little Rock, Kansas City, St Louis, Louisville and Cincinnati. Depending on inland destination, the combination of neo-Panamax ship and inland waterway container – on – barge transportation could yield savings of $1,000 to $2,000 per container for customers willing to delay arrival of containers. Under trade tariffs, transshipment at New Orleans could involve small coastal ships sailing to southern ports to which larger container ships sail.
Conclusions
America's trade tariffs on good from China have the potential to disrupt container based trade between the two nations. Panama Canal authorities are aware of the potential reduction in container based Asia – America trade shipping through the canal and resulting reduction in revenue. Trade tariffs could prompt traders to seek lower transportation costs in moving containers between China and America
Any of several transshipment options involving terminals in the Western Mediterranean region and Eastern Canada could assure that various sizes of container ships sail at over 80 percent capacity. Transshipment could assure competitive container transportation costs and sustain JIT delivery schedules.
The combination of trade tariffs and the quest for lower per container transportation costs could transfer some container trade from comparatively more expensive railways to less costly inland waterway transportation, for customers willing to postpone container arrival.
A political squabble in Eastern Canada in regard to the future of container transshipment terminals in that region is perhaps a forgone conclusion.

The opinions expressed herein are the author's and not necessarily those of The Maritime Executive.