Sustainable Cruising Requires a Sustainable Galley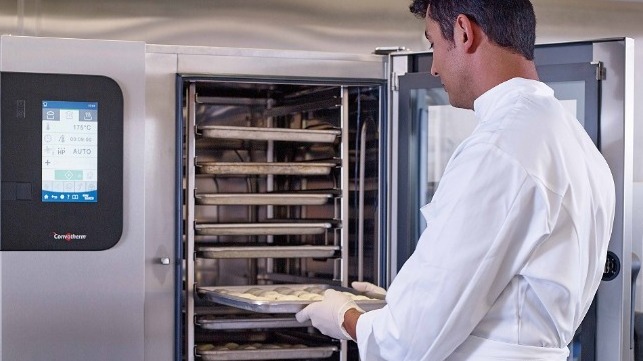 The cruise industry has come leaps and bounds in terms of sustainability. The Cruise Lines International Association recently announced its commitment to reduce the rate of carbon emissions, Hurtigruten is taking on the use of LNG fuel, and numerous cruise lines are confirming they will be dropping all single-use plastic items. But how can sustainability initiatives be implemented in the galley?
More and more of an emphasis is being placed on cruise lines to cater to the conscious consumer. Among its four major food trends for 2019, UK catering supplier Bidfood identified sustainability as a key factor for consumers when dining out. "After Blue Planet II, the world was shocked at the state of the oceans, this has highlighted all forms of waste in the world," Bidfood wrote. "In a starving world, it is wrong that we are throwing away food that is perfectly usable. With heads held in shame we are looking for ways to use everything in a kitchen."

Food waste is common in the cruise industry: with all-you-can-eat buffets and speciality dining galore, it's hard not to indulge in wastefulness when dining on a cruise. Reducing food waste is a massive concern for the industry, and many lines have introduced their own initiatives encouraging guests to taste, not waste. Unfortunately, relying on the passenger's discretion is simply not enough when it comes to reducing food waste. Cruise lines must incorporate special galley equipment and technologies in order to effectively combat the negative environmental impacts. In 2017, two of the Carnival Corporation brands started a pilot program using equipment to digest food waste prior to discharge at sea. This technology resulted in a significant reduction of food waste discharge volumes across the brands' fleets.
According to Dave Weightman, global key accounts manager at leading galley equipment manufacturer Welbilt, sustainability is an increasingly important factor when fitting out a ship.
"The environment is fast becoming one of the top priorities when it comes to marine operations, and with this comes a variety of considerations which operators must take into account when purchasing key pieces of galley equipment," Weightman says. "With recent technological advancements across Welbilt's range of brands, marine caterers can now significantly improve their sustainability across all catering operations."

RATIONAL, a leading provider in catering equipment, has developed its own unique way to combat sustainability issues, minimizing the amount of energy required aboard a cruise ship. "Sustainability is very important to us. That's another reason why we developed the RATIONAL kitchen concept," says Mikael Eliasson, Director International Key Account Marine at RATIONAL. "You will see by using [our] SelfCookingCenter and the VarioCookingCenter in combination . . . energy is only consumed if it is actually required. This reduces your electricity consumption by up to 30%."
Another approach to sustainability focuses on ethically and environmentally-sourced food. For example, both Cunard Line and Holland America Line only serve seafood that has been responsibly and sustainably sourced. Locally sourced produce is also proving popular: Royal Caribbean's Managing Director for Australia and NZ recently said that the division has made a commitment to sourcing 90 percent of its food locally by 2022.

Often labelled the "greenest" ocean cruise line, Costa Cruises became the first travel company to sign on to the Milan Protocol in May 2015, with aims of reducing onboard food waste fleetwide, as well as embracing other broader initiatives. In February 2017, Costa Cruises collaborated with galley equipment suppliers Winnow in order to monitor and prevent food waste onboard their vessels. Using modern tracking technologies, Costa Cruises were able to reduce food waste across the board, which is certainly good news for the line, as it's pledged to reduce food waste by 50% fleetwide by 2020.

Sustainability is here to stay, and hotel services professionals at every cruise line have access to a wide range of eco-friendly solutions for the galley. Many of these products will be on display at the first ever Marine Catering Expo in Miami, Florida from June 18-20, 2019. This free-to-attend, two-day exhibition will highlight the most innovative products and services available to the marine catering sector. It will be co-located with the first-of-its-kind Cruise Ship Interiors Expo at the Miami Beach Convention Center. For more information, visit https://marinecatering-expo.com/.
The opinions expressed herein are the author's and not necessarily those of The Maritime Executive.