River Cruises on American and Canadian Inland Waterways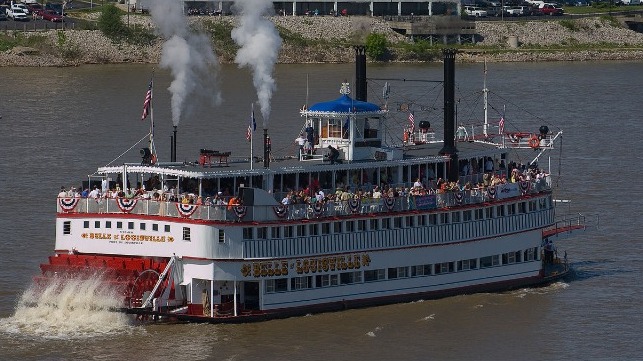 The development and expansion of Europe's barge canal network has allowed for the development of their renowned river cruise industry that operates the famous Viking long boats. While not as well advertised as European river cruises, several companies in both the U.S. and Canada offer multi-day cruises along North America's navigable inland water network.
Introduction
An extensive navigable barge canal network connects across much of Europe, allowing inland waterway passage that connects the Black Sea, Baltic Sea and coastal North Sea. The modern European barge canal network developed from connecting historic navigable rivers that during the pre-railway era, carried trade and passengers across much of Europe and Western Russia.
State-of-the-art technology along the expanded barge canal network includes water-saving locks. Despite the development of an extensive intercity and trans-border railway network, river barges offer very competitive transportation costs moving bulk freight and even containers along the canal network.
Canals and Waterways
North America has navigable inland waterways such as the Mississippi, Ohio, Missouri and St Lawrence Rivers that carry massive volumes of bulk cargo at rates competitive with the railways. Smaller navigable waterways that connect historic regions include the Erie Canal that connects New York City to Lake Ontario. The Trent-River Waterway connects Lake Ontario to Rice Lake and the Rideau Canal connects Canada's capital City of Ottawa to Lake Ontario. The navigable section of the Ottawa River connects Ottawa to Montreal and has been classified as a heritage site.
Mississippi and Ohio River navigation locks can transit barge tows of up to 1,000-foot length by 105-foot beam and 9-foot draft. The largest vessel on the Erie Canal would measure up to 300-foot length by 42-foot beam by up to 12-foot draft. Canada's Rideau Canal can transit vessels of 6.5-fot (1.5-meters) draft by 30-foot beam and 110-foot length, though the 120-foot Kawartha Voyageur river cruise vessel has sailed this waterway as well as the Trent River between Lake Ontario and Peterborough. The Ottawa River could transit vessels of 165-foot length by 35-foot beam and 9-foot draft.
Cruises and Vessels
Viking is one of Europe's largest river cruise operators with a fleet of over 50 "long-boats" of 445-foot (135-meter) length that accommodate an average of 95 passengers in very attractive and luxurious accommodations. These vessels serve an extensive tourist market and approach the gold standard of the river cruise industry. In the U.S., several cruise ship companies operate classic American paddle-wheel cruise vessels that offer luxurious accommodation to compliments of 150 passengers on scenic multi-day cruises along the Mississippi and Ohio Rivers, with stops at historical sites. Multi-day cruises are offered along the Erie Canal between New York City and Lake Ontario.
The cruise vessels that operate along the Erie Canal are built to 184-foot (46-meter) length by 40-foot (12.2-meter) beam by 6.5-foot (2-meter) sailing draft and carry 88 passengers in 44 cabins, including on multi-day cruises that extend from Lake Ontario along the St Lawrence River to Montreal and Quebec City. Another cruise extends from Lake Ontario across the Great lakes to Chicago.
Smaller vessels 108 and 120-foot (33-meter and 36.5-meter) length by 30-foot (9-meter) beam carry 45 and 66 passengers on multi-day cruises along Canada's Rideau Canal and Trent-Severn waterway. Some Canadian cabotage regulations hinder river cruise operations on the Ottawa River.
Canal Cruises
Canal cruise vessels operate multi-day excursions along the Erie Canal in New York State as well as the Rideau Canal and Trent River in Ontario. The Rideau Canal connects Canada's original capital city of Kingston to the present day capital of Ottawa. Both the Erie Canal tour between New York City and Oswego as well as the Rideau Canal tour are multi-day river cruises that involve stops at historical points of interest. The vessel that sails from New York City to Montreal and Quebec City is too wide to pass through the Ottawa River navigation locks.
The vessel that sails along the Rideau Canal also sails along the St Lawrence River to Montreal and Ottawa River to Ottawa. There is scope to build a longer dock on the opposite side of the Ottawa River across from Ottawa, for a larger vessel of up to 165-foot length by 35-foot beam and 8-foot draft to sail multi-day cruise connecting the cities of Quebec City, Montreal and Ottawa. Except that cabotage regulations would prohibit the disembarking of passengers on the north side of the Ottawa River, across from Ottawa if the vessel had sailed from Montreal.
Great Lakes Cruises
During warm weather, large cruise vessels carry up to 200-passenger on multi-day cruises across the Great Lakes as well as along the navigable waterway between the Great Lakes and the Gulf of St Lawrence. While some of these cruises sail from Boston with stops at Quebec City and Montreal, other cruises sail from Toronto. For visitors and tourists from overseas, New York City, Boston and Toronto are served by large-scale international airports with good local transportation connections to cruise ship and river ship terminals. Ports-of-call include Boston, Halifax, Quebec City, Montreal, Toronto, Cleveland-Toledo and Chicago.
By combine sailing along the St Lawrence River, across the Gulf of St Lawrence and the Great lakes, the Great Lakes cruises offer both the experience of river cruising, ocean cruising and cruising across inland lakes. While not built to the size and capacity as oceanic mega-size cruise ships, the ships that carry 150 to 200 passengers offer a different and perhaps a more relaxing ambiance than the experience offered to patrons of ocean cruises aboard mega-size ships. The tour itinerary may be compared to river cruises in Europe, aboard vessels built larger than Viking long-boats.
Conclusions
North American river cruise companies offer a variety of multi-day river cruises and cruises along inland waterways. Paddle-wheel vessels that sail along the Mississippi and Ohio Rivers as well as some of the vessels that sail multi-day river cruises between the Atlantic Ocean and Great Lakes offer accommodations and onboard services that rival the accommodations and services offered aboard the Viking long-boats. While the vessels that sail multi-day cruises along the Erie and Rideau canals are comparatively diminutive, the quaint nature of these vessels and the unique ambiance aboard them makes them attractive to older tourists.
The opinions expressed herein are the author's and not necessarily those of The Maritime Executive.