RFA Mounts Bay Returns for Atlantic Hurricane Season
RFA Mounts Bay is returning to the Caribbean islands she helped restore last autumn. With the 2018 hurricane season now upon us, the amphibious support ship is revisiting British territories in the region to help them prepare for this year's storms.
The 2017 storm season was among the worst in recent memory, with a succession of hurricanes battering the region. It prompted a major relief effort by the UK military (Operation Ruman) to assist the British citizens most affected: those in Turks and Caicos, Anguilla, Dominica and especially the British Virgin Islands.
During a month-long effort – which included a transatlantic dash by HMS Ocean on her final deployment – the lives of thousands of people were improved as British military personnel restored power and water supplies, reopened schools, delivered food and helped to maintain law and order.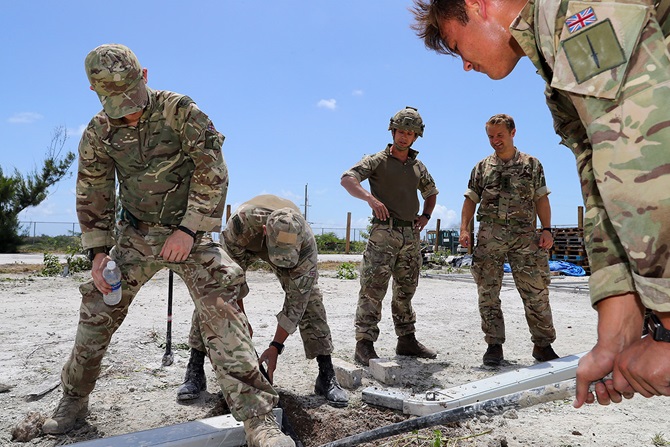 Royal Marines and Army commandos from RFA Mounts Bay help out
Nine months on, in addition to her regular complement of soldiers, the Bay-class ship has a dedicated 20-strong team from 24 Commando Royal Engineers – the self-styled 'Commandos of the Caribbean,' many of them veterans of Ruman – and a Wildcat helicopter flight from 815 Naval Air Squadron embarked to offer support, advice, brute strength, know-how and kit both before and after a hurricane barrels in from the North Atlantic.
Right now, the ship is touring UK territories, holding table-top and practical exercises with island authorities and emergency services to help them plan their disaster response – and to reassure them that assistance will be readily available should a hurricane cause widespread devastation.
The port calls include Grand Turk, currently enjoying the cruise ship season. While Mounts Bay was at the small island, which is roughly one third the size of Portsmouth and home to about 3,700 people, the 102,000-tonne Carnival Sunshine (six times the size of Mounts Bay) arrived with over 2,500 holidaymakers.
Grand Turk was badly affected by Hurricane Irma last autumn; the water supply was disrupted until the marines and engineers fixed the treatment plant.
Mounts Bay has begun her reassurance visits straight after participation in the main naval exercise staged in the Caribbean each year, Tradewinds, with the emphasis in the 2018 iteration on co-ordinating an international response to a major natural disaster in the region.
The opinions expressed herein are the author's and not necessarily those of The Maritime Executive.