Navy Issues Guide for Military to Maritime Transition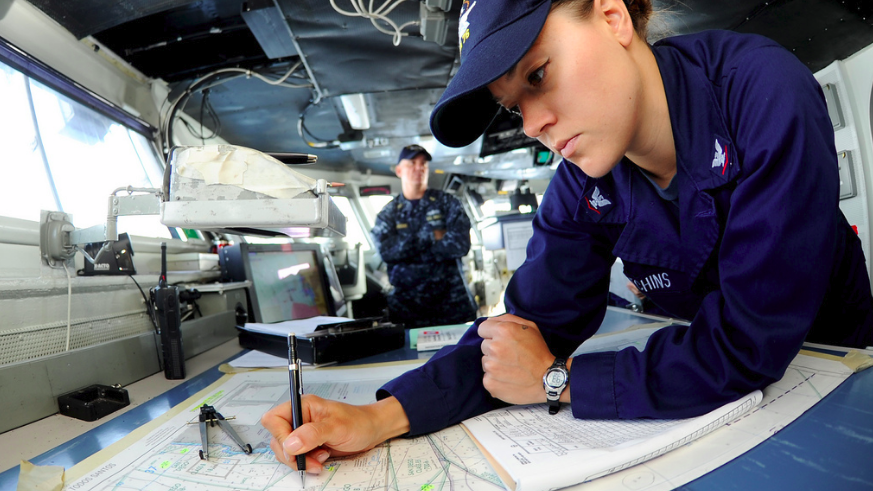 On June 23, Navy Credentialing Opportunities On-line (COOL) announced the release of the "Blueprint to Mariner" guide. The comprehensive document is designed for Navy Sailors interested in applying their naval training and experience toward future careers with the maritime industry.

Navy COOL provides industry certifications and licensing opportunities based on a rating's formal training and on-the-job experience, and eligible Sailors may be funded for credentialing application fees, exam fees, and annual maintenance fees. Nineteen enlisted ratings and collateral duties and 15 officer designators are mapped to more than 150 different civilian and federal maritime-related occupations.

"The licensing process for mariners is a Coast Guard program, and there are strict eligibility requirements that must be met," said Keith Boring, Navy COOL program director. "Our goal here at Navy COOL is to provide Sailors with a map to help bridge the gap between their Navy training and the Coast Guard's requirements."

By preparing while on active duty and earning required accreditations with the support of Navy COOL, including in some cases with funding, Sailors can be well positioned to transition into the merchant fleet.

"'Blueprint to Mariner' provides Sailors with a crosswalk between their job and related jobs in the civilian sector," said Navy COOL Assistant Program Director Michael Talley. "It's there to help explain what you need to do to qualify for the different positions in the mariner community."

Available on Navy COOL's website, the "Blueprint to Mariner" guide discusses a maritime career and provides step-by-step credentialing processes and visual walkthroughs of where to find information and how to apply on the Navy COOL and Coast Guard websites. It also describes how the Maritime Administration predicts there will not be enough qualified mariners to support sustained military sealift operations in the future, which has direct economic and national security implications.

MARAD anticipates a need for 74,000 civilian mariners over the next 10 years, and certain Sailors have many of the skills and experiences that make them a good fit for the maritime industry. "The (merchant) industry thinks the Navy would be a good resource for [skilled mariners]," said Talley. "However, even though Sailors may have some of the skill sets required, they would still need to earn the requisite Coast Guard's licenses, and that's what we're trying to do here at Navy COOL."

"Blueprint to Mariner," along with links to additional information on a maritime career following naval service, is available online at http://www.cool.navy.mil/usn/otr/otr-blueprint.htm.

Navy COOL is located at the Center for Information Dominance (CID) based at Naval Air Station Pensacola Corry Station. CID delivers information warfare professionals to the Navy and joint services, enabling optimal performance of information warfare across the full spectrum of military operations. To learn more about credentialing opportunities, visit Navy COOL's website athttps://www.cool.navy.mil, or call (850) 452-6683.
The opinions expressed herein are the author's and not necessarily those of The Maritime Executive.