Evaluating an Arctic Grain Terminal on the Beaufort Sea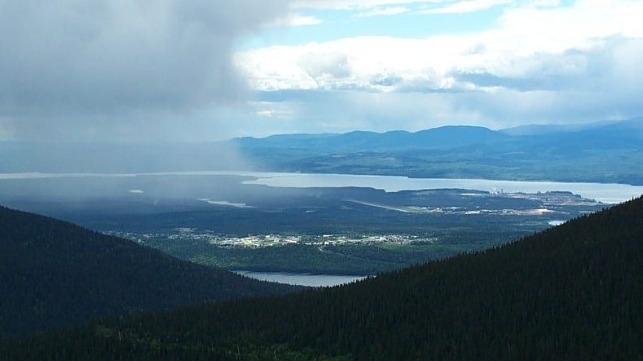 While Canada exports a substantial volume of agricultural produce through their Pacific Coast ports, the railways are back logged carrying mainly grain from the Prairie agricultural region to Pacific Ports. There is the option of an additional terminal in the Arctic region.
Northern Railways
Canadian railway operators carry substantial bulk freight from their western provinces and across the Rocky Mountains to west coast ports. Some ore trains may involve up to a dozen locomotives spaced throughout extended length trains. The combination or container and bulk freight transportation has pushed trans-Rocky Mountain railway lines to their capacity. While a railway line extends north to Hudson Bay and the Port of Churchill, Arctic ice discourages sailing vessels from Churchill to Asian ports. Another northern railway line extends from Alberta to Great Slave Lake and the navigable Mackenzie River that flows to the Arctic.
The railway line that connects to Port of Churchill is built on Canadian tundra and requires the operation of lightly loaded railway carriages pulled by lighter weight locomotives. By comparison, the western railway line to Great Slave Lake is built on much firmer terrain allowing for upgrading to carry heavier trains that travel at higher frequency. Grain storage silos may be possible at Great Slave Lake to combine railway schedules with bulk-barge-on-river sailing and navigation schedules. Weather conditions that increase northern temperatures could affect that load carrying capacity of the railway line to Churchill.
Mackenzie River Navigation
Several years ago, the Northern Transportation Company operated tug barges along the Mackenzie and into the Beaufort Sea. The barges were 40 percent wider, 40 percent deeper and better than double the length of the Mississippi River barges that could be coupled lengthwise and sideways into tows. Northern Transportation Company actually tested extended length, coupled barge trains along the Mackenzie River, using computer aided navigation to provide for superior vessel directional control.
The backlog of grain waiting for railway transportation for Canada's Pacific ports invites re-examination of sailing bulk-carrier barge trains between Great Slave Lake and the Beaufort Sea.
While Mississippi River barges are unsuitable for oceanic sailing, the larger size of barges that have sailed along the Mackenzie River allowed for navigation into the Beaufort Sea and along Canada's southern navigable Arctic channel between Mackenzie Bay and Queen Maud Gulf. These barges could be directly linked to each other and sail as a coupled train along the Mackenzie River. Upon arrival at Mackenzie Bay, the barges could be uncoupled, with several barges may be connected lengthwise with lengths of towing cable between them, to allow for towing by tug and computer assisted directional control.
Seasonal Bulk Port
The Beaufort Sea between the Bering Strait and Mackenzie Bay is seasonally navigable between early in May and late in October, with future prospects of a warmer Arctic extending the navigation season. While the railway distance to Great Slave Lake may be slightly longer than across the Rocky Mountains to Pacific Ports, the railway transportation cost through more severe terrain may actually be higher due to highway railway maintenance costs. The ocean sailing distance from Mackenzie Bay to several East Asian ports is shorter than from Vancouver, offsetting the cost of Mackenzie River coupled-barge transportation.
Canada exports agricultural produce to Europe from the Port of Thunder Bay and the St Lawrence Seaway using Seaway-max ships. Larger bulk ships built to wider beam can sail greater bulk payload over a competitive distance at competitive per-ton-of-bulk transportation costs via the Russian Arctic, between Mackenzie Bay and some Western European ports. Deep-draft bulk carrier ships from Asia could sail seasonally to Mackenzie Bay, where vessel-to-vessel transfer of bulk freight between coupled-barge-assembly and oceanic bulk carrier may be possible. Deep-dredging could bring the big ships into the Mackenzie River estuary.
Offshore Grain Storage
While grain silos are built on land, there may be scope to explore the possibility of offshore grain storage at Mackenzie Bay. One option would be seasonal floating storage involving super-size vessels that, prior to the onset of the northern winter, would be towed into special mooring areas where the hulls would be protected from the pressure of winter ice. Another possible option could involve an offshore grain terminal that is secured on to the seafloor in perhaps 80-foot water depth. A circular structure surrounded by boulders would be more capable of withstanding the compression loadings imposed by winter ice.
Special conveyor technology would transfer grain from barge trains into storage and from storage into oceanic ships. There may also be the option of special conveyor technology transferring grain directly from barges into oceanic bulk carrier vessels.
Navigable Canadian Arctic
If Canada's Arctic channels become navigable for large bulk carriers, such vessels could take on grain at Mackenzie Bay and sail to Europe. Each carrier would carry many times the volume of Seaway-max ships that sail between the grain terminal, located at Port of Thunder Bay on Lake Superior and European ports. The total transportation cost per ton going to Europe via Mackenzie Bay could be lower than smaller ships that sail via the St Lawrence Seaway. A navigable Canadian Arctic also opens the door for ships from Asia to sail to Hudson Bay and into James Bay.
While a railway line connects to Port of Churchill on Hudson Bay, another railway line connects to the Town of Moosonee at the southern end of James Bay, where a future port may be possible. Tug-barges could carry grain grown in parts of Ontario and Quebec from Moosonee to Churchill, to interline with large ships that sail to and from Asia. A tug could pull a train of single barges linked by towing cable, for the voyage across James Bay and Hudson Bay. Grain storage silos at Moosonee may be a future option.
Conclusions
Barge trains using computer assisted navigation are proven along Canada's Mackenzie River and could ferry grain and pulses from Prairie Canada to an Arctic transfer terminal. Seasonally, the Beaufort Sea is navigable between Bering Strait and Mackenzie Bay. Higher average northern temperatures could open Canada's Arctic channels for navigation and allow for development of an export terminal at Mackenzie Bay, with an additional grain port at James Bay. Canada's present backlog involving grain for export opens the door for development of additional ports at the Beaufort Sea and James Bay.
The opinions expressed herein are the author's and not necessarily those of The Maritime Executive.