Emerging Competition in Regulated North America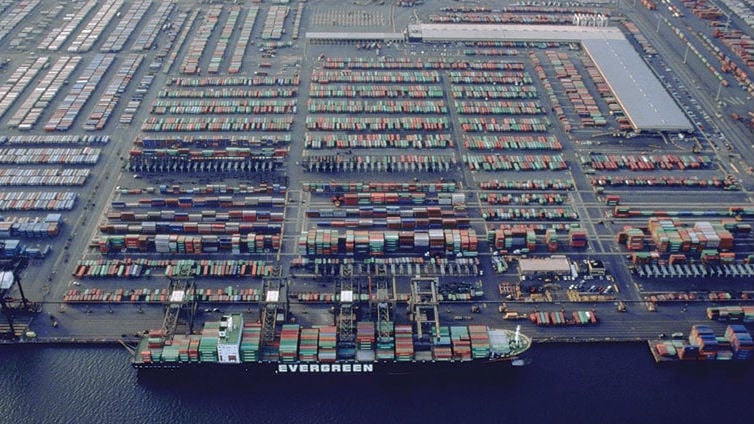 The recent opening of the enlarged Panama Canal has resulted in intra-modal and inter-modal competition on several fronts in container transportation. Prior to its opening, super-sized container ships capable of carrying more than double the container payload as Panamax ships, called at west coast North American ports to transfer containers to eastbound trains - except that study undertaken by Sea-Point of New Orleans revealed that maritime transportation of containers between Long Beach and Memphis on the Mississippi River saved some $2,000 per container over railway transportation.
Part of the business case for enlarging the Panama Canal to transit larger ships involved savings in transportation costs in moving containers for far east Asian ports to east coast North American ports. Customers willing to wait an additional four days for delivery could save over $2,500 per container over the combination super-ships sailing to west coast ports and trains carrying containers some 3,000-miles across a nation. The arrival of Neo-Panamax ships at ports such as Newark has also influenced the transportation of containers from Asia into Canada's most populous province of Ontario.
The Eastern Canadian Scene
The Port of Newark is geographically closer by rail to Canada's largest metropolis, Toronto, than any east coast Canadian port and even closer to Montreal by rail than Halifax. Canadian transportation authorities were motivated to simultaneously provide competition to Port of Newark and resolve the dilemma of a single railway company having a monopoly on container transportation between Eastern Canada and Central Canada. They gave the go-ahead to DP Ports to develop the container terminal at Saint John (New Brunswick) for Neo-Panamax ships. A direct railway line between Saint John and Montreal is close in distance to the Newark-Montreal railway connection.
Prior to Port of Newark opening to Neo-Panamax ships, Canadian officials had granted Port of Halifax an exemption from Canadian cabotage regulations, the Canadian equivalent of the American Jones Act that dates to the early years of the 20th century. While the exemption does not apply to other Canadian east coast container terminals, many of the main Canadian destinations for containers are located near American inland waterway ports such as Ogdensburg NY, Detroit and Port Huron that are located a short distance across an international roadway bridge from a main Canadian city.
St Lawrence Seaway
The main Eastern Canadian ports for the largest container ships on the ocean are being developed in Canada's Cape Breton region, once the home of a thriving mining industry.
Developing container super-ports offers the region some economic hope following the recent closure of the mines. While many of the containers that will arrive at these ports will transfer to ships and trains headed to American destinations, the inland Canadian logistics sector is located close to the American border and has provided a means for containers to arrive "close to their doorsteps" at nearby American ports.
While the St Lawrence Seaway closes annually between the end of December and late March, over 80 percent of the containers destined for locations in Canada's most populous province (Ontario) arrive during the seaway shipping season. However, these containers previously arrived at ports such as Vancouver and Long Beach prior to being transfer to trans-continental container trains.
In the future, these containers could arrive at Cape Breton with low-priority containers being transferred to seaway-max ships heading to American ports located upstream of Montreal, with Port of Ogdensburg being located within a few hours of truck transportation to Eastern Ontario.
The Railways' Share
The railways will carry the priority containers and arrive at central Canadian intermodal terminals some 12 to 24 hours ahead of the seaway-max ships. However, given that these containers would have spent 17 to 21 days in transit aboard super-size ships, many inland logistics customers may be willing to wait the additional 24 hours over railway trip duration, for the maritime sector to deliver the containers to nearby ports. However, the Seaway's annual winter closure leaves the railways as the only viable alternative to carry the containers to inland destinations and provides the railways with a negotiation option.
The railways have historically offered to carry the winter minimum of container traffic throughout the year and at very competitive prices. Maritime can carry the summer and fall season peak load of containers. Transportation authorities, various levels of elected and non-elected government officials as well as the railway companies want to keep railway lines that extend into Cape Breton operational and viable. While one railway company will carry container traffic between Cape Breton's future super ports and central Canada, a different railway company will carry container traffic between Saint John and central Canada.
The Barge Option
The American maritime sector has developed ocean going barges that tugs propel and navigate from the stern. Some of these combinations are called articulated tug barges (ATBs). However, the original Jones Act focused on self-powered ships that included schooners that carried trade on North America's Upper Great Lakes. The regulations regulate the tug and not the barge. Recent development of Great Lakes tug-barge combinations removed engines and fuel tanks from former ships to increase payload capacity. Tug-barges have actually sailed the St Lawrence Seaway from Lake Ontario to the Gulf of St Lawrence.
Ocean conditions south of Cabot Strait and south of Halifax may be too severe for ordinary tug-barge operation. It may be legally and technically possible for a super-tug to push and navigate a former Panamax ship converted to a barge that carries containers between Port of Sydney and Port of Montreal. Powerful tugs may also push and navigate former seaway-max ships converted to barges to carry containers between Cape Breton super-port and Port of Toronto, the largest container port on the Great Lakes.
Barge Trains
Some 75 percent of the sailing distance between Cape Breton super-port and Port of Toronto lies downstream of Montreal and an absence of navigation locks. The maximum permissible beam width along the Lower St Lawrence River is 140 feet. It may be technically possible for two or three seaway-max barges to be coupled lengthwise with a push-tug pushing and navigating at the stern while a leading tug pulls via cable at the bow. The coupled train could sail between Cape Breton and Montreal where the train would be uncoupled and single tug-barge combinations sail upstream between Montreal and Toronto.
Research by Prof. Jerry Fruin of University of Minnesota compared container movement between Port of New Orleans and Port of Pittsburgh along the inland waterway, by rail and by truck. A maritime vessel carrying 100 containers offered lower transportation cost per container that either railway or truck transportation.
The distance by waterway between New Orleans and Pittsburgh is identical to the maritime distance between Cape Breton super-ports and Montreal where the maritime distance is far more competitive with road and railway distance. Canadian regulations could provide business opportunity for tug-barge container transportation.
Conclusions
While Port of Halifax may have been granted exemption from an ancient ship transportation regulation, the inland logistics sector has assured Cape Breton super-ports of a maritime transportation market to inland destination terminals
The ancient maritime regulations were formulated and became law during a time when tug-barge technology was unheard of. As a result, tug-barges could carry containers between Cape Breton and inland Canadian ports at competitive transportation costs.
The opinions expressed herein are the author's and not necessarily those of The Maritime Executive.