Dyneema: Excellent Reliability for Mooring Operations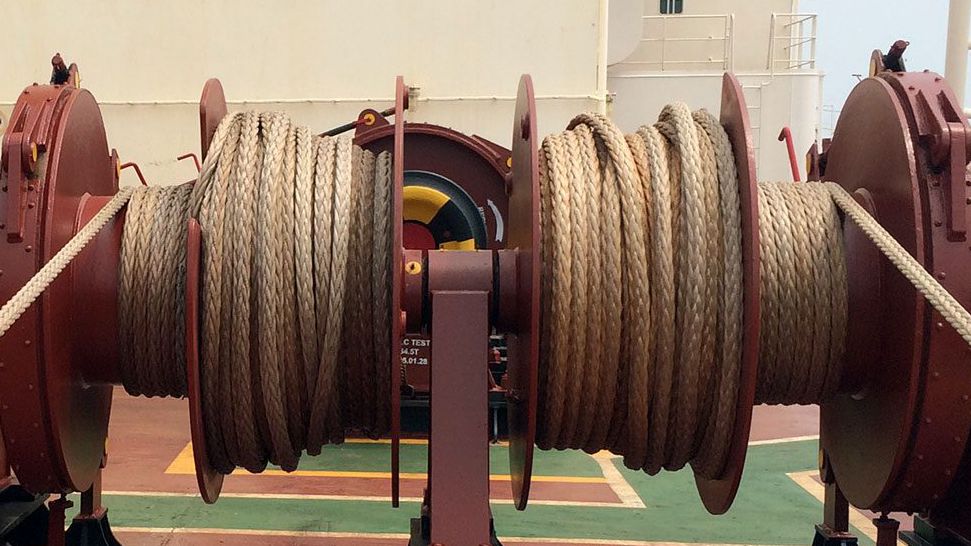 [Advertorial]
With the shipping industry focusing on improving safety and effective VLCC operations, Cosco Dalian, a world leader in crude oil transportation, has been embedding its core values by being at the forefront of best practices and technology that focus on operational excellence, health, safety and environmental protection.
Since the success of the Cospearl Lake, one of the world's first VLCCs to be equipped with mooring ropes made with Dyneema®, Cosco has equipped 16 VLCCs with a total of 332 mooring ropes made with Dyneema®. Among them is the Cosjade Lake, constructed in 2009.
Since going into service, the Cosjade Lake has had a busy life, plying the seaways offloading or transshipping its liquid cargoes at continents around the world. Over six years, it saw 64 docking operations at an average of 30 minutes each. And so after six years of securing operations for the approximately 300,000-ton Cosjade Lake, in a variety of extreme conditions, it was time to inspect the high strength and lightweight mooring ropes made with Dyneema® that have provided the Cosjade Lake with safer, more secure and faster operations versus traditional steel wire.
Little wear after six years and good for many more
The visual inspection concluded that the ropes, which are protected with a sleeve where they come into contact with the fairlead, were still in good condition. They showed little wear even after six years of operations. Further inspection showed that the ropes should be capable of providing 10 years of service life at their current rate of wear. And with an end-to-end switch, they could last even longer.

"After more than six years spent operating in a variety of extreme conditions, the rope continues to perform reliably with minimal maintenance," says Gu Fang, First Mate of the Cosjade Lake. "We have not needed to make any replacements and the ropes show only a little wear. In fact, they have helped us to reduce the personnel, time and resources needed to moor a vessel of more than 298, 000 tonnes, allowing the crew to focus on other operational needs on the vessel."
16 VLCC vessels with mooring ropes with Dyneema®, and plans for more
It's a convincing case for Cosco Dalian, as Zhao Jin Wen, the company's Deputy General Manager notes: "The performance, quality and reliability of the mooring ropes with Dyneema® have clearly benefitted our operations, as well as the health and safety of our employees and the environment. Since 2008, when we had the first successful trial, we have gone on to equip 16 of our VLCCs with ropes made with Dyneema® and we are looking to equip more of our vessels in the near future."

Kedar Sule, Marketing Manager Maritime at DSM Dyneema, says: "At DSM Dyneema, we offer our rope-making partners a wide range of support. This means we not only underwrite the performance and reliability of each and every Dyneema® fiber, we also provide expertise through our global application development and technical service team. The result, as in the case of the Cosjade Lake, is outstanding performance over the long-term.
The case for choosing mooring ropes with Dyneema:
7 times lighter: A mooring rope made with Dyneema® is seven times lighter than a steel-wire rope of the same strength and diameter.
210 minutes faster: Ropes made with Dyneema® cut VLCC docking times from around 240 minutes with mooring ropes made with steel-wire rope, to approximately 30 minutes. This reduces the personnel, time and resources needed to moor a vessel.
Better for health and safety: Mooring ropes made with Dyneema® are safer and easier for crews to handle. No hand, wrist or back injuries have been reported from mooring operations. Ropes with Dyneema® eliminate the risk of steel-wire backlash, and the accompanying possibility of serious injury or even death.
Less maintenance: Ropes made with Dyneema® require minimal maintenance compared with their steel wire rope equivalents – and no greasing or lubricating whatsoever. This also means that ropes made with Dyneema® do not fall under US rules that specify the use of more environmentally friendly (and more expensive) grease for lubricating steel wire rope.
About DSM Dyneema
Dyneema® is respected as the premium brand for Ultra-High Molecular Weight Polyethylene (UHMwPE), and we manufacture and sell products in several forms including fiber, tape and uni-directional (UD) sheets. DSM is committed to building a strong brand for the benefit of our authorised users across the value chain and developers across the globe. For more information on Dyneema ropes, lines and slings, please click here. To contact a Dyneema representative, please click here.
About Cosco Dalian
Dalian Ocean Shipping Company (COSCO DALIAN) is a wholly owned subsidiary of China Ocean Shipping Company (Cosco Group). The company was formed on January 1, 1978, and it is the only company within the group specializing in liquid bulk transportation. Cosco Dalian currently owns and operates 40 vessels including tankers, LPG and chemical ships, with a total deadweight of more than five million tonnes. The total ?eet is larger than that of any other similar enterprise in China. The company's seven own-ownership VLCCs and four chartered VLCCs serve as the company's ?agship vessels.
The opinions expressed herein are the author's and not necessarily those of The Maritime Executive.