Controversial Bristol Bay Mine Gains New Partner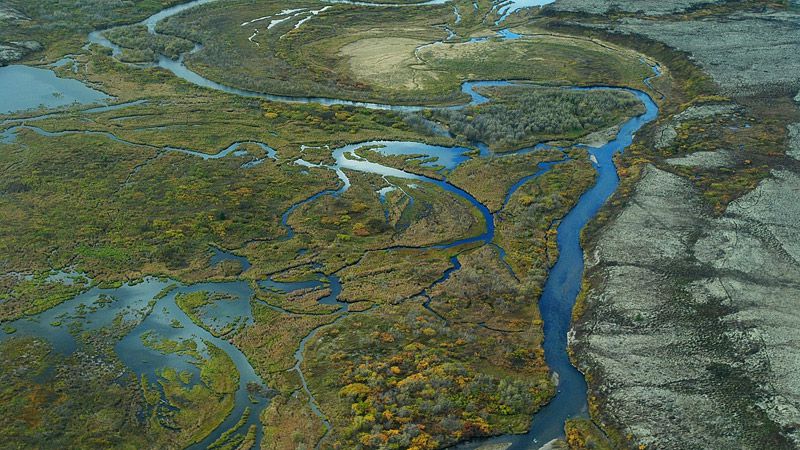 On Monday, Northern Dynasty Minerals announced that it has found a new partner for its planned gold and copper mine at the headwaters of Bristol Bay, the home of the world's largest sockeye salmon run.
Vancouver-based First Quantum is the world's eighth-largest copper producer, and it has agreed to pay for an option to buy half of the proposed Pebble Mine project for $1.5 billion. While the potential upside for both firms is large – an estimated 26 million tonnes of copper and 2,000 tonnes of gold, worth more than $200 billion – First Quantum is not committing to any significant capital investment in the near term, and will only pay $150 million towards the mine's permitting process over the next four years. Northern Dynasty's last major partner, Anglo-American, pulled out in 2013 after investing over $500 million.
On December 12, three former EPA administrators from Republican administrations took out a full-page advertisement in the Washington Post to protest the mine, calling it "the wrong mine in absolutely the wrong place." William Ruckelshaus, two-time EPA administrator under Ronald Reagan and Richard Nixon; William Reilly, the administrator under George H.W. Bush; and Christine Todd Whitman, administrator under George W. Bush all signed, citing the project's risks and the opposition of two thirds of Alaska's voters.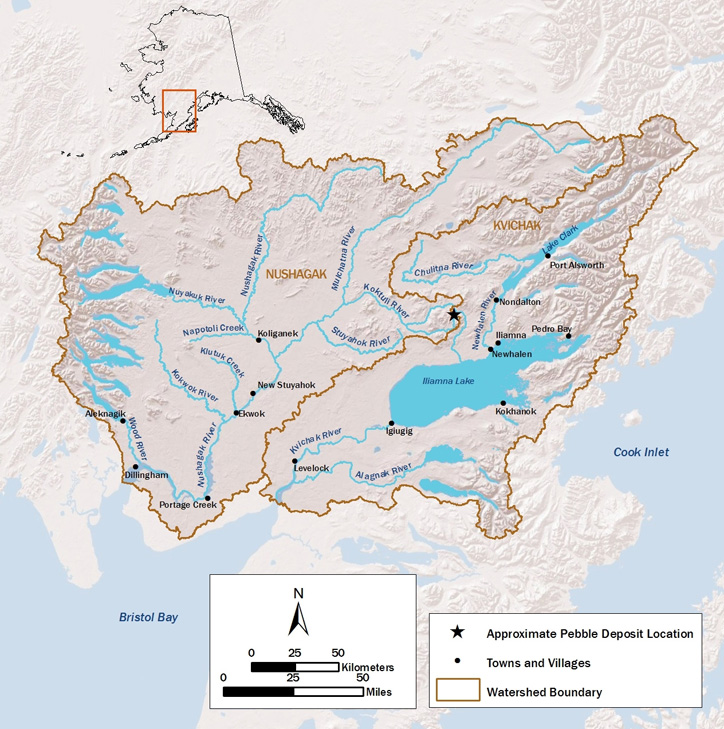 Courtesy EPA
Pebble Mine and its waste tailings containment would occupy about 8,000 acres in the Bristol Bay watershed, where up to 60 million sockeye return to spawn each year. The EPA's 2014 assessment of Pebble Mine identified sufficient risks to the salmon population that the agency proposed to halt the permitting process altogether, despite protests and legal action by Northern Dynasty. Risks EPA identified included salmon habitat loss; habitat degradation from sediment and streamflow alterations; toxic levels of dissolved copper in stream water; and (in the worst case) mine waste containment failure, as at the Mount Polley mine in 2014.
However, Tom Collier, the CEO of Pebble Limited Partnership, said in October that his firm had reached an agreement with the Trump administration's EPA to move towards permitting. "When the new team came in . . . we pretty quickly resolved that we would drop all of our litigation and they would stop this foolishness of coming after us with a preliminary veto," Collier said. Under the current EPA head, Scott Pruitt, the agency has proposed to withdraw its finding from 2014. CNN reports that Pruitt did not need a prepared briefing from EPA staff in order to reach his decision.
Pebble Mine faces many obstacles ahead – federal permitting, state permitting and a growing number of ballot initiatives intended to block its development. The Alaska Bristol Bay Mining Ban, approved by a margin of 65 to 35 on the 2014 statewide ballot, requires the state legislature to enact a law if it wishes to allow the Pebble Mine to proceed. A second state ballot initiative to affirmatively protect salmon habitat (and to require paid compensation for its destruction) cleared court hurdles in October and is set to go before voters in 2018.
The mine is a hot-button issue in blue-collar fishing communities across the Northwest. The Bristol Bay sockeye fishery generates a catch of up to 200 million pounds of sockeye every year, about 40 percent of the entire world total. Thousands of commercial fishermen participate in the Bristol Bay opening, and many of them generate the majority of their annual income from the six-week summer salmon run. Advocacy groups suggest that the fishery generates 14,000 jobs and over $1 billion in value for the regional economy.
"On behalf of thousands of fishermen who make our living off of clean water and healthy runs of wild salmon in Bristol Bay, we'd like to tell First Quantum that, though Northern Dynasty may have lead you to believe otherwise, opposition to Pebble Mine is unwavering," said Mark Niver, spokesman for Commercial Fishermen for Bristol Bay.
"We are very aware of the environmental and social sensitivity of this project and will utilize the lengthy option period to apply our extensive project development and operating experience to ensure that this project can be developed with the support of stakeholders," said First Quantum chairman and CEO Philip Pascall in a statement.
Gillnetters on Bristol Bay, 2015 season
The opinions expressed herein are the author's and not necessarily those of The Maritime Executive.