Two Queen Elizabeths are now Solar Solved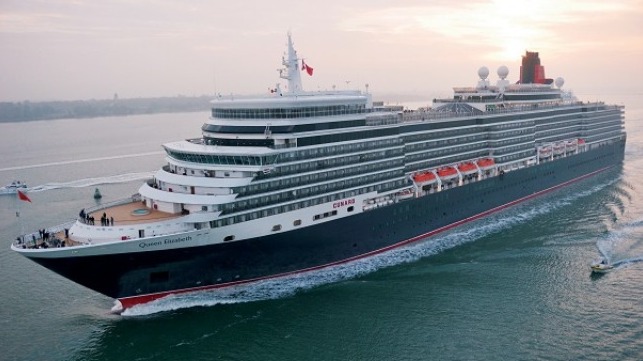 Two of the world's mightiest ships of class hold the same significant name of Queen Elizabeth.
Cunard's Spirit-class cruise liner Queen Elizabeth is the second largest Cunard ship ever built and operates from Southampton, UK. It was launched in January 2010 and named by Queen Elizabeth II in a ceremony held in October 2010. On its maiden voyage, the ship cruised from Southampton on a 13-night Atlantic Isles trip.
The vessel has a 90,900 gross tonnage. The overall length is 294m, beam is 32.3m and draft is 8m. The keel-to-funnel height is 64.6m, the height above waterline is 56.6m, and Queen Elizabeth can accommodate 2,092 passengers in 1,046 staterooms.
The UK Royal Navy's new super aircraft carrier HMS Queen Elizabeth is the lead ship of the Queen Elizabeth-class of aircraft carriers, the largest warships ever built for the Royal Navy. She is named in honor of the first Queen Elizabeth, a renowned World War I era super-dreadnought battleship, which in turn was named after Her Majesty Queen Elizabeth I.
At a ceremony in Rosyth, Scotland, on 4th July 2014, Her Majesty Queen Elizabeth II officially named HMS Queen Elizabeth in front of a crowd including workers who helped build the ship. At 284m in length and with a displacement of 70,000 tons the vessel is capable of carrying up to 60 aircraft. Its main structure has been built to accommodate future design changes and expansions over time and it is expected to last for 50 years.
During the outfitting of the Queen Elizabeth aircraft carrier, Solar Solve Marine supplied specially developed, electrically operated SOLASAFE roller sunscreen products for installation at all of the windows on the Navigation Bridge and Flying Control room (FLYCO), as effective navigation safety aids.
More recently the South Shields, UK based marine equipment manufacturer and supplier has dispatched a consignment of its SOLAROLA products to be installed at all of the navigation bridge windows on the Queen Elizabeth cruise liner. Type Approved by ABS, DNV GL and Lloyd's Register, when the screens are in use they protect the ship's personnel from the sun's heat, glare and uv light, creating a safer and more comfortable working environment.
John Lightfoot, MBE, Solar Solve Marine's chairman commented, "I caught a brief glimpse of Her Majesty Queen Elizabeth II when she drove past my school during her tour of the UK, with HRH The Duke of Edinburgh, just after her Coronation in 1953. I have always been a great admirer of her hard work, commitment and dedication to her job, her country and the Commonwealth.
"One of the greatest days of my life was when The Queen presented me with my MBE in 2002 and we spoke briefly. I am immensely proud of the fact that Solar Solve continues to be associated with such a great lady and that we were selected by two very different but very astute shipowners to supply our products to their magnificent vessels."
The products and services herein described in this press release are not endorsed by The Maritime Executive.