Two Members of the Maritime Community Ride Against Cancer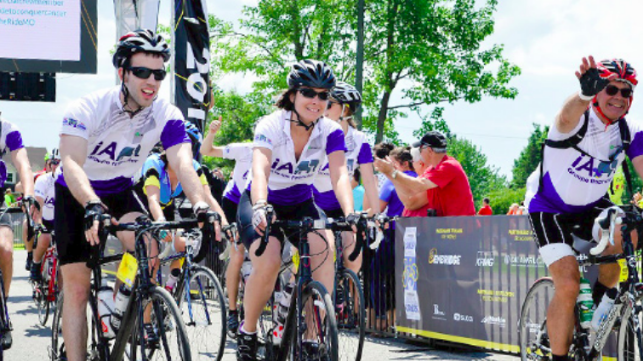 Two Danish members of the maritime community are looking for others to pitch in for the fight against cancer. Bjarne Timm, head of technical projects at ship management firm TORM, and Mikkel Elsborg, vice president of sales at PJ Diesel Engineering are joining the Ride to Conquer Cancer, a benefit for the Segal Cancer Centre at the Jewish General Hospital in Quebec. Funds raised through the ride are put to use to attract and retain doctors, scientists and researchers to implement promising cancer research programs and treatments.
The two Danes have ties to the region through their professional lives. Mikkel was living in Canada for almost four years while providing services to the North American marine segment with engine components. Bjarne was closely tied to Canada through his job, especially to St. Johns, Newfoundland where the vessels were operated from. As Mikkel had done the ride two times previously and needed a wingman, he proposed the idea to Bjarne, an experienced rider, who immediately signed up.
Mikkel and Bjarne will be riding with K-Team, a group that was initially formed after Mikkel's first ride supporting and encouraging Kayla Monaco, who was battling cancer. Kayla's father Stephane formed K-Team, which has been a part of the ride every year ever since, and growing in numbers. They will donating all collected funds in the names of:
• Lisbeth Winther (Mikkel's fellow Rotarian)
• Renata Olsen (wife of PJ Olsen, former President of the Grunt Club, Montreal)
• Phong Vu (chief engineer, MV Ocean Grand, Crowley)
• And the many seafarers battling this horrible disease around the world.

All donations will be highly appreciated regardless of size in their joint goal of raising CAN$5,000. Tax receipts are available for Canadians, and you may support their goal by donating at the individual rider links below:
http://www.conquercancer.ca/site/TR/Ride/Montreal2018?px=4325689&pg=personal&fr_id=1651
http://www.conquercancer.ca/site/TR/Ride/Montreal2018?px=4324452&pg=personal&fr_id=1651
The products and services herein described in this press release are not endorsed by The Maritime Executive.