Selfless Acts of Heroism Rewarded by Humane Society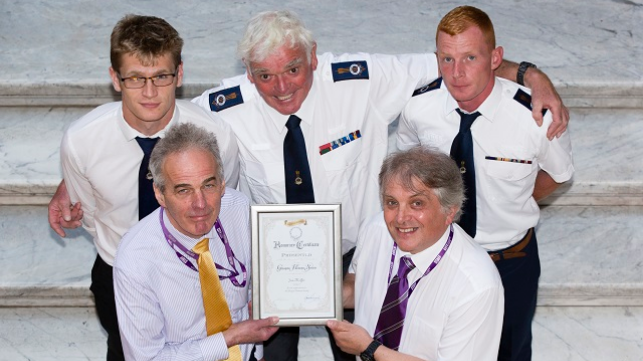 Two members of staff and a student at City of Glasgow College have been recognized by Glasgow Humane Society for their efforts in life saving activities.
Simon Palmer and Tommy Catterson are based with the Faculty of Nautical Studies having joined the college in 1997. They both deliver Efficient Deck Hand and Proficiency in Survival Craft and Rescue boat courses to Merchant Navy students.
Both men have taught hundreds of maritime professionals' essential lifesaving skills while frequently putting those very skills to the test themselves as they are regularly called on to carry out rescues on the River Clyde.
Both men were delighted to receive this recognition. Simon Palmer said:
"We were very surprised and honored to receive this award as working on the Clyde is part of our everyday working life. When we go out onto the river, during the courses, we just doing what, hopefully anyone else would do, observing what is happening on the river banks. We enjoy our job because, apart from meeting all the interesting students, it is almost like a hobby."
HNC Nautical Science student, Daniel Gardner, also received recognition from the Society for rescuing a man who fell into the Clyde. The student jumped in the water after the man and, thanks to his actions, the man was saved and both were picked up by a rescue lifeboat and taken to Glasgow's Royal Infirmary.
Nicola Crawford, Director for the Faculty of Nautical Studies at City of Glasgow College, said: "Our college and faculty of nautical studies are delighted that two valued members of staff and a first year student have been given this recognition by the Glasgow Humane Society. Both Tommy and Simon play an integral part on the Clyde where their lifesaving activities highlight the degree of commitment shown on a daily basis across the faculty."
Daniel was also presented with a Special Commendation for Bravery at the college's annual summer graduation ceremony. He has played down his brave actions, saying: "It's just what happened. I don't think I'm a hero. My mum told me not to do it ever again."
The Glasgow Humane Society whose main aim is the preservation of human life in and around the waterways of Greater Glasgow, has been operating continuously from its boathouse and residential base on Glasgow Green since 1790.
The products and services herein described in this press release are not endorsed by The Maritime Executive.