Ports of Kaohsiung and Busan Sign Historic Sister Port Agreement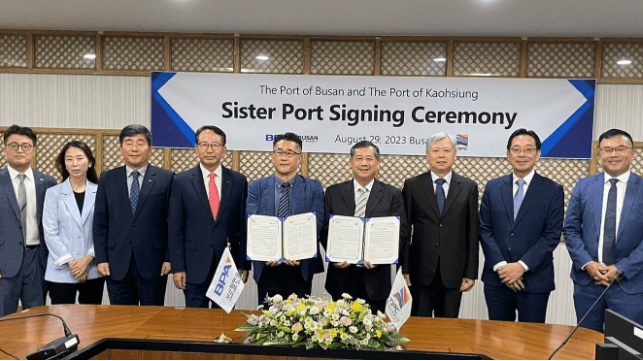 [By: TIPC]
The Ports of Kaohsiung and Busan convened an official sister port signing ceremony at the headquarters of Busan Port Authority (BPA) this afternoon (August 29th, 2023). The Sister Port agreement was signed by TIPC Vice President & Port of Kaohsiung CEO Chin-jung Wang and BPA Vice President Ja-Rim Koo and witnessed by TIPC Chairman Hsien-yi Lee, BPA President Joon-Suk Kang, and Taipei Mission in Korea (Busan Office) Director Cheng-kai Kuo.

This new relationship formally recognizes the decades of good relations fostered between the two countries' largest commercial ports. TIPC Chairman Lee noted that the new sister port relationship between Kaohsiung and Busan marks a new milestone in bilateral friendship. Looking to the future, he expressed his expectation that ongoing exchanges and cooperation between the two ports will promote mutual development and prosperity.

Port of Kaohsiung currently maintains sister port relationships with 17 ports in 12 countries, including the United States, the United Kingdom, France, Spain, Italy, Belgium, Canada, Germany, the United Arab Emirates, Russia, China, and Poland. Today's agreement with Busan establishes not only Port of Kaohsiung's 18 th sister port connection but also its first sister port relationship in South Korea.

TIPC respectively signed memoranda of understanding with Busan International Cruise Institute (BICI) and the Busan Port Authority in 2018 and 2019, committing the signatories to share cruise-industry-related experience, strategies, resources, and customers, and creating a solid foundation for the development of a trans-Asia cruise travel sector. Notably, the port-fee discount incentives announced this year by TIPC have successfully enticed international cruise line business to Taiwan's ports, propelling cruise ship calls at Port of Kaohsiung to all-time highs. Moreover, in addition to Resorts World One running regular home port operations at Port of Kaohsiung, Costa Serena will be launching home port operations between Port of Kaohsiung and Japan starting in late September.

Also, TIPC-invested Tiaya International penned a letter of intent with BPA in March of this year, committing the parties to cooperate in exploring potential new investment opportunities in Southeast Asia. Current efforts are focused on container wharf and yard & warehouse logistics facility development opportunities at major ports in Indonesia.
The products and services herein described in this press release are not endorsed by The Maritime Executive.