NOSKE-KAESER Maritime Solutions Wins Equipment Order for Corvettes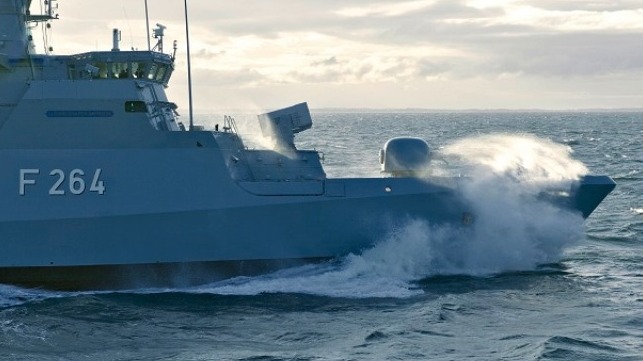 The German Federal Office of Bundeswehr Equipment, Information Technology and In-Service Support (BAAINBw) has commissioned the K130 consortium to build another five K130 Class Corvettes in the second batch. The Hamburg specialist for maritime air conditioning, refrigeration and fire protection systems, NOSKE-KAESER Maritime Solutions, will be supplying the project of the consortium formed by Lürssen Werft GmbH & Co. KG, ThyssenKrupp Marine Systems and German Naval Yards Kiel.
In June of this year Bremen-based Fr. Lürssen Werft, the leading company of the ARGE K130 consortium, commissioned NOSKE-KAESER Maritime Solutions for delivery of the air conditioning, ventilation, refrigeration and fire extinguishing systems. The scope of delivery also includes the heating systems, the CBRN protection system and the warfare agent detection system. In addition to delivery of the individual components, the order also includes installation and commissioning.
NOSKE-KAESER had already successfully taken part in the first batch. In order to guarantee short delivery times and to keep logistical complexity to a minimum, the technology used is substantially based on components installed in the first batch. The exceptions are a few things that have become obsolete or require modification due to technical advancements. They are implemented to comply with current laws and regulations, e.g. the new VDI hygiene regulations. Among others, ARGE K130 relies on the HyFEx® fire extinguishing system specially developed by NOSKE-KAESER. The tried and tested system, approved by the German Navy and the DNV GL classification society, was used in the engine rooms of the first batch of Corvettes and is used on a large number of other naval ships. For refrigeration, a new technology is being employed in cooperation with ENGIE Refrigeration: For the water chillers, low-maintenance and specially low-noise magnetic-bearing compressors with virtually identical dimensions and fitting dimensions are being used.
Delivery of the first components is scheduled for 2019. Installation will then take place at the four shipyards involved in the consortium in Bremen, Kiel, Wolgast and Hamburg. After successful commissioning and testing, the new Corvettes will be delivered and put into service from 2022 onwards.
NOSKE-KAESER Maritime Solutions is delighted at the trust placed in it by ARGE K130 following successful completion of the first batch and upcoming participation in the production of the second. The traditional Hamburg company is looking forward to good cooperation with the partners.
The products and services herein described in this press release are not endorsed by The Maritime Executive.