Multraship Takes Delivery of First of Two CARROUSEL RAVE TUGs from Damen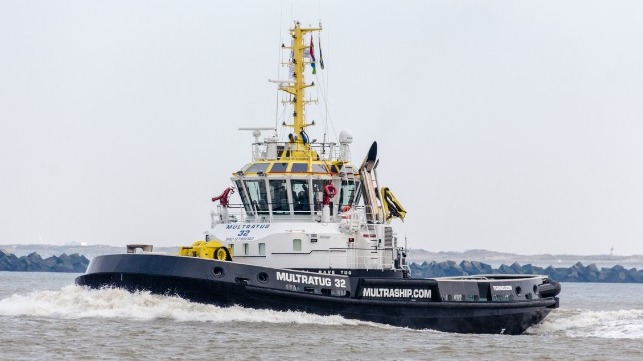 Leading towage and salvage specialist Multraship has taken delivery of the first of two game-changing CARROUSEL RAVE TUGs (CRT) which will make it easier, safer and more environmentally friendly to work with seagoing vessels at much higher speeds than conventional tugs can safely achieve, and without the risk of capsizing under a tow-load.
The vessel, commissioned as Multratug 32, was delivered by Netherlands shipyard Damen Maaskant in Stellendam and will operate under lease to Multraship. Multratug 32 is 32 metres long, has a maximum static bollard pull of 77 tonnes, and is powered by two Voith thruster units and two ABC main engines delivering 2,650 kW at 1000 rpm. Top speed is over 14 knots.
The contract for the vessels was agreed between Novatug, an innovation arm of the group to which Multraship also belongs, and Damen's specialist propulsion subsidiary Van der Velden Barkemeyer GmbH in November 2015. German shipyard Theodor Buschmann GmbH in Hamburg assembled the hulls, which were then moved to Stellendam for fitting-out.
Julian Oggel, managing director of Novatug, says, "The whole CRT concept was driven by safety considerations. In principle, capsizing is impossible when towing with the Carrousel, which facilitates the safe execution of manoeuvres that would be very high-risk with traditional tugs.
"The Carrousel system consists of a base structure surrounded by a steel ring that can rotate freely through 360° in the horizontal plane. It carries a towing winch that can tilt vertically 45 degrees so that the winch can always be aligned with the towing line, providing optimal control. As a result, we can work with large seagoing vessels at much greater speeds than can be achieved by conventional tugs, and that means that the vessels themselves are easier to steer. This a major step forward for both efficiency and safety."
Pepijn Nuijten, managing director of Multraship Towage & Salvage, says, "We are delighted with the CRT, which not only represents a major improvement in crew safety but also means that we can continue to lead the way in the provision of services for our customers. Thanks to the ingenious design of the tug, which effectively maximises the use of the kinetic energy available in the towed vessel rather than the tug's own engine power only, the same towing force can be achieved at much lower levels of fuel consumption than with a conventional tug."
"The savings amount to at least 25 per cent on an average operation involving a seagoing vessel. We have been using sustainable Eco2Fuel+ diesel from De Pooter Oil since trials began, resulting in emissions of soot and particulate matter being reduced by a further 16.5 per cent, and a reduction in carbon emissions of 44.7 per cent compared with regular diesel."
Mijndert Wiesenekker, sales director of Damen Benelux, says, "We are delighted to be handing over this remarkable new vessel to our long-standing partners at Multraship. We have been looking forward to this day for a long time and it gives us real pleasure to see Multratug 32 begin what we are sure will be a long and highly productive life."
Damen is currently building a second, identical CRT for Novatug. Delivery is expected in May 2018 and the vessel has already been reserved for Multraship. Novatug also plans to market smaller versions of the CRT.
Multratug 32 combines for the first time two innovative technologies - the RAVE concept employing the longitudinal alignment of two VSP drives (in contrast to the more conventional transverse 'tractor' configuration) and the Carrousel Towing system. The RAVE concept was initially devised by naval architects Robert Allan and by Voith in Germany and thereafter developed further and optimised by the introduction of the Carrousel. Machinefabriek Luyt in Den Oever delivered the specially developed winch, while ABC in Belgium was responsible for the engines.
The Carrousel Towing system, meanwhile, does away with fixed towing points and instead mounts the winch on a freely rotating steel ring seated around the base of the tug's superstructure. This not only allows the tug to turn completely freely while maintaining tension on the towing line, but also permits the tug to use the lateral resistance of the hull as a powerful braking mechanism. As a result, a Carrousel Tug can brake and steer a moving tow faster and more effectively than a conventional vessel and is impossible to capsize.
Other significant benefits include a reduction in fuel consumption of around 25 percent and less engine wear as a consequence of the tug not having to use its engines for all braking manoeuvres. This, combined with the power and precision of the RAVE design, delivers an exceptionally capable and safe tug.
Damen Shipyards Group
Damen Shipyards Group operates 33 shipbuilding and repair yards, employing 9,000 people worldwide. Damen has delivered more than 6,000 vessels in more than 100 countries and delivers some 180 vessels annually to customers worldwide. Based on its unique, standardised ship-design concept Damen is able to guarantee consistent quality.
Damen's focus on standardisation, modular construction and keeping vessels in stock leads to short delivery times, low 'total cost of ownership', high resale values and reliable performance. Furthermore, Damen vessels are based on thorough R&D and proven technology.
Damen offers a wide range of products, including tugs, workboats, naval and patrol vessels, high speed craft, cargo vessels, dredgers, vessels for the offshore industry, ferries, pontoons and superyachts.
For nearly all vessel types Damen offers a broad range of services, including maintenance, spare parts delivery, training and the transfer of (shipbuilding) know-how. Damen also offers a variety of marine components, such as nozzles, rudders, anchors, anchor chains and steel works.
Damen Shiprepair & Conversion (DSC) has a worldwide network of sixteen repair and conversion yards of which twelve are located in North West Europe. Facilities at the yards include more than 50 drydocks; conventional, floating and covered, the largest of which is 420 x 90 metres, as well as slopes, ship lifts and indoor halls. Projects range from the smallest simple repairs through Class' maintenance to complex refits and the complete conversion of large offshore structures. DSC completes around 1,350 repair and maintenance jobs annually, both at the yards as well as in ports and while vessels are at sea. www.damen.com
Multraship
Multraship is a leading Dutch towage and salvage company. It is a division of the Muller Maritime Group, which has been engaged in the shipping industry for more than 230 years. The company's core activities include harbour towage, salvage & wreck removal, ocean towage and support to offshore energy & dredging industries. Multraship operates and manages a large fleet of tugs, salvage vessels, floating sheerlegs and other craft equipped with modern towage, salvage and fire-fighting equipment and manned by experienced and highly-trained masters and crew. www.multraship.com.
Novatug
Novatug is part of the Muller Maritime Group. The company's core activity is to develop and realise new harbour towage concepts based on its proprietary Carrousel technology with the aim of offering those concepts for sale and/or lease to the worldwide harbour towage sector. Novatug is the holder of various patents with regard to the Carrousel technology and the CARROUSEL RAVE TUG. www.novatug.nl
The products and services herein described in this press release are not endorsed by The Maritime Executive.