Meercat Launches Workhorse M18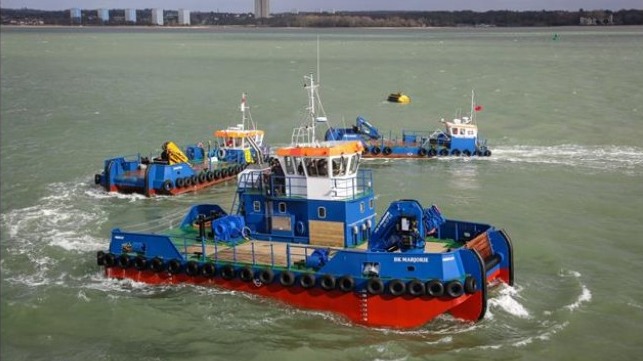 Innovative workboats manufacturer Meercat has launched its newest and most robust vessel to date.
The twin screw monohull Meercat M18 is a cost-effective, multi-purpose workboat designed and made in Hampshire to a high-build quality. Powered by two Doosan V158TIH engines, the 18.75-meter vessel has a large carrying capability and a top speed of 9.5 knots.
The launch comes as Meercat's order book continues to grow following a management buyout in 2017 to create an independent company employing 16 people.
Meercat managing director Jason Coltman said: "The M18 is a cost effective multi-purpose workboat designed for the bigger projects such as port services, construction works, dredging support and offshore maintenance works.
"She was specifically designed to carry large amounts of cargo – up to 85 tons - and our best bollard pull (pulling capacity) to date of 12 tons, as well as offering superb all-round performance
Jason added; "As with all our vessels in the M Range the M18 is a monohull and is a workhorse for those needing more from their workboats. She will outperform any of her Meercat predecessors.
"The M18 is largest in our M range, but we can build bespoke vessels up to 24 meters or tailor existing workboats to suit the exact requirements of clients in our purpose-built workshops."
The M18 was designed and built at Meercat's Hythe Marine Park, Southampton, base over a 10-month period as the company continues to compete globally with the best vessels in the workboat business.
The standard M18 comes as a completely new design and is based on the requirements of the users requiring a heavy duty workboat. The vessel can offer a variety of deck/internal arrangement options and the wheelhouse offers great all round visibility to its surrounding area and the deck.
The vessel has an extremely stable working platform for a multitude of tasks and can operate to a range of 60 nautical miles from safe haven as standard.
Meercat relocated to its present purpose-built 1,600 sq m Hythe site in 2016. Facilities include two 20-tonne gantry cranes, a machine shop, an electrical workshop, a hydraulic workshop, aluminum welding bays and steel fabrication bays.
A management buyout in November and backing from a private investor secured the future of the firm as a restructured, wholly independent, operation. This followed the financial difficulties and subsequent collapse into administration of the firm's former parent company.
Confirmed orders include a £500,000 oil spill response vessel for Europe, a 22-meter landing craft for a Scottish fish farm and an 18-meter utility vessel for the Shetland Islands.
Recent builds include the 15-meter, heavy equipment carrying Spartina for the Southampton's Harbour Master of Associated British Ports
Meercat boats are used for dive support, dredging support, cable and pipelaying, civil engineering support, moorings and pilings, port service, floating crane operation, fish farming, dry and liquid cargo carrying, oil spill response, wind farm support and towage.
M18 technical specifications
Vessel type: twin screw monohull workboat
Classification: UK MCA Workboat Code
Area of operation: Cat 2 - 60nm from safe haven
Construction: welded steel
Length overall: 18.75m
Beam overall: 8.7m
Depth molded: 2.5m
Draft loaded: 2.1m
Bollard pull: 12 tonnes
Speed: 9.5 knots
Cargo capacity: 85 tons (total including liquids)
Main engines: 2 x Doosan V158TIH
Power: 2 x 480hp (353kW) @ 1800rpm
Stern Gear: 1,200 Ø props in thrust nozzles
Steering: twin rudder – 24v hydraulic
Fuel bunkers: 2 x 4.5m3
Fresh water: 0.5 m3
Black water: 0.5 m3
Liquid cargo: 3 x 7.5 m3
Generator: Beta 33kVA
Deck crane: Iron Fist IFG60000 3.8t@12.5m
Deck winch: 10t tugger winch
The products and services herein described in this press release are not endorsed by The Maritime Executive.