Lindblad Expeditions & Speedcast Join to Expand Connectivity Solutions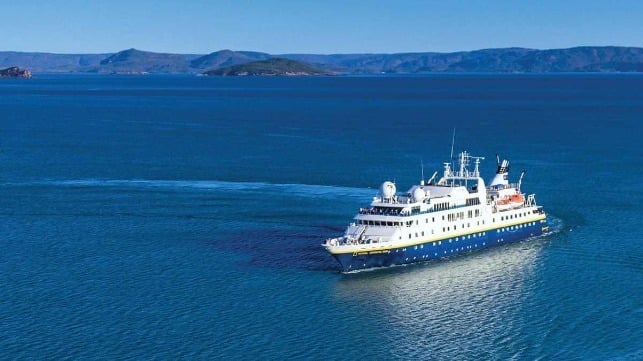 [By: Speedcast]
Speedcast, a leading communications and IT services provider, today announced it is delivering expanded connectivity capabilities for Lindblad Expeditions, the recognized global leader and pioneer of modern expedition travel, as part of a multi-year contract extension. In a comprehensive service upgrade, Speedcast is providing GEO and Starlink LEO satellite services, as well as cellular near-shore wireless, L-band satellite and Speedcast's upgraded SD-WAN and SIGMA solutions, to ensure an unprecedented onboard connectivity experience for Lindblad's guests and crew.
With the addition of Starlink services, Speedcast is installing two maritime, flat-panel, high-performance antennas onboard many of Lindblad's ships, expected to be completed by the end of the year. The key to the enhanced quality of user experience is attributed to the integration of Starlink services into Speedcast's Unified Global Platform (UGP), which provides guaranteed connectivity levels that Starlink's high-bandwidth, internet-class service cannot ensure as a stand-alone service.
Speedcast's UGP implementation for Lindblad Expeditions includes an upgrade to SD-WAN – a software-defined network technology that seamlessly blends multiple transmission paths into a single, optimized, secure WAN of networks – and SIGMA, Speedcast's cloud-based solution that manages access to global networks across GEO and LEO satellite, L-band and cellular near-shore wireless. This solution provides the Lindblad Expeditions fleet with uninterrupted, high-quality service. This combination of network-of-networks technology takes maximum advantage of the strengths of Starlink, Speedcast satellite connectivity and cellular near-shore wireless as Lindblad ships change position and venture to the outer limits of the globe.
"The decision to further enhance the capabilities available to much of its fleet demonstrates Lindblad's commitment to a superior guest and crew onboard experience," said Brent Horwitz, Senior Vice President – Cruise & Ferry at Speedcast. "The future of satellite is software-defined, and our expedition cruise customers are among the first companies to see this benefit in their daily operations."
"With the launch of Starlink, our guests, crew, and Visiting Scientists will be able to stay connected like never before while still immersing themselves in some of the world's most remote, fascinating places," said Arthur Theodorou, VP of Information Technology at Lindblad Expeditions. "Speedcast has enabled us to exceed the expectations of our guests in terms of connectivity, voyage after voyage. Furthermore, enhancing onboard technologies with the introduction of Starlink LEO service has proven to be beneficial as part of a comprehensive solution from Speedcast."
To learn more on Speedcast's passenger maritime connectivity solutions, visit our website at www.speedcast.com.
The products and services herein described in this press release are not endorsed by The Maritime Executive.