Krill Announces Monitoring System Installation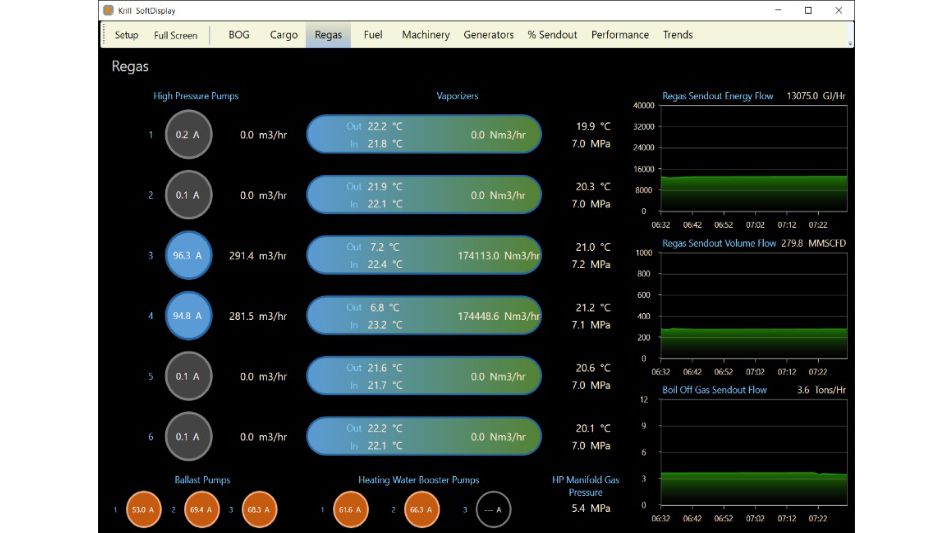 Krill Systems Inc., is pleased to announce a recently completed KRMC (Krill Regasification Monitoring Center) installation for a major worldwide fleet owner of floating storage regasification vessels. The installation, full testing and system verification, took place in Dubai.
Krill's KRMC now provides a complete efficiency monitoring system onboard this, large, floating storage regasification vessel, which is a purpose-built LNG tanker incorporating onboard equipment for the vaporization of LNG, and delivery of high-pressure natural gas to an onshore pipeline grid, on demand.
The regasification process, if not carefully controlled, can lead to a significant loss of product so the vessel owner had been diligent in designing sophisticated 'escaped gas recapture' and other advanced technical processes to ensure that the regasification process operated at the highest possible efficiency levels and, as part of this process, asked Krill Systems to design a multi-point measurement and monitoring system to deliver real-time system information to onshore managers.
The Krill KRMC captures both liquid and gas flow data from more than 200 onboard data sensors, fitted at critical points, via direct interface into the vessel's computer control systems (IAS). Using Microsoft SQL server database technology to record all sensor data on board, with 2-second resolution and storage capacity of over one year, the collected data is both displayed onboard and relayed to shore, using a Microsoft Azure Database server, to replicate the onboard data display monitor, and deliver onshore managers with a complete overview of system status, health and efficiency.
"One of the things Krill does very well as a company, I believe, is to respond to client's specific needs and system requirements." says Brian Staton, VP Sales & Marketing. "In our business, no two jobs are ever the same, so we have learned to be flexible and fast on our feet. When the fleet owner first approached us on this project, we recognized the challenges but were ready and able to respond effectively. We see increasing demand for LNG in world energy markets due to its abundance and relatively low cost. The technical challenges of how to deliver the product to market are being solved and Krill is proud to have been able to provide part of the solution to this process".
The products and services herein described in this press release are not endorsed by The Maritime Executive.